Sport
Wythenshawe FC record biggest-ever match attendance as the club continues to grow
They're only getting bigger and better.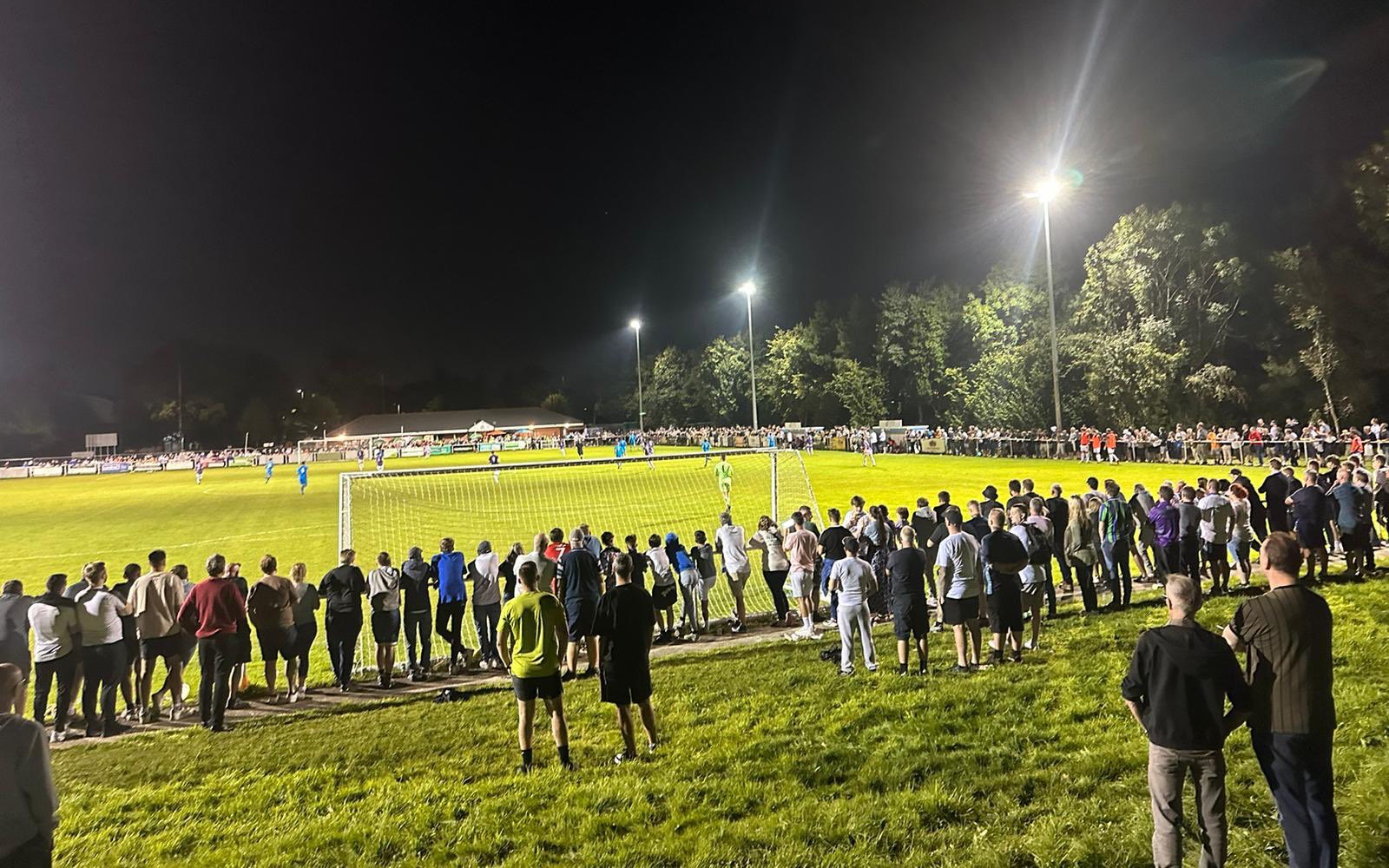 Wythenshawe FC, formerly known as Wythenshawe Amateurs, set a new record for their largest-ever attendance this week as the club looks to keep growing as a semi-professional football club.
The South Manchester side dropped their 'Amateur' tag and introduced a new crest back in June as they look to further establish both their men's and women's teams, and with the club's infrastructure continuing to develop, they have now managed to pull in their biggest crowd ever.
Playing against the similarly invigorated Bury FC following their return to Gigg Lane and competitive football, Wythenshawe hosted a reported 1,400 supporters on Tuesday evening, comfortably the most fans they've ever had come along to a game.
In fact, given the club is still only just starting to expand as they aim to not just become a fully-fledged semi-pro outfit but potentially go beyond that, they even had to turn fans away from their Hollyhedge Park stadium. Massive.
The home ground itself was only built back in 2017 and despite plenty of loyal match-goers week in and week out, the club hasn't witnessed scenes like these all that often.
Still known as the 'Ammies', a huge part of the club's growth over the past year or so has not only come from their promotion into the North West Counties League's Premier Division but Manchester's Night-Time Economy Adviser and WHP founder Sacha Lord coming on board as Chair.
Back in April, Lord expressed his excitement to be joining the board and insisted they had "plans to grow attendance and improve the overall experience for fans and visitors, making this a thriving ground with a hugely diverse fanbase." It looks as though they're already well on their way to making the vision a reality.
They new-look club even took pride of place on the big screens at Noel Gallagher's recent Wythenshawe Park gig — a massive homecoming show that was the first the venue had ever seen and which local lad Lord, along with Mayor Andy Burnham, also helped to make happen.
One of the best parts about Wythenshawe FC managing record attendance numbers and making waves in such a way is that the progress isn't just limited to the men's team either.
Earlier this year, around the same time they changed their name and badge, the Ammies also made a commitment to devote just as much time and resources to developing the women's team as well, taking them semi-pro and appointing a new head coach in James Mulvihill.
Speaking at the time of the announcement, women's captain Sophie Whitby said: "This is great news for women and girls throughout our club – showing how much we value them and how ambitious we are for them.
Read more:
"I think it will send a really strong signal in the footballing world but also in our local community: that equality matters.
"We've created a really strong pathway for boys and men to semi-professional football, retaining players within the club. I firmly believe we can do this for women and girls too. I'm so proud to be a part of it."
You absolutely love to see it. Up the Ammies!
For all the latest news, events and goings on in Greater Manchester, subscribe to The Manc newsletter HERE.
Featured Image — Wythenshawe FC