Trending
Viewers 'not emotionally prepared' as Queen's beloved corgis watched coffin procession
"Well if you weren't crying before, I bet you are now."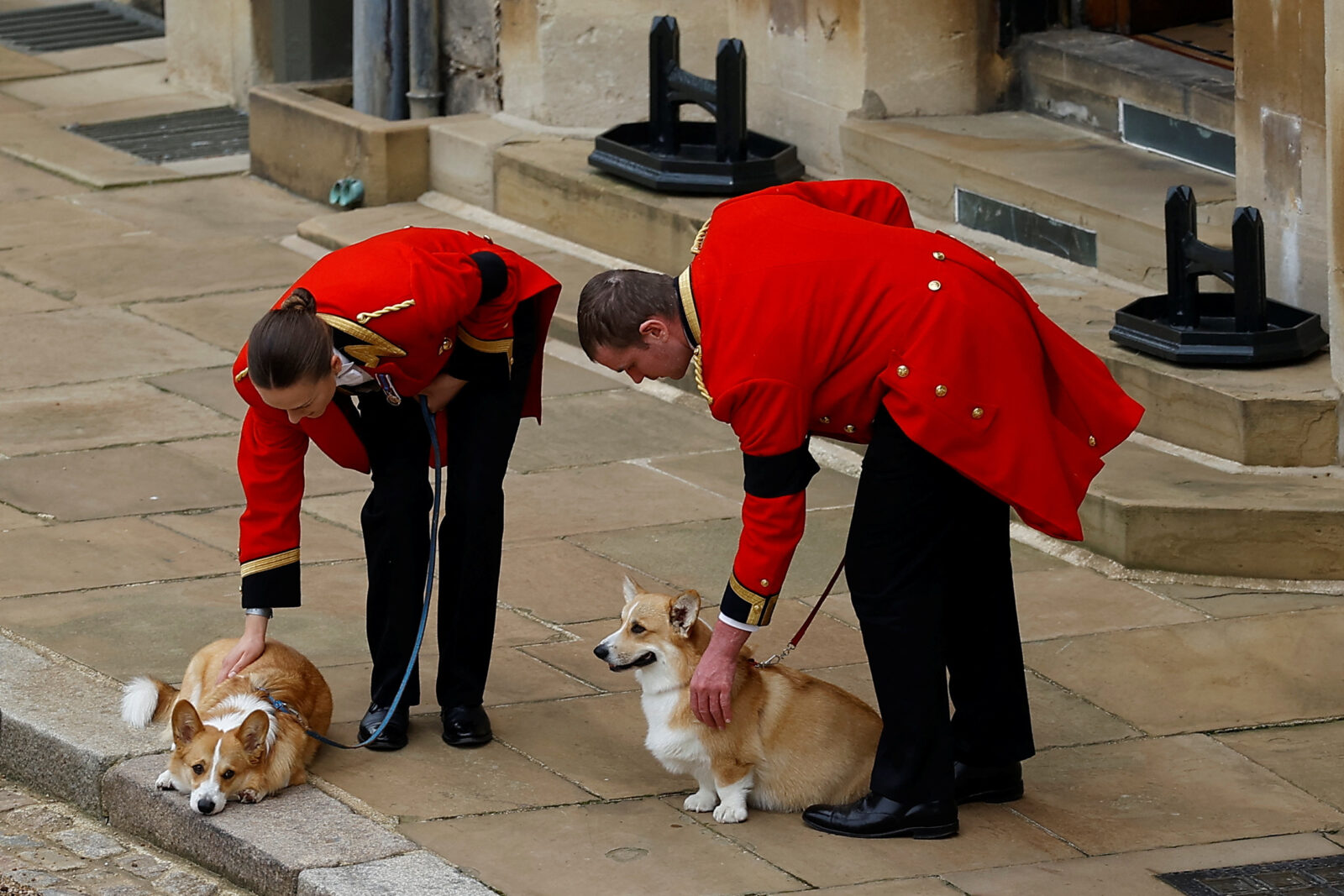 Viewers were left in tears and said they were "not emotionally prepared" to see the Queen's beloved corgis brought out to watch the coffin procession.
The nation bid a final farewell to HM Queen Elizabeth II at a State Funeral yesterday.
The State Funeral itself took place at Westminster Abbey at 11am and was attended by around 2,000 guests, including world leaders representing nearly 200 countries and territories, 500 foreign dignitaries, and members of the public selected for charitable or community works.
The service concluded with a two-minute silence and a rendition of the National anthem performed by guests inside the Abbey.
Although the State Funeral was wrapped-up around midday, this was not the end of proceedings, as the Queen's coffin then took the journey to Windsor Castle – and viewers noticed that, waiting to greet the coffin as it arrived, were the Queen's beloved pets.
The procession made its way to Wellington Arch, before arriving in Windsor and travelling up the Long Walk to Windsor Castle – where thousands of people lined the streets to pay their respects and catch a glimpse at the coffin.
Two of the Queen's iconic corgis, Muick and Sandy, were present as the procession passed, as was her pony named Emma.
Queen Elizabeth II was famous for her love for dogs, which was inherited from her father, King George VI – who brought home the family's first corgi, a puppy named Dookie, in 1933 – and she is known to have bred over 30 canines during her reign, as well as being credited with creating dachshund-corgi hybrid, a Dorgi, after one of her pet corgis mated with her sister Princess Margaret's dachshund Pipkin.
Read more:
HM was also passionate about horses and racing, and first learned to ride when she was just three years old and continued to ride up until the age of 94 – which is the last time she was publicly spotted on horseback.
Given just how much the Queen was known for her love of corgis and horses, this is probably why viewers watching the State Funeral found it so emotional to see the cameras pan to her treasured pets as they were brought out by Royal guards to watch the coffin procession at Windsor.
Some viewers said they "were not emotionally prepared" for the scenes.
HM Queen Elizabeth II died aged 96 on 8 September 2022.
During her reign, she served as Queen of the United Kingdom and the Commonwealth – undertaking an important symbolic and unifying role as a head of state, spanning numerous geographical regions, cultures, and religions.
She was not just the longest-reigning British monarch in history, but she was also the first-ever monarch to reign in the UK for 70 years.
Admired for her duty and dedication to the role, yesterday her remarkable life was remembered by all.
Featured Image – The Royal Family