Is 2022 the year you're planning to take on a new challenge?
For many of us, the start of a new year often brings with it some motivation to make a few resolutions or set about achieving some goals we've been meaning to for a while, or, for the more daring among us, to get stuck into a challenge you've never tried before – but for those of us who aren't really the adventurous type, who's to say we can't have a hand in picking out a daredevil task for others to try instead?
Well, that's exactly what one of Manchester's most iconic charities, We Love MCR Charity, had in mind when they asked us to give them a helping hand in deciding on its official fundraising challenge for 2022.
This new and yet-to-be-decided fundraising experience will form part of the ongoing 'We Love MCR Charity Challenge Event Series', which sees the charity put daredevil Mancunians' mettle to the test.
The people over at We Love MCR Charity got the ball rolling by picking out a selection of four challenge ideas, and it was then left down to you – our loyal audience of over 200,000 Mancs on our Instagram – to pick which one would be chosen as the first instalment of the series this year by casting your votes on three head-to-head polls shared to our Instagram stories earlier this week.
The four challenge ideas battling it out were:
A Valentine's Day dip in Debdale Park Reservoir
An abseil off a city centre high-rise tower
A skinny dip at dawn on the Autumn Equinox at Druridge Bay beach
A jump off a 10m diving board
Round 1 of voting on Monday saw a Valentine's Day dip in Debdale ReseRvoir go up against an abseil off a Manchester city centre tower block, with the abseil taking the win in a close call with 57% of the vote, all before round 2 got underway on Tuesday and saw a skinny dip at dawn on the Autumn Equinox at Druridge Bay beach clinch the win with 56% of the vote over a jump off a 10m diving board.
It was then left to the winners of the first two rounds to go head-to-head with each other – and it was eventually revealed, after hundreds of Mancunians got their votes in, that an abseil off a Manchester city centre tower block was the pick of the bunch in another close call, grabbing 54% of the vote.
But will it actually be crowned the winner? That's down to We Love MCR Charity to make the final call in an announcement that's coming next week.
The 2022 challenge comes after the success of the charity's first – and probably the last – sponsored 'firewalk' event, which made history as 50 "brave soles" raised over £18,000 and counting by walking over 700-degree hot coals in St Peter's Square in the heart of Manchester city centre last October.
Read more: Here's what happened when 50 fundraisers walked on fire in St Peter's Square
Against a backdrop of Manchester's Central Library and with a massive crowd cheering them on, each of the participants conquered their fears and completed what they previously thought was impossible.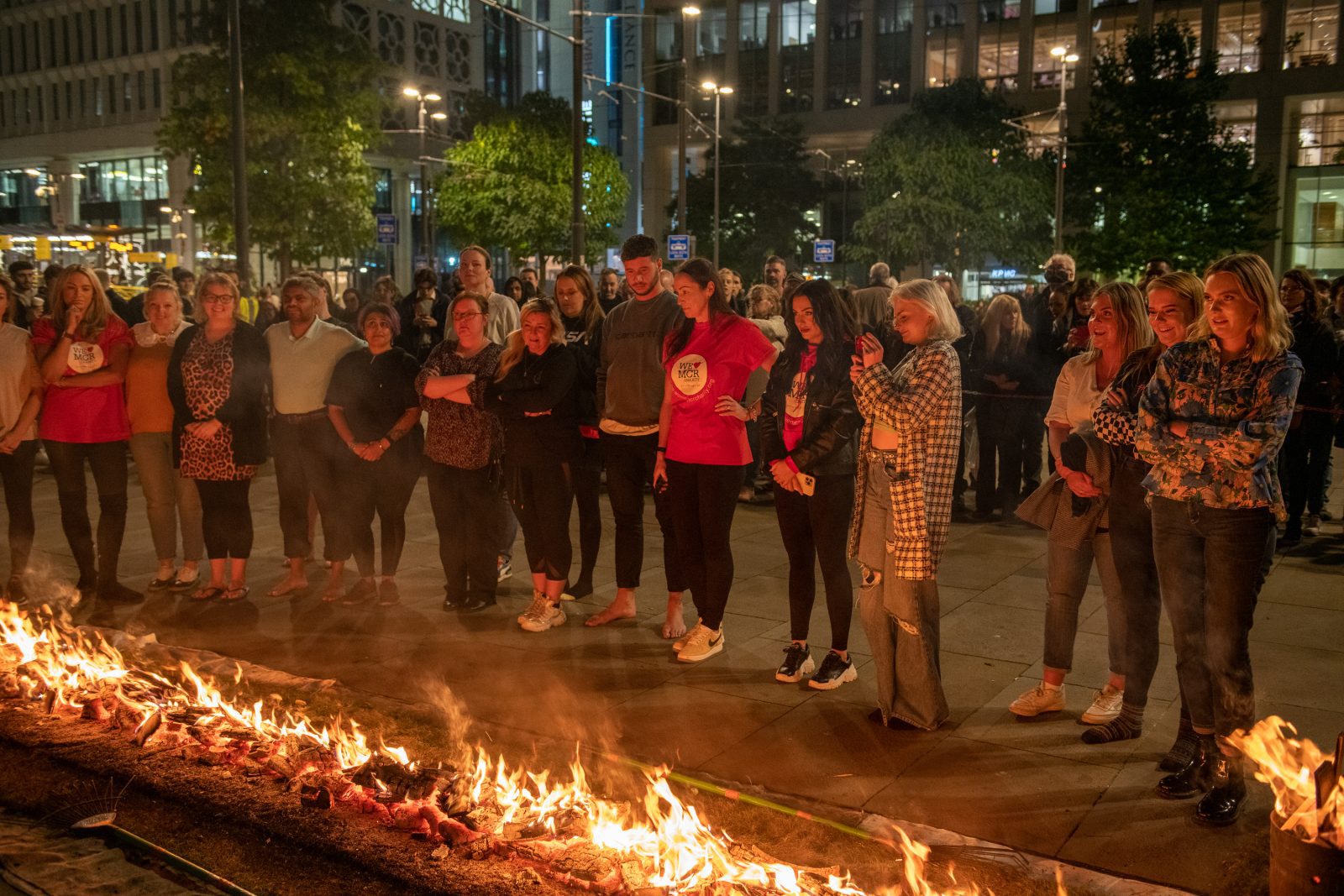 We Love MCR Charity said that fundraising events like this are vital for its ongoing mission of supporting the city.
All sponsorship money raised by those undertaking the soon-to-be-announced 2022 challenge, or indeed any sponsored event across the city-region throughout the year, will go directly to We Love MCR Charity's two current grant programmes – the 'Manchester's Rising Stars Fund', and the 'Stronger Communities Fund' – which both support local communities and ambitious young Mancunians to overcome the barriers in their way and recover from the problems created by the COVID-19 pandemic.
If you fancy taking on a more personal challenge this year though, then did you know that the charity is also providing The Manc's readers and followers with an exclusive opportunity to get £25-worth of entry fees to any sponsored event refunded if they choose to commit to raising some worthy funds in its name?
An opportunity too good to pass up on.
Read more: You can get entry fee refunds if you do a sponsored event for We Love MCR Charity in 2022
But for now, all that's left to do is wait and see which challenge idea comes out on top for 2022.
"Well The Manc's supporters really have helped to shape our thinking," said Ged Carter – Development Manager at We Love MCR Charity.
"A 'win' for a breathtaking abseil, but who knew a seaside skinny dip would make it such a close-run poll? We're excited to announce our Challenge plans very shortly."
Keep your eyes peeled on the We Love MCR Charity website, and social media platforms, Facebook and Twitter, next week to see which challenge has officially been chosen.
Featured Image – Wikimedia Commons | Flickr