Trending
You could win a £5,000 prize if you guess the mystery flavour of these Cadbury bars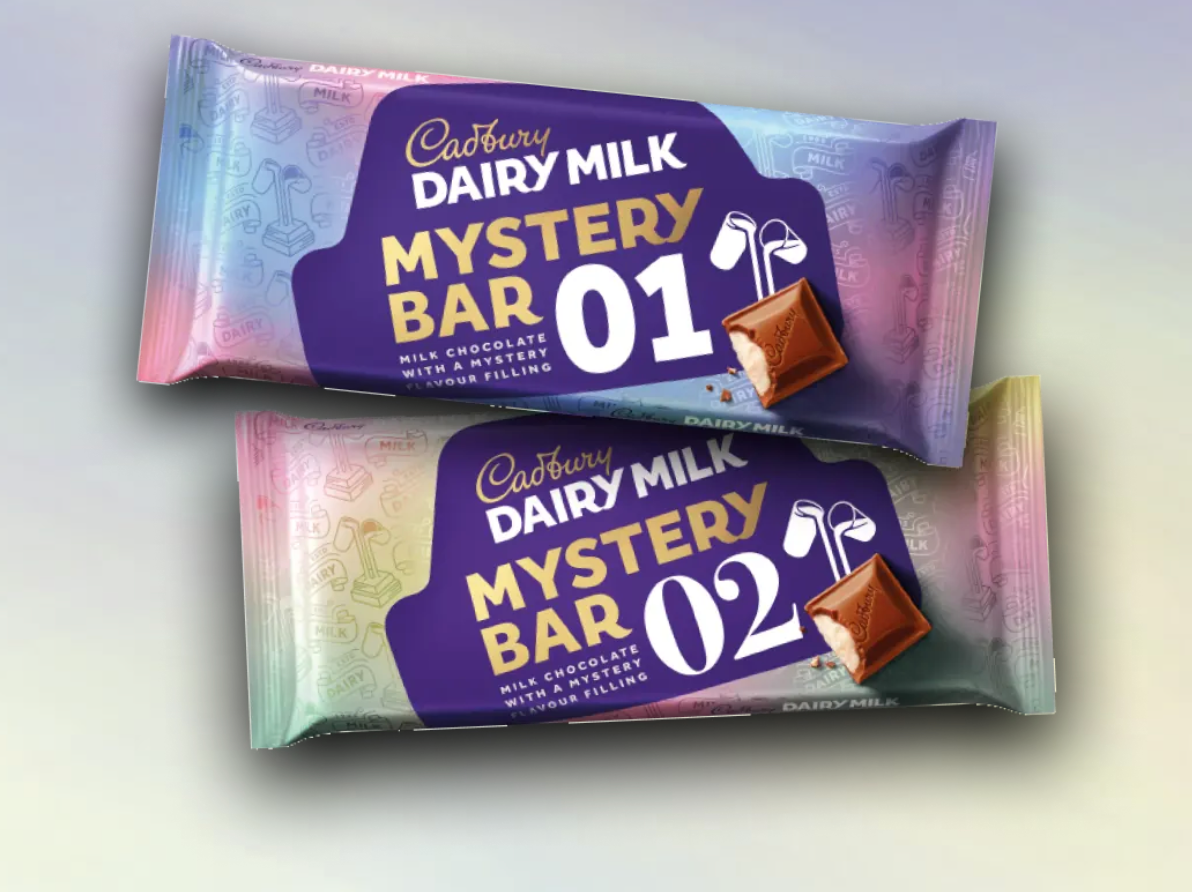 Two new mystery Cadbury Dairy Milk bars are soon to land on shop shelves across the UK, and you could bag a big prize if you guess the flavour.
Fresh off the back of the return of the fan-favourite chocolate orange range featuring Giant Buttons, Fingers, and Orange Twirls, the highly-anticipated launch of the new Caramilk range last year, and most-recently, the release of the new Caramel Twirl back in May, Cadbury has now added two new flavours into the mix.
But there's a catch – the new flavours have been kept a mystery.
The beloved UK confectionary brand has chosen to keep the flavours of its two latest Dairy Milk bars a secret as part of a new competition.
The Cadbury Mystery Bar competition is challenging chocolate lovers to put their tastebuds to the ultimate test to see if they can correctly guess the mystery flavour that's encased inside the company's iconic milk chocolate.
Read more: Cadbury Caramilk has officially hit UK supermarket shelves at £1.50 a bar
Two new Cadbury Mystery Bar have been released – 01 and 02 – which are both different flavours, and it's up to you whether you choose to solve the flavour of both of the bars or just one of them.
While they're set to hit shop and supermarket shelves very soon, you can also get your hands on the bars in a range of different sizes from the Cadbury website – with prices starting at just 69p for a single bar, and £2.49 for a 170g bar.
There's also a Cadbury Mystery Bar Pack for £6 too, which includes both a 45g and 170g bar in each of the two flavours.
So, how does it actually work then? How do you enter to be in with a chance of winning? Well, it's simple, and all you'll need to do is follow these three steps:
Select which Cadbury Mystery Bar you want to solve
Solve the mystery flavour – you can submit one guess per bar, per day
Enter your details to win
Guess the flavour correctly and you could win one of two prizes worth a whopping £5,000 each.
If you correctly guess the flavour of either Mystery Bar 01 or Mystery Bar 02, then you'll automatically be entered in the draw for a chance to win one of two prizes, which, rather unsurprisingly, are also being kept a secret.
Read more: Cadbury has shrunk the size of a Dairy Milk bar – but kept the price the same
While Cadbury is keeping its cards closer to its chest when it comes to what the prizes are, they've assured chocolate fans that they're both worth £5,000.
You've got until 5pm on 7 October to enter and get your guesses in here.
Once the competition has ended, winners will be selected at random from all of the successful entries, and Cadbury says it will contact the lucky chocolate lovers directly.
Featured Image – Cadbury UK