Feature
Manchester's late comedy legends | Caroline Aherne and Victoria Wood – Mancs of the Month February 2022
This month, we're remembering two Mancs who not only changed the comedy landscape for women, but changed the game entirely.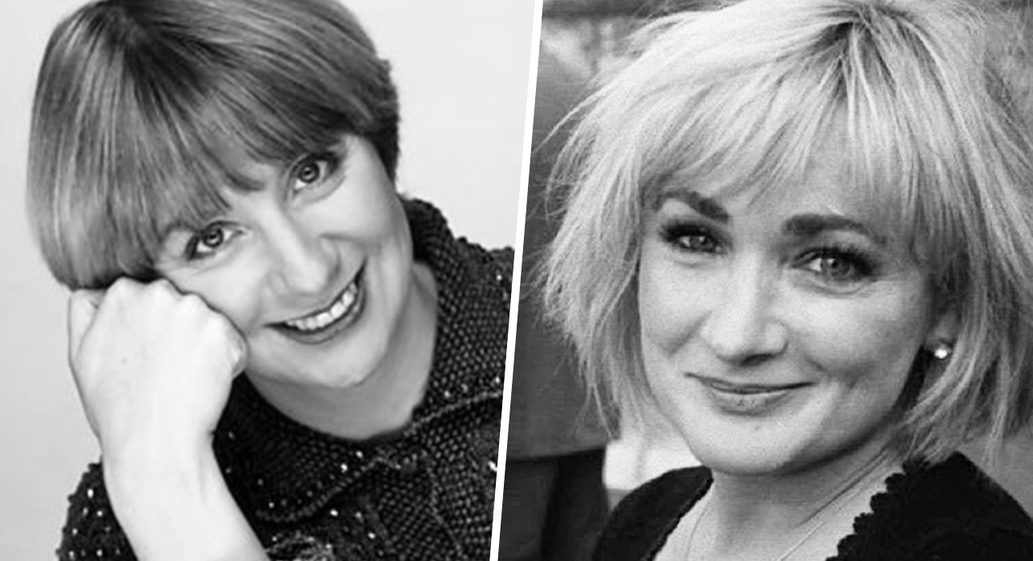 Our Manc of the Month series is back, but this time round, we wanted to do something a little bit different.
We all know that Manchester is home to plenty of special people, some born here and others drawn here, who have inspired and led us through tough times, so we decided to start a series that shines a light on those who should be celebrated.
Following on from our 'The Mancs of the Year' feature towards the end of 2020, Manc of the Month officially kicked off in July 2021 – with Marcus Rashford MBE, Manchester's mural king Akse P-19, the local chef feeding the region's vulnerable families Mary-Ellen McTague, and Manchester's groundbreaking new Council leader Bev Craig among previous honourees.
In earlier editions, we had chosen to feature people who had an impact on our region in the recent weeks prior, but for this month, we want to cast our minds back and pay worthy tribute to an inspirational pair who are sadly no longer with us.
With International Women's Day – a global holiday marked annually to commemorate the cultural, political, and socioeconomic achievements of women – coming up on Tuesday 8 March, and Manchester getting ready to celebrate the females who have made our city what it is today, we cannot think of a better time to remember the careers of a duo who not only changed the comedy landscape for women, but changed the game entirely.
Victoria Wood and Caroline Aherne truly left their mark.
Although born in London to Irish parents, BAFTA award-winning actress, comedian, and writer Caroline Aherne moved to Manchester at the age of two, was raised in Wythenshawe, went to school in West Didsbury, and kick-started her illustrious career on the city's comedy circuit by performing as a collection of characters, before developing the iconic 'Mrs Merton'.
Aherne developed her Mrs Merton character with Frank Sidebottom for his show on Piccadilly Radio, where she worked as a receptionist.
She made a number of television appearances as the hilarious character, before rising to prominence in 1994 with the mock chat show The Mrs Merton Show, where she was known for asking celebrity guests a series of outrageous fake questions – the most-memorable example being to the wife of magician Paul Daniels, Debbie McGee, asking: "So, what first attracted you to the millionaire Paul Daniels?".
Aside from the Mrs Merton character, Aherne was known for appearing on BBC comedy sketch programme, The Fast Show, and then cemented her place in the heart of us Mancunians when she co-wrote and starred as Denise in beloved Manchester-based sitcom, The Royle Family – which ran for three series from 1998 to 2000, and was a largely stereotypical portrayal of working-class family life at the turn of the millennium, with almost all of the episodes taking place in the Royles' telly-centric living room and showing the hilarious conversations they'd have.
The Royle Family could not be a more perfect lasting legacy for Aherne, as it's often included in the conversation when it comes to Britain's best sitcoms, and was named in BFI's 100 greatest British television programmes of all time.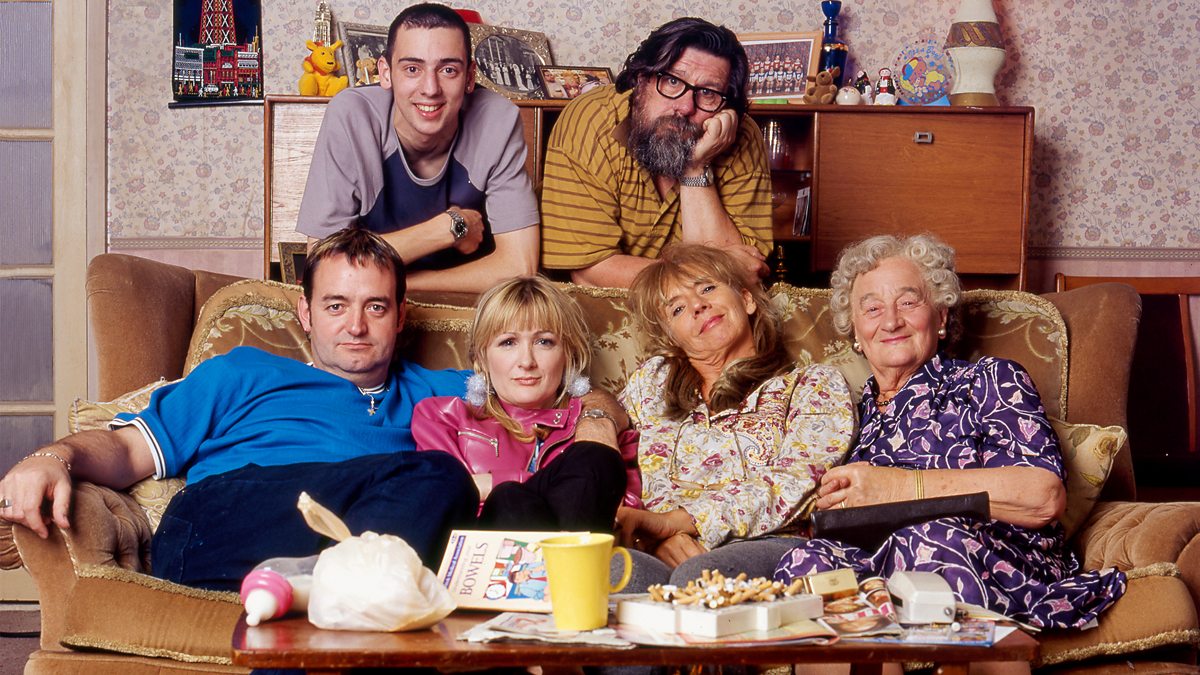 Known for having an instantly-recognisable voice, Aherne narrated the Channel 4 reality television series Gogglebox from its inception in 2013 up until her death in 2016.
She passed away from cancer on 2 July 2016 at her home in Timperley at the age of 52.
2016 was also the year that the world tragically lost the multi-talented Victoria Wood, who, just like Aherne, had a wealth of strings to her bow as a comedian, actress, lyricist, singer, composer, pianist, screenwriter, producer, and director.
Born in Prestwich, and raised and educated in the Greater Manchester borough of Bury, Victoria Wood was struggling with self-confidence, identity, and her place in the world when she discovered a love for performing after her father gifted her a piano for her 15th birthday and she joined the Rochdale Youth Theatre Workshop later that same year.
Wood began her career in show business while she was undergraduate studying drama at The University of Birmingham in the 1970s.
Throughout her decorated and multi award-winning career that spanned over four decades, Wood wrote and starred in countless sketches, plays, musicals, films, and sitcoms, and she was particularly known for humour grounded in everyday life that included references to activities, attitudes, and products that are considered to be typically British, with eclectic live stand-up shows that were often interspersed with her own musical compositions that she performed at the piano.
Her very-own comedy variety sketch show, Victoria Wood: As Seen on TV, aired on the BBC from 1985 to 1987, undoubtedly making her a household name and paving the way for her to become a mainstay on our screens.
But if you ask Mancs what Wood's career highlight is, most would point to the cult-classic sitcom, dinnerladies – which ran for two series from 1998 to 2000.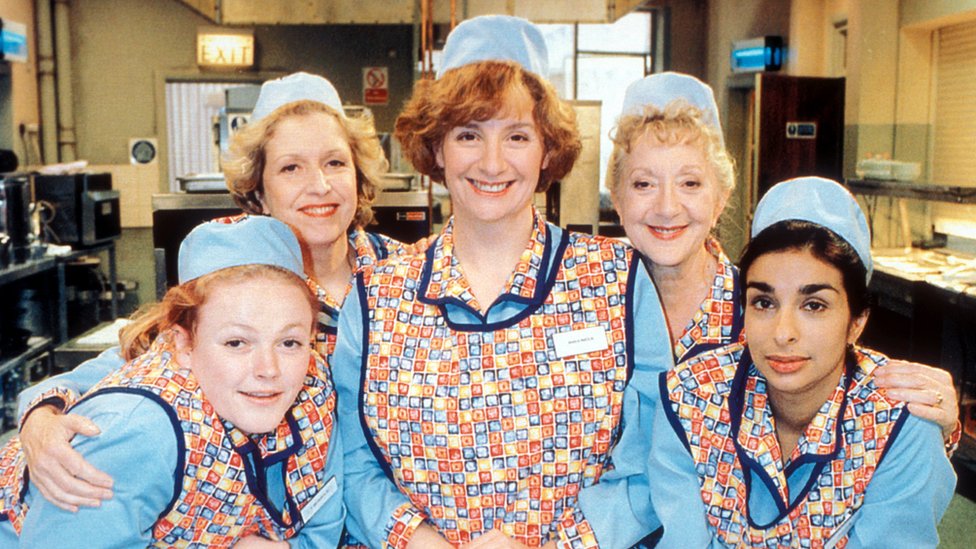 Created, co-written, produced by, and starring Wood herself as Brenda "Bren" Furlong, dinnerladies is set entirely in the canteen of the fictional Manchester-based factory of HWD Components, features the caterers and regular customers as the show's main characters, and was beloved for the fact that it depicted the lives, and social and romantic interactions of all of the staff.
Victoria Wood also sadly died of cancer on 20 April 2016 at her London home, surrounded by her children and former husband.
Although we've done our best to take you through the lives of these two late local legends and give a worthy nod to everything they went onto achieve throughout their careers from humble beginnings, it's almost impossible to truly sum-up the impact that Caroline Aherne and Victoria Wood had and quantify just what they mean to the people of our proud city.
Their talents will always live on, and Manchester will never forget our comedy heroines.
Featured Image – BBC