Feature
The Japanese Anime cafe with real maids hidden inside Afflecks
Inside you'll find rare anime dolls, imported Japanese snacks, milkshakes named after famous characters and stacks of comics which you can read for free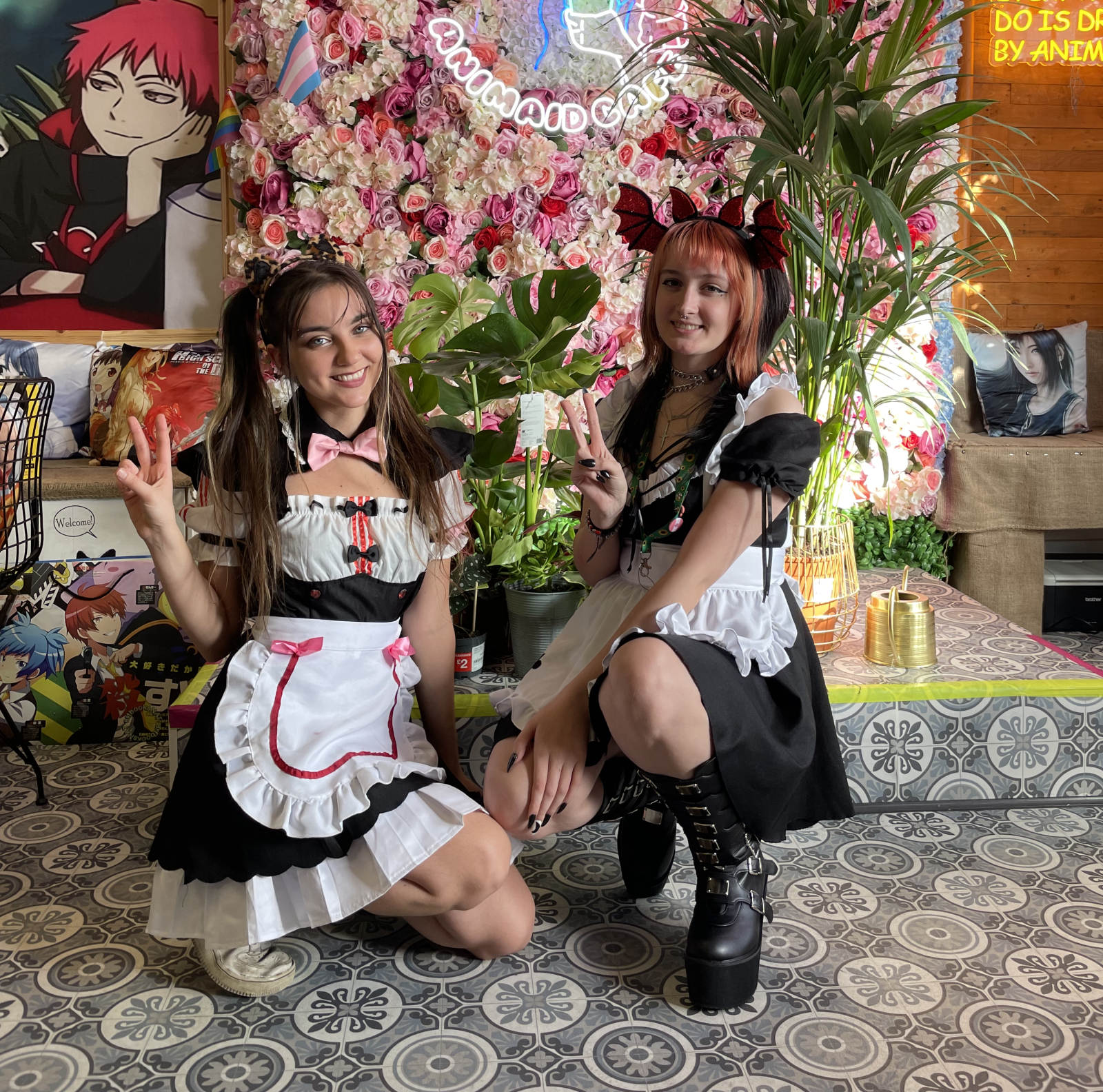 Hidden inside Afflecks is a magical Japanese anime-inspired maid cafe where you can watch films by Studio Ghibli and buy drinks inspired by famous anime characters.
First opened in 2019, the cafe is the only one in the UK of it has kind and has had various different iterations over the years – first starting life off as a shop downstairs before moving onto the second floor.
Based inside its current unit for two years now, in the past few months, its owners have expanded the space to add on a proper Japanese-style sakura cafe behind the shop – complete with upside-down umbrellas hanging from the ceiling and its very own sakura tree.
Neon lights and anime murals cover the walls, there's a stage covered in plants, ring lights that customers are welcome to use for filming, and, in one corner, a bookshelf filled with anime books that the maids have found in charity shops.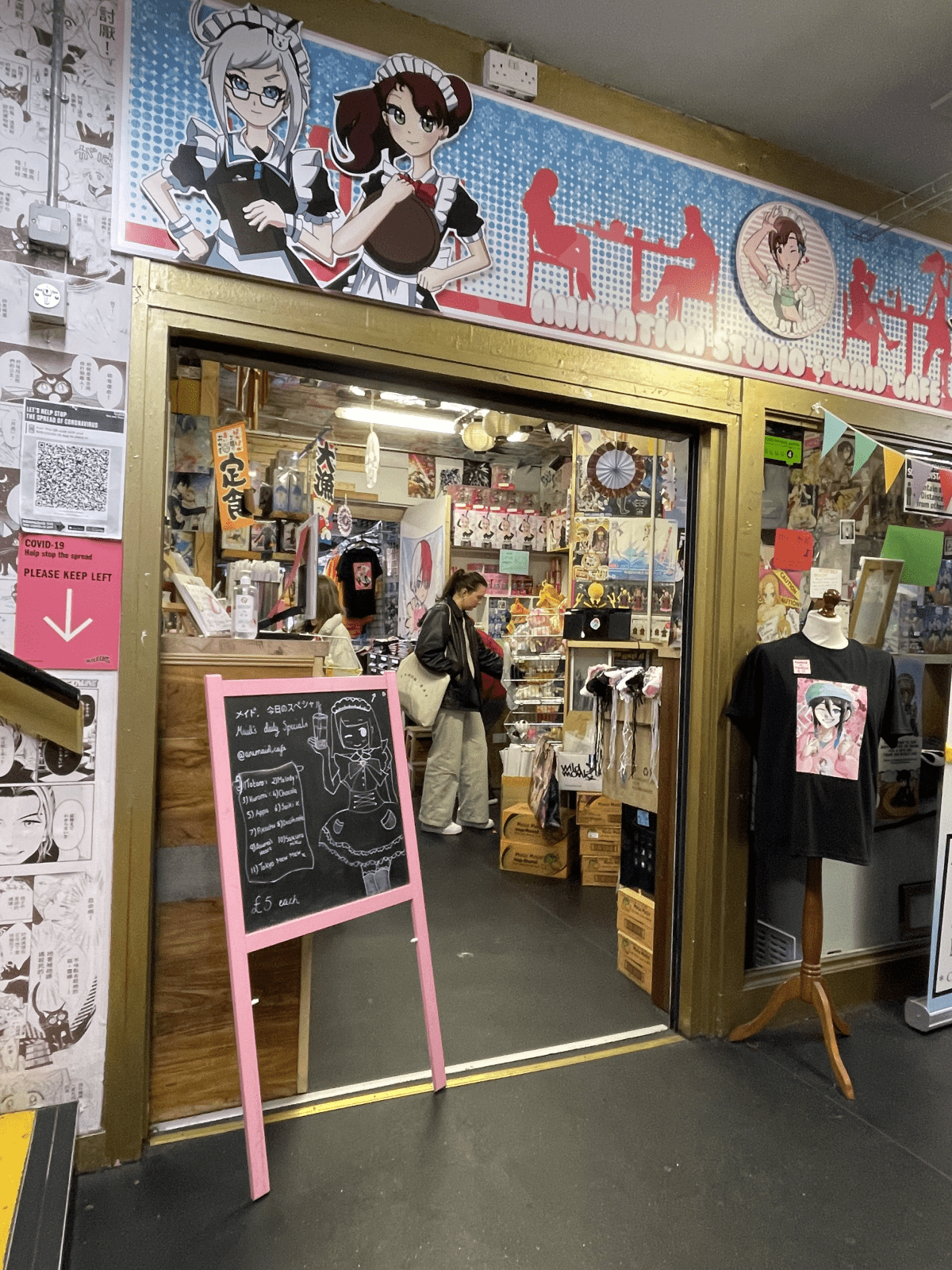 Customers, the maids tell us, are welcome to pick any of these up for a read whilst visiting. The cafe also offers a service to customers to come in and resell their old anime comics to the cafe for a much better price than they might get elsewhere.
On our visit, we meet two of the cafe's seven resident maids – Ria and Gia. Both are dressed in cosplay Japanese maid outfits, Maid Gia also has furry black and brown cat ears on her head, whilst Maid Ria is sporting black and red dragon wings.
They are keen to stress that, whilst the cafe does draw its inspiration from Japan's maid cafe culture, unlike in Japan in no way are they wanting to be fetishised.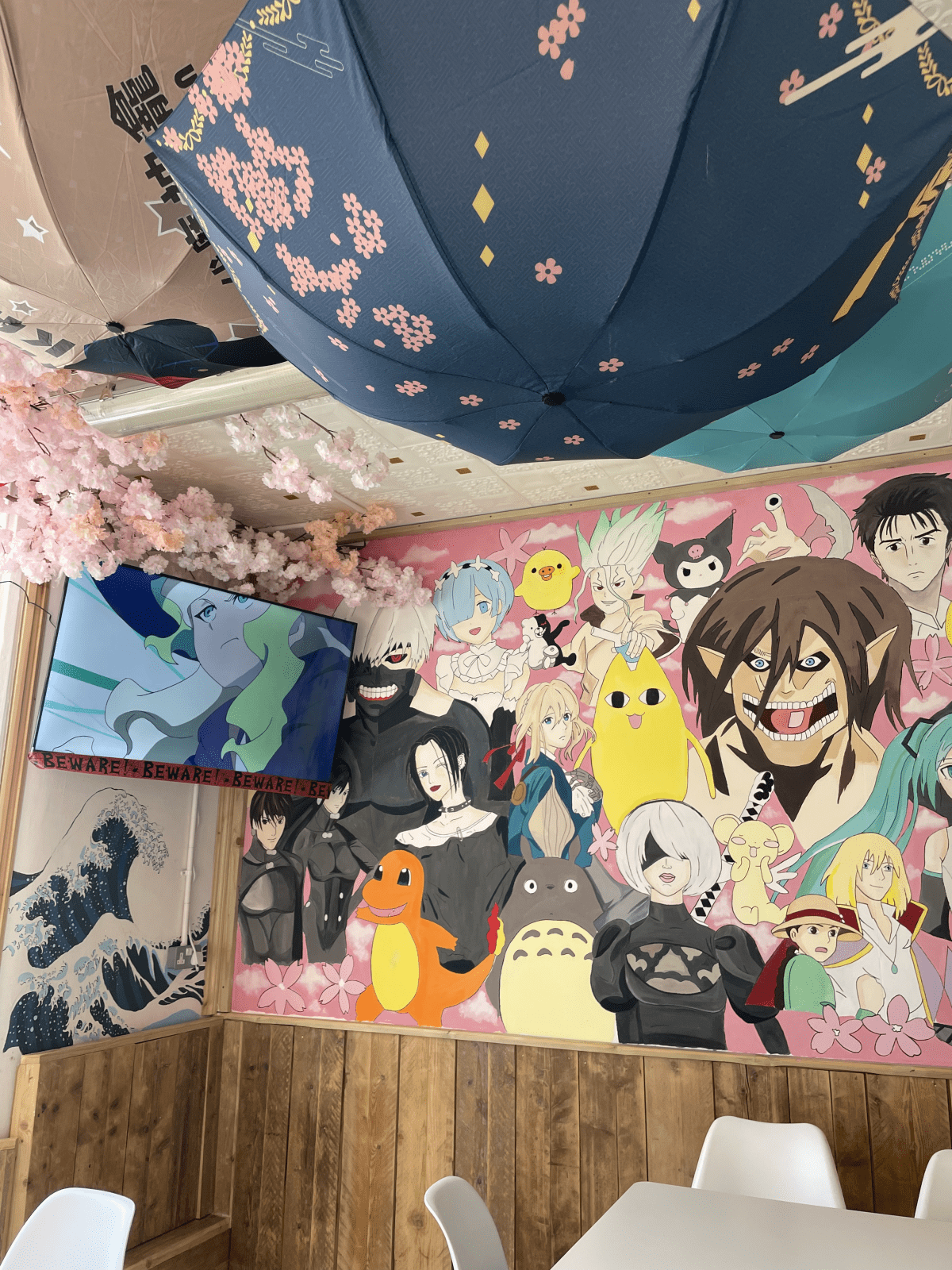 Over there, customers commonly call the maid's "Princess" and vice versa are called "master". Here at Affleck's, the focus is more on having fun – not on sexualising the intimacy between customer and maid.
"In Japan, it's quite fetishised," explains Maid Ria.
"In their cafes, […] master and princess is like kind of like fetishist names […] we don't want any aspect of fetishising anything, we don't want any Asian fishing or anything like that because it's just disgusting."
"We just want to have fun and dress like maids and sell Japanese merch without hurting anyone," adds Gia sweetly.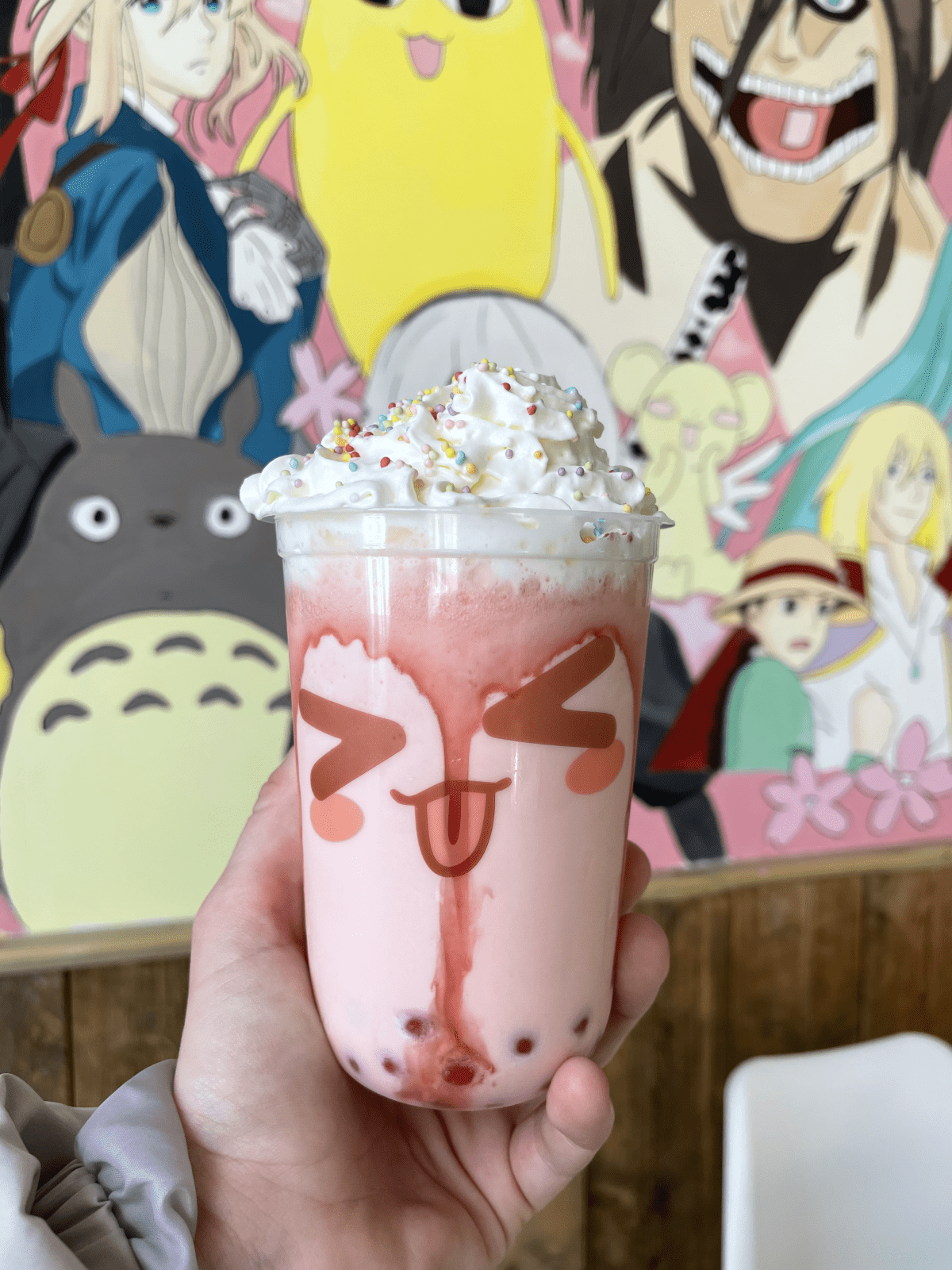 Both maids' enthusiasm for Japanese anime and manga culture is infectious – and as they start to explain more about the fantastical worlds that are created within it, where people are born with pink hair and devil horns, where someone might be half-cat, or have superpowers that see them shoot stars out of their hands – it's easy to see how you could become immersed.
It's pure fantasy at its very best. They tell us about Death Note, where you write someone's name in a magical notebook and it kills them, and about another character who has the power of being trans – where they can inject themselves and change gender.
It's all brilliantly weird, "the weirdest stuff you can think of" says Gia.
As well as selling food and drink inspired by their favourite anime characters, which includes a list of milkshake specials loaded with the likes of chocolate, raspberry, fruit pearls, tapioca and cream, the cafe also sells authentic figures that are collector's items in their own right.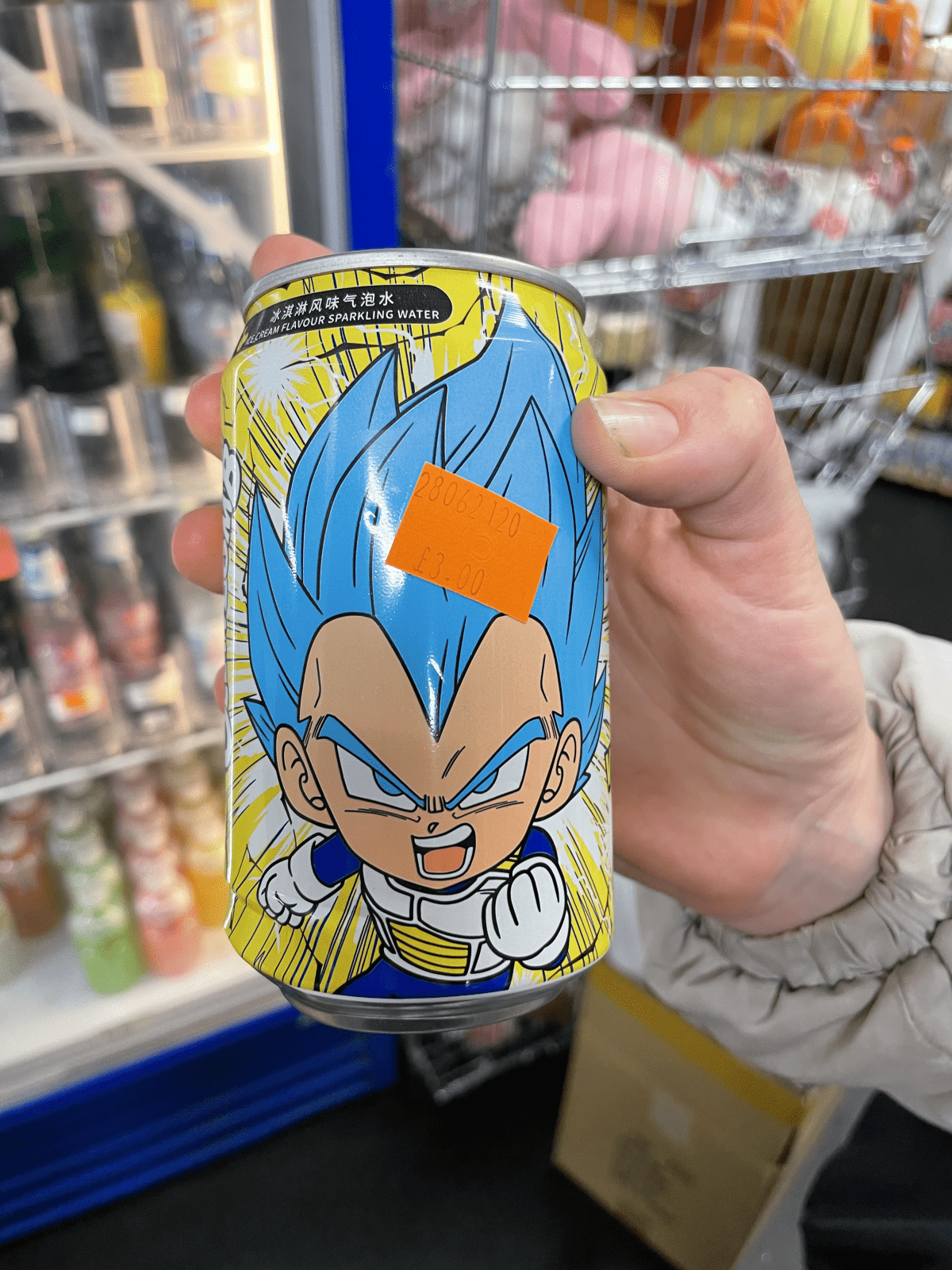 "All of our stuff is straight from Japan which we feel like gives more of an immersive experience, so if you could never travel to Japan you've literally got it right here," says maid Ria.
The shelves are packed with boxes of different figures from the comic worlds, as well as Japanese snacks from the likes of Hello Panda. There's also a fridge filled with different flavoured drinks that pay tribute to some iconic characters, including a blue-haired Sonic.
For now, the food offering is limited to snacks that you can buy to eat in the neighbouring cafe – but the maids tell us they've got plans to introduce hot food as soon as possible and hope to start selling bowls of ramen and cookie dough, adding an immersive element into the service.
Ria tells us, "In Japan, they serve little omelettes and then the maids come over and like draw in your omelettes like smiley faces, that's the kind of stuff we really want to do in the future."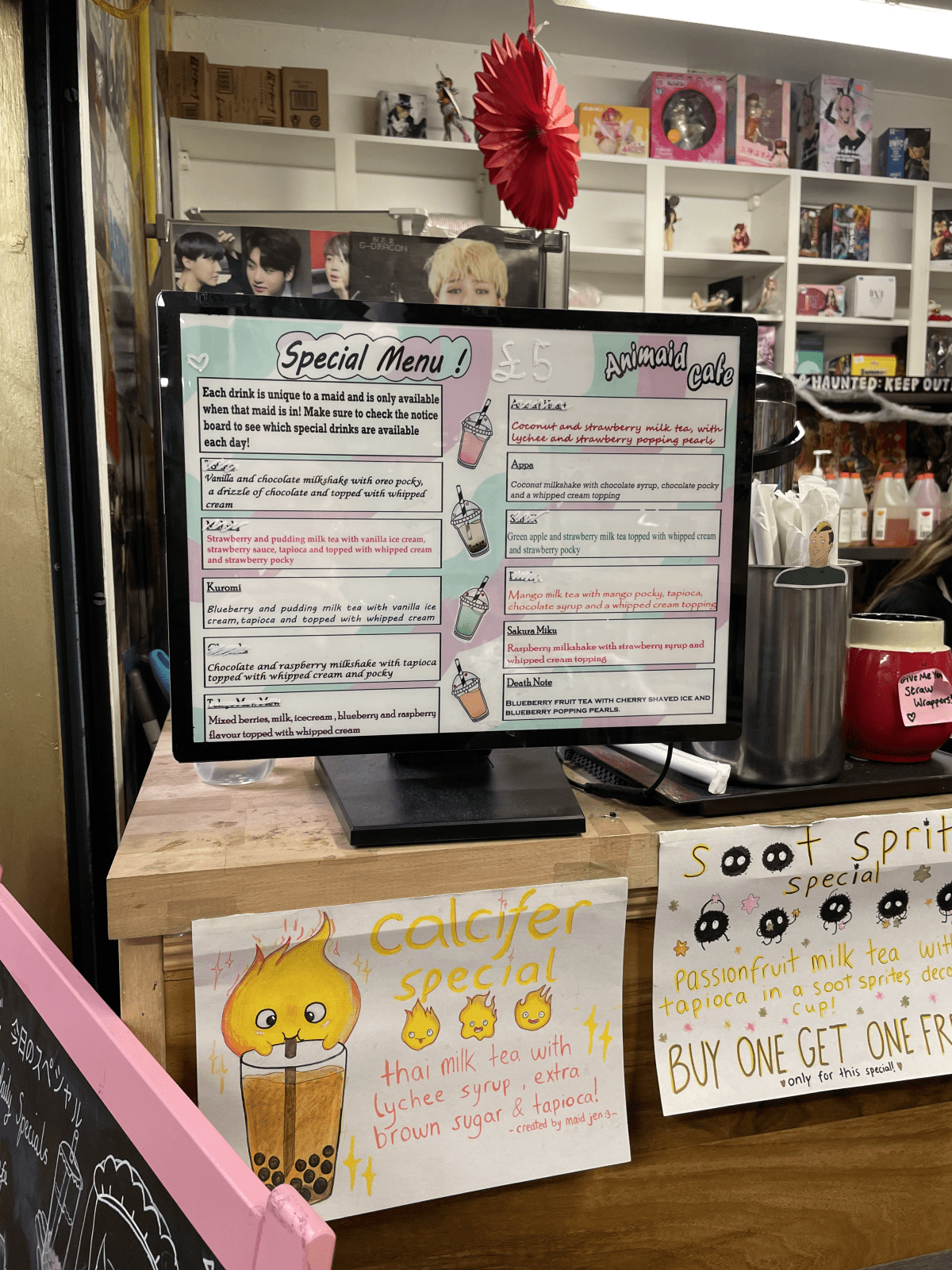 "We're getting this kitted out as a proper kitchen, we're going to do cookie dough as well yes omg we have a red velvet flavour, a death by chocolate flavour, birthday cake flavour – I'm really excited for that – bubblegum. It's like a cookie dough ice cream and that will be the first kind of food that we serve instead of just like a snack you buy off the shelf.
"We're just looking to put it somewhere."
"In this cafe it's just always like gradually growing. A lot of places open and it's like BAM! But yeah we're always growing and that's what's nice, taking new ideas and that's what's fun about it," adds Gia.
The maids also tell us about their plans to have a proper maid cafe in the future out on the street, where they can stand outside and welcome customers in "with like the windows all pink and frilly, like a little castle."
Designed for like-minded people with a shared interest in anime, the cafe has been set up to be suitable for all ages where fans can socialise and initiate new friendships,
All of its maids are anime fanatics and experts too, and with their help owner Rio has created a safe space for anime fans where guests can watch anime, play video games, and transport themselves to cosplaying heaven.
Over the Halloween weekend, the cafe will be hosting a special event to tie in with the annual Manchester Anime and Gaming Con.