News
Immensely brave LGBTQ+ protestor storms Qatar pitch waving rainbow flag during Portugal vs Uruguay
While we genuinely fear for his safety, we can only applaud his commitment to sending a message on the global stage.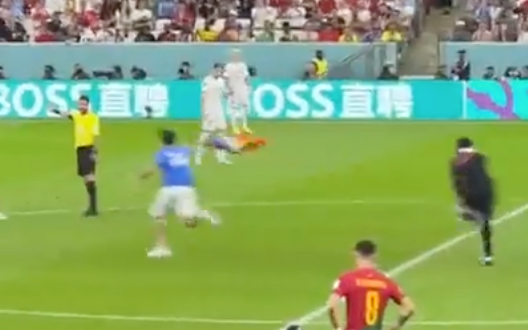 In what we can only describe as an equally terrifying and admirable act of bravery, an LGBTQ+ protestor stormed onto the pitch during Portugal vs Uruguay's World Cup match on Monday night.
Serial pitch invader Mario 'Il Falco' Ferri made the bold and immensely dangerous move of not only entering the field of play flying a rainbow flag in protest of the anti-LGBTQ+ state, but he also donned a shirt reading 'Respect Iranian Women' on the back and 'Save Ukraine' on the front.
While the majority of the nations present at the tournament are united with Ukraine, it was quite the statement to make with Iran still sitting second behind England in Group B, especially in a country where women's rights are also suppressed.
Despite receiving cheers from large sections of the crowd, the protestor was also met with a chorus of boos from Qatari locals before he was ultimately tackled to the ground.
Despite FIFA making the positive U-turn to allow rainbow flags and bucket hats into the grounds for the remainder of the competition last week, it goes without saying that the organisers will definitely be less lenient with pitch invaders flying pride flags.
While many supporters were wondering whether this decision might signal the return of the One Love armband, which was banned just before the start of the opening game, however that now seems highly unlikely.
Moreover, while Russia are obviously not at the 2022 World Cup, Qatar and FIFA will also be wary of any and all high-profile political statements against Iran or any other nation, for that matter.
People watching the live broadcast were also disappointed by the director's decision to cut away from the scenes, airing nothing more than a glimpse of the protestor before he was removed from the pitch.
Read more:
Activist and footballer Ferri has become renowned for stunts like these down the years, making it even more curious how he managed to get in the stadium in the first place.
Back in March, the 35-year-old even helped evacuate Ukrainian civilians escaping the Russian invasion across the Polish border. What an absolutely top bloke.
It remains unclear whether he was detained by authorities afterwards and what if any punishment he has faced, though some form of action seems inevitable given the stories of their strict policing thus far.
We hope this legend makes it out of the Middle East safely and, once again, we take our hats off to him.
Hopefully, his latest stunt will draw more attention to the various rights infringements and human rights abuses being perpetrated by Qatar.
We dare say this won't be the last protest we'll see before the final on 18 December.
For all the latest news, events and goings on in Greater Manchester, subscribe to The Manc newsletter HERE.
Featured Image — @AmichaiStein1/@OrryLavie (via Twitter)