Sponsored
Manc hiring platform Caroo are back with another belting but banned ad campaign — it's mint
The self-proclaimed 'Tinder for jobs' app is no stranger to pushing the boundaries. Guess some people just don't like creativity.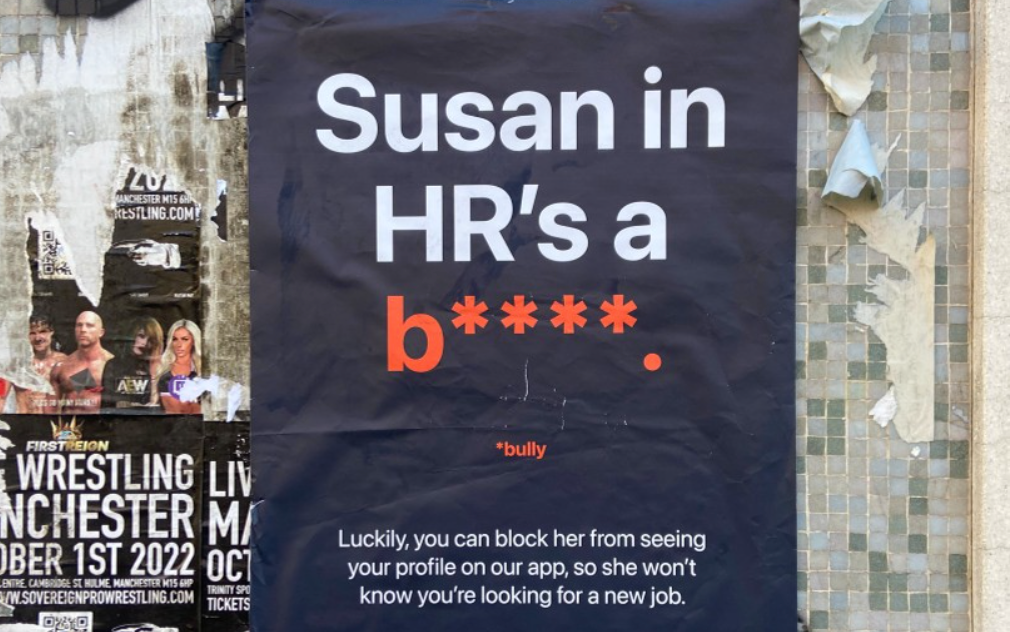 Manc hiring platform Caroo.co.uk are back at it again with another brilliant ad campaign. The only trouble is, it's getting pushback and was even banned from appearing on billboards.
Why, we hear you ask? Well, we don't know — we think it's absolutely ace and we'd call it more clever than controversial.
Regardless, that's what it has been labelled as by certain people in the marketing industry and their campaign was even rejected by all of the major billboard companies for being 'too provocative'.
We'll let you decide for yourselves:
The 'Ok Google' one had us belly laughing — so accurate it felt like a personal attack. Also 'Karen in HR' was right there, guys, but we'll let you off.
As you can see, the whole idea is simply a clever play on words using asterisks and common phrases you might come across in the workplace over the years, only this one toys with perception and reality.
It's also not the first time they've come up with an unorthodox advertising campaign either.
We personally love BJs…
In case you've never come across Caroo before, it's basically like Tinder (but for jobs, obvs.) The only catch is there are no recruitment agencies allowed.
Caroo keeps you updated with all your favourite brands and companies' vacancies, as well as helping you find the right role through their clever algorithm.
With features like the ability to block your current employer from seeing that you're applying for something new, not to mention a dedicated team working behind the scenes to make sure you aren't just left to the whim of a machine's algorithm, it's no wonder they had such success over the past few years.
Read more:
Their whole deal is that their hiring platform allows you to just get on with finding your next biggest career move, without all the added faff of traditional job seeking.
Now working with over 650 different employers and more than 160,000 professionals who have installed their unique app, the Manc startup have gone on to become pioneers in their field, aiming to "disrupt" the job market as we know it — they even reduce their success fees to 7.5%
Caroo aims to put power back in the candidate's hands, so if you think you'd be up for a new job, download their app by clicking HERE.
For all the latest news, events and goings on in Greater Manchester, subscribe to The Manc newsletter HERE.
Featured Image — Caroo