Sport
Alfie Haaland was chucked out of the Bernabéu for 'insulting' and 'throwing food' at Real Madrid fans
Once a blue always a blue.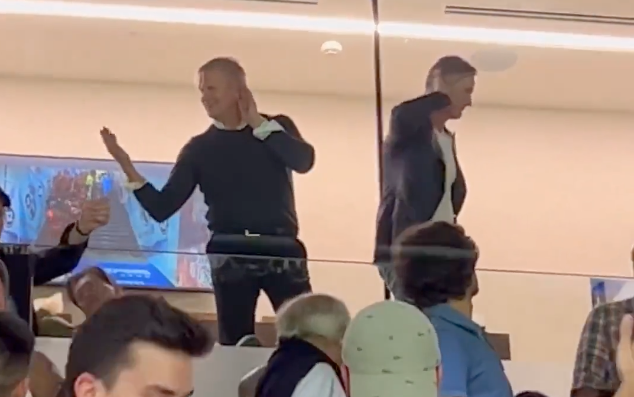 It was a close run and feisty stalemate between Manchester City and Real Madrid on Tuesday night, but apparently appear more action was taking place up in the stands as Erling Haaland's dad, Alfie, was reportedly thrown out of the stadium for taunting the opposition supporters.
Before the 22-year-old striking sensation there was, of course, his father: Alf-Inge, a.k.a. 'Alfie' Haaland — a former Man City, Leeds and Nottingham Forest midfielder and utility player, not to mention the same man that Roy Keane famously snapped in that infamously bad tackle back in 2001.
A bit of a City legend in his own right, Alfie Haaland no doubt played a big role in bringing Erling to the Etihad, having long professed his deep affection for the club (seemingly passing on that love to his son) and even popping up in the away end at the odd game here and there.
That being said, it would appear his support for the club got him in a bit of bother in the much-anticipated Champions League tie on Tuesday night after he began taunting the Madrid fans from the corporate box.
Haaland and members of his party were enjoying hospitality at the Santiago Bernabéu Stadium when he began giving it back to the home supporters sat below.
Spanish journalist Inaki Angulo, who acquired the video from inside the ground, reported that not only was Alfie said to have been "insulting" Madrid fans during the match but alleged that he also began "throwing food" at them before eventually being asked to leave.
Peanuts, to be specific, but we have no way of verifying that — it just felt too amusing a detail to leave out.
You can see the moment he was escorted out of his box down below.
Read more:
You can't lie, the notion of Haaland's dad giving it the biggun' whilst sipping champagne from up in the opposition's hospitality is just funny and City fans will no doubt have enjoyed that one.
The scoreline might have been 1-1 on the night and his son might not have managed to put in the impactful performance many expected — with the likes of Wayne Rooney predicting that he would have helped City "blow Madrid away" — that was only the first leg.
With Los Blancos having to travel to Manchester for the second leg and City set up for a crucial home advantage in the decisive match, we expect Haaland will have a much livelier game in front of the Etihad crowd.
Roll on next week — just make sure Alfie is no way near the away fans. Or don't, the prospect of a round two is even more hilarious.
For all the latest news, events and goings on in Greater Manchester, subscribe to The Manc newsletter HERE.
Featured Image — Inaki Angulo/El Larguero (via Twitter)/Premier League