Sport
Interviewer accidentally bumps into Mary Earps' parents on a train at the Women's World Cup
How did he not catch on quicker? She's the absolute spit her mum!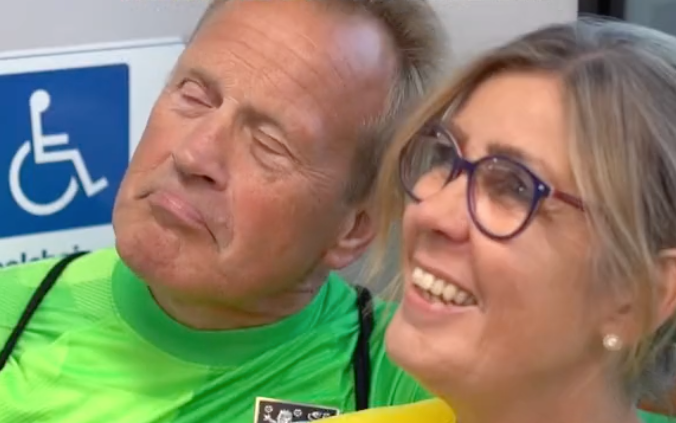 The Women's World Cup might have come to a painful end but we've also been treated to so many hero moments, none more so than Mary Earps' now iconic penalty save — so this interviewer was understandably taken aback when he suddenly found himself interviewing her parents on a train.
COPA 90 journalist and presenter, Eli Mengem, was interviewing fans on public transport ahead of one of the Lionesses games when he just so happened to stumble upon a couple wearing a pair of women's England goalkeeper shirts.
Immediately curios after remembering that Nike hasn't been selling female keeper kits for this year's tournament, he proceeded to ask them how they came about getting not one but two.
After initially playing it cool and not letting on as to who they were, the man and woman revealed that not only were they official match-worn shirts but that they were given to them by none other than Mary Earps herself. Mancs, meet Mama and Papa Mearps.
After her dad joked that they got the kits off Google and kept a straight face throughout as they were asked if they were big fans of goalkeepers, confirming that Earps is their favourite and is "a bit more classy" than the Australian no.1 Mackenzie Arnold, Mengem eventually switched on.
Took you long enough — have you seen how similar she and this supposedly random lady look?!
Once he put two and two together, he promptly asked, "You're not related, are you?…" and the pair confirmed their identities and revealed that they were in fact wearing the 30-year-old keeper's kits from the opening game against Haiti and another from a previous match against the Netherlands.
Her dad, in particular, kept up his sense of humour throughout as after being asked how proud they were of her achievements already, he simply replied: "We'll tell you about 10pm tonight". Oh, believe you me, result regardless, we're all more than proud.
Read more:
The Lionesses might have to wait a little bit longer to get their hands on a Women's World Cup but they're still European champions and absolute legends to all of us.
In what has been an otherwise very rubbish summer, Sarina Wiegman and her squad brought us plenty of sunshine.
As for Nike and the ongoing goalkeeper kit saga, which the England and Manchester United keeper helped bring to the forefront, the company has finally issued a statement addressing the situation.
Meanwhile, we'll take any excuse to watch back that massive Mary Earps moment again:
For all the latest news, events and goings on in Greater Manchester, subscribe to The Manc newsletter HERE
Featured Image — COPA 90 (via TikTok)/Mary Earps (via IG)