Sport
Vincent Kompany's cheeky jab at Cristiano Ronaldo didn't go unnoticed
Touché, Vinny.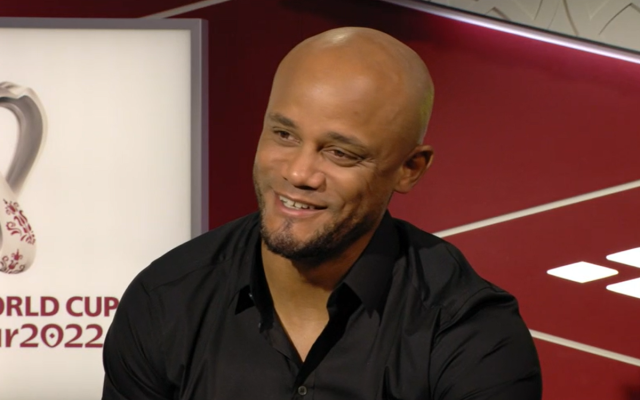 Amidst a whirlwind day of news over at Old Trafford, Manchester City legend Vincent Kompany managed to get in a sly dig against outgoing Cristiano Ronaldo.
Not long after the news of Ronaldo's departure from Manchester United for a second time and just hours before it was announced that the Glazer family could be willing to sell the club after 17 years, Kompany was on the panel for France's World Cup opener against Australia.
The reigning world champions went on to win the game 4-1, but the 37-year-old's abrupt exit was naturally a massive talking point amongst the pundits.
With that in mind, lead anchor Gary Lineker posed the question, "Would you take him at Burnley?". The former City star's answer was priceless.
I mean, whether you're a United fan or not, he's got a point.
Kompany was appointed as manager of Burnley FC back in June of this year and currently has the Lancashire-based club on track for a Premier League return, sitting three points clear of Sheffield United at the top of the table.
Notably, he has also helped change the playstyle significantly, dominating possession significantly (averaging 63.1% per game) and completely overhauling their passing stats and pressing off the ball.
In contrast, while Ronaldo has been in the team this season, United have covered less distance and averaged around two fewer points per game.
Read more:
A workhorse he may have once been and clearly still in immense physical condition, but as Ronaldo has gotten older, his game has naturally had to change and it seems apparent that so did his desire to play for United.
The footballing veteran and sporting icon is now set to leave the club that launched his career following a turbulent second spell during which he took aim at the manager and ownership, as well as several current and former players.
Although he is obviously away with Portugal in Qatar, it is rumoured that Ronaldo's next destination could be either Newcastle United or a move to their owners' country of origin, as he told Piers Morgan that he received several offers over the past year.
Well, thanks to Kompany, we know it won't be Burnley at least…
For all the latest news, events and goings on in Greater Manchester, subscribe to The Manc newsletter HERE.
Featured Image — BBC Sport