Sport
Wythenshawe Amateurs fans begin epic 35-mile charity walk to raise money for The Christie
They've already made over 70% of their fundraising target but let's help give them a push for a great cause.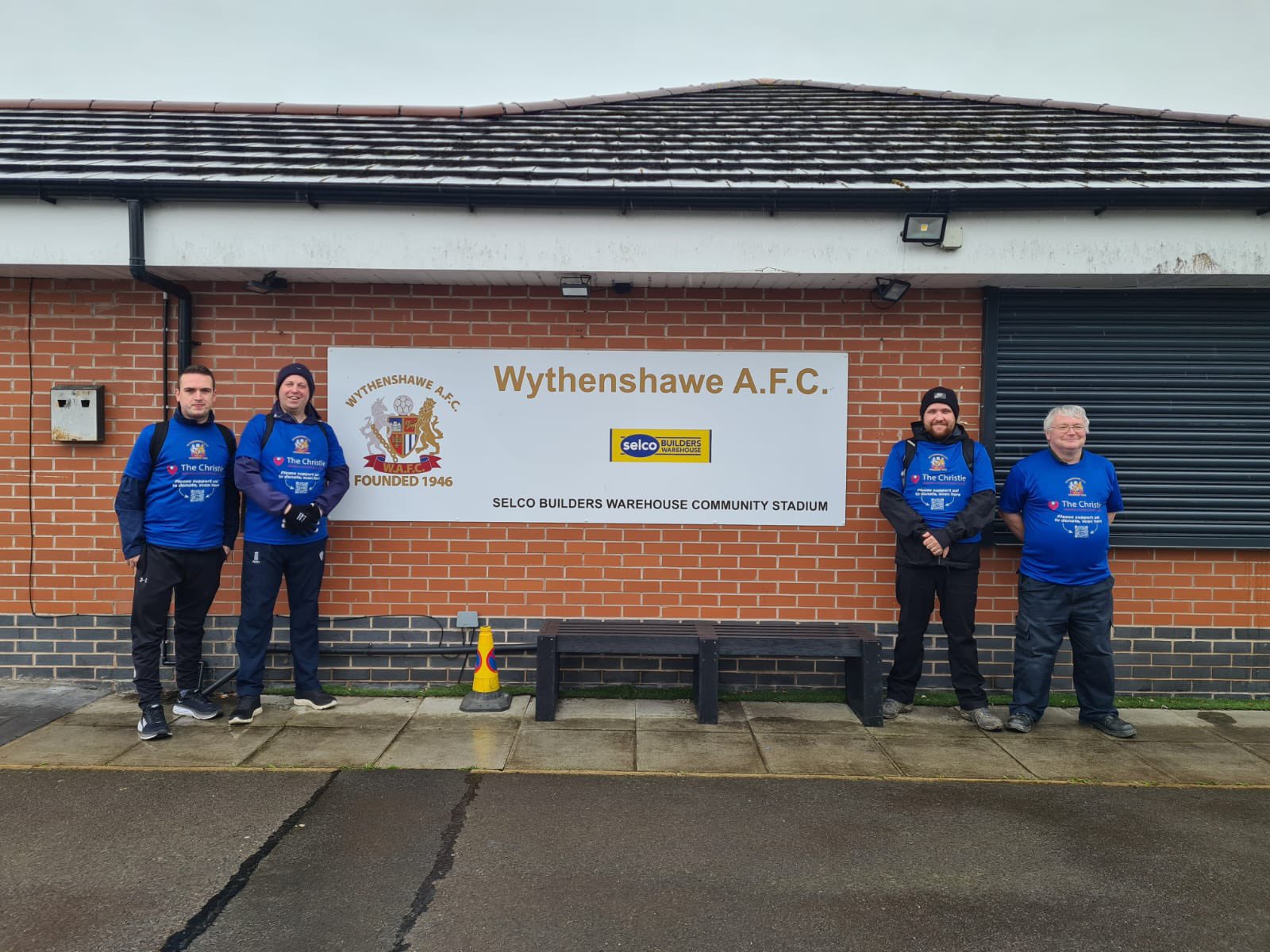 Wythenshawe Amateurs FC fans have today begun their epic 35-mile charity walk to their final league game in an effort to raise money for the club and The Christie NHS Foundation.
Turning their next away day into a fantastic feat of fundraising, a faithful legion of Ammies have decided to walk 35 miles, or just over 56 kilometres, from their home ground in Sharston, Wythenshawe, all the way to Foley Meir FC's stadium in Stoke-on-Trent. Crikey.
For context, this massive trek is about an hour and a quarter in the car and would take you nearly two and a half hours on the train, but these lot are doing over 11 hours all on foot.
The best part is, as well as managing to get vice-chairman Martin Howe involved, they're doing the whole thing not only to raise money for the beloved Christie cancer research and treatment centre. Absolute legends.
Setting off around 10am on Friday, Howe, along with fellow walkers Adam Lewis and Ash Butterely, began the first day of their charity walk, setting off from the Selco Builders Warehouse Community Stadium and embarking on their journey in the most fittingly Mancunian way possible: in the wind and rain.
As the route has it, they are set to travel through Wilmslow, Alderley Edge and Congleton before stopping over for the night and setting back out into Biddulph, down the east side of Stoke-on-Trent and on towards Foley Meir's McIntosh Arena.
With their fourth team member Glenn Smith due to join them the following morning, they should arrive in time for kick-off at 3pm on Saturday.
The last time we heard from them, they had just reached Alderley Edge just around 1pm.
Read more:
It looks like the lads are already putting in a great shift and will no doubt be welcomed as heroes by the travelling Wythenshawe AFC supporters and Foley fans alike when they complete the charity walk.
As explained in the description of the JustGiving page, the full route has been shared with Ammies and Greater Manchester locals alike, with the organisers encouraging anyone who wants to do their bit to get involved should they wish.
Alternatively, you can simply donate to the fundraiser HERE.
Well in, lads.
For all the latest news, events and goings on in Greater Manchester, subscribe to The Manc newsletter HERE.
Featured Image — Wythenshawe Amateurs