Stockport
Couple gets engaged 'mid-karaoke' at legendary Stockport boozer, The Chestergate
Punters in The Chestergate were witness to a surprise proposal on Tuesday night.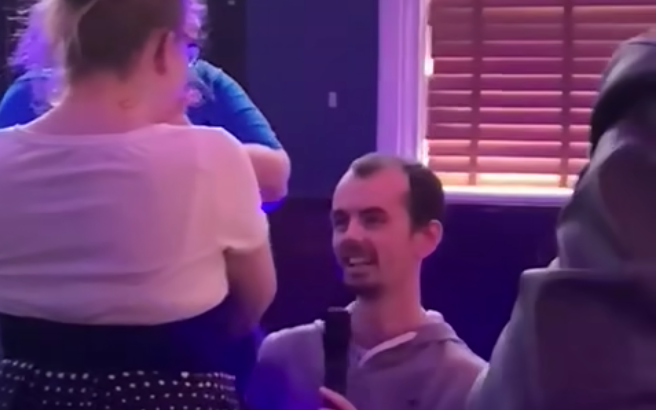 The Chestergate pub in Stockport is possibly one of the most colourful boozers in all of Greater Manchester. It doesn't matter what night of the week it is, there's always something going on.
Whether it's going viral for their regular karaoke videos, giving the most perfect little snapshots of UK pubs and British life in general, or changing their name to 'The Southgate' every time a major tournament is on, we have the utmost love for the place and its persistence when it comes to going viral.
Perhaps the part we love about it the most is that all of its iconic memories are that they are created entirely by accident; this pub is just full of people having a good time, enjoying a pint and some good company with complete abandon.
And speaking of karaoke, one of The Chestergate's most popular videos of late was shared like many of their other hits: on a random weeknight when two lovebirds happened to get engaged — seemingly right in the middle of the usual sing-song on Tuesday evening.
The happy couple in question are yet to have been identified as far as we know, but you can see just how happy the pair of them are to have popped the question in their beloved local boozer — and everyone in there seemed to love it just as much too.
We dare say this definitely isn't the first proposal to have happened in The Chestergate and we're sure it won't be the last.
The comments were full of well-wishers leaving their congratulations and remarking things like, "how cute" and "romance is in the air", not to mention tagging others by way of a hint.
It might not be as iconic as their last viral video back in October, but we'll take love and pints flowing freely, smiling faces and plenty of music any day.
Read more:
Obviously, public proposals and displays of affection aren't for everyone, and perhaps not everyone would pick The Chestergate as the place they'd want to get engaged, but we think is simply lovely.
Congrats again to the happy couple and we hope to catch another memorable scene in there for ourselves sometime soon.
Long live The Chestergate!
For all the latest news, events and goings on in Greater Manchester, subscribe to The Manc newsletter HERE.
Featured Image — The Chestergate (via Facebook)/Blind Tiger Inns