Trending
Government release 'exemption cards' for face mask use under new law
The government has faced criticism for failing to produce an official card prior to this release.
The UK government has now issued official face mask 'exemption cards' to which those exempt from wearing one can present when challenged in shops and supermarkets.
The wearing of face masks/coverings became a compulsory requirement in England from today (24 July).
Under these new regulations, fines of up to £100 can be enforced by police officers for those whole fail to comply, and this fine will be reduced to £50 if paid within 14 days.
Face coverings must cover the mouth and nose at all times.
A number of people do however fall under a category which exempts them from having to comply with the mandatory face covering rule.
According to official government guidance, the following are exempt from wearing face masks/coverings:
A child under the age of 11.
An employee of the transport operator, when they are acting in the course of their employment.
Any other person providing services to the transport operator, under arrangements made with the transport operator, who is providing those services.
A constable or police community support officer acting in the course of their duty.
An emergency responder, such as a paramedic or fire officer, acting in the course of their duty.
An official, for example, a border force officer, acting in the course of their duties.
If you are allocated a cabin, berth or other similar accommodation, at any time when you are in that accommodation, either alone, or only with members of your own household or a linked household.
If you are onboard public transport but remain in your private vehicle, eg: on a car ferry.
Now, government health officials have released a number of official exemption cards that can be shown by the above upon any challenging of why they are not wearing a face covering whilst in enclosed public spaces.
The standard exemption card template says – "I am exempt from wearing a face covering" – and can be worn by those exempt as a badge, or shown on their phone, and another template – designed to help lip-readers who are allowed to ask people to remove their face covering under the law – says "Please remove your face covering so I can understand you better".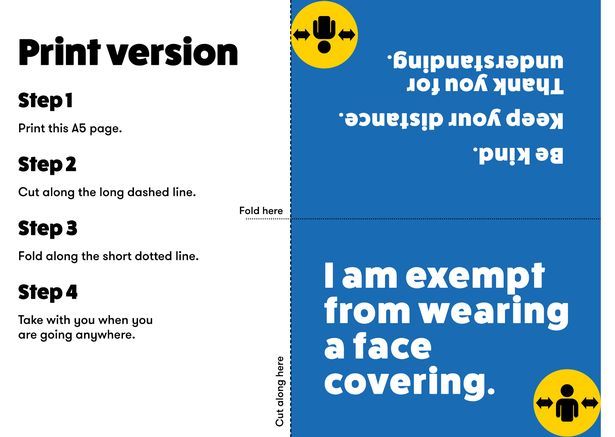 The release of the exemption cards comes after a number of unofficial copies were seen circulating online, or had been issued out by charities over recent weeks.
The government has faced criticism for failing to produce an official card prior to this release.
James Taylor, of disability charity Scope, stated yesterday that: "in recent weeks, we've heard from disabled people who've been challenged over not wearing a face covering while using public transport, causing much distress and anxiety. The government must make it really clear to everyone that disabled people who cannot safely wear face coverings are exempt."
"Disabled people and their needs have been routinely forgotten throughout this crisis [and] if disabled people's needs are ignored, society risks turning the clock back on equality."
It has also been confirmed that whilst official exemption cards have now been released, those that are exempt from wearing a face covering are not required to carry the card with them at all times. If they chose not to carry it though, this could mean they face the same penalty charges if challenged on the matter.
___
For further information and guidance amid the coronavirus (COVID-19) pandemic, do refer to official sources via gov.uk/coronavirus.
#StaySafeSaveLives