Trending
'Loyal' Cheshire Police dog scoops prestigious crime fighting award
PC Chris McDonough companion PD Toro made over 20 arrests last year alone, and kept countless people safe.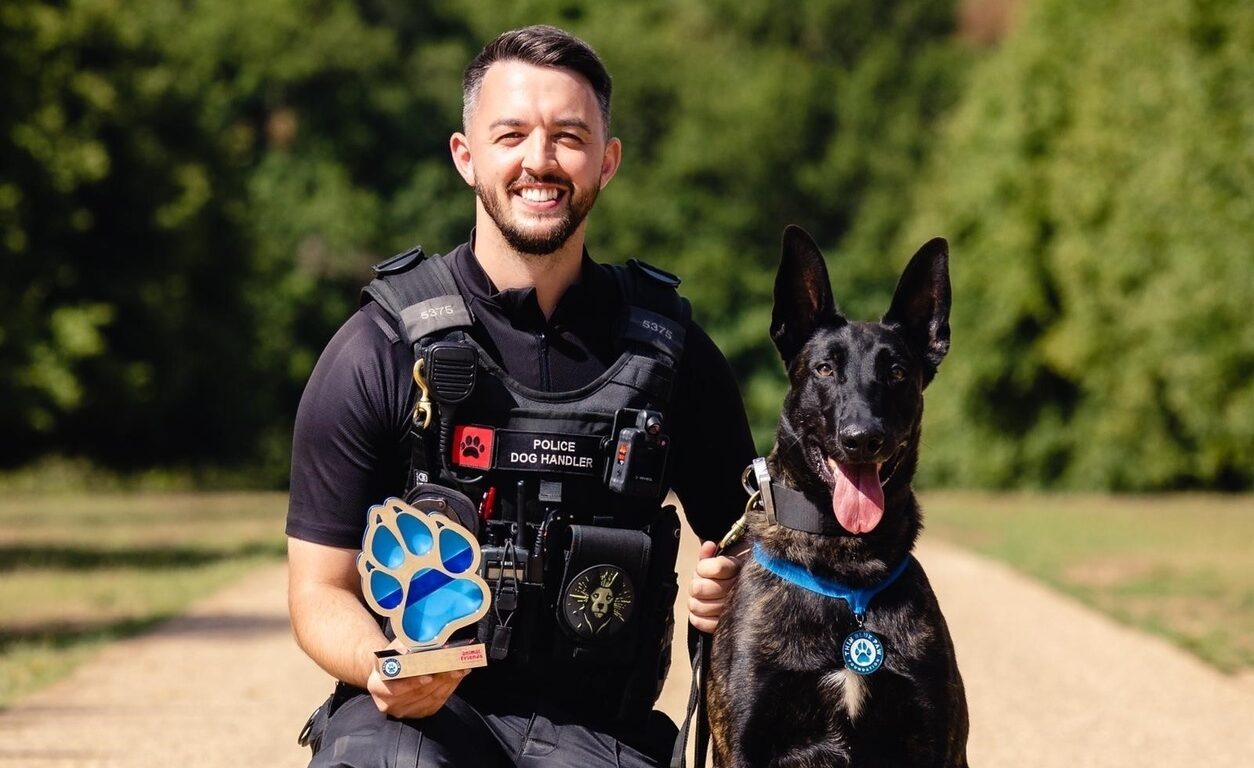 A Cheshire police dog and his handler scooped a coveted crime fighting prize at a prestigious awards ceremony last week.
PC Chris McDonough, 31, and his three-year-old companion Police Dog Toro have formed an incredible partnership over the last two years they have worked together at the Alliance Policing dog section for Cheshire and North Wales, and to prove just what a brilliant team they are, the duo have received national recognition for their commitment to the job at the second annual Thin Blue Paw Awards.
The pair won the 'Crime Fighting Duo Award' at a glittering presentation ceremony held at Knebworth Park last Thursday.
The popular Crime Fighting Duo Award award celebrates a serving police dog and handler team who are constantly achieving outstanding operational results.
The pair were nominated for the award by Chief Inspector Simon Newell for their excellent achievements over the last year – which have included finding missing people, runaway suspects, and stolen property, and for making more than 20 arrests.
They also supported the firearms section in major call-outs, and kept world leaders safe at the 2021 G7 Summit in Cornwall.
Read more:
"When I found out that we were getting the award, it was really humbling and overwhelming," PC Chris McDonough said on receiving the award.
"For once, I was speechless.
"It's nice to just get nominated for an award and to have a little bit of recognition for the work that PD Toro and I are doing, so to find out that we had actually won was great – I was made up."
Chief Inspector Newall added of the duo's award-winning success: "The road to becoming a dog handler and getting your own crime fighting canine is an arduous one which takes dedication and skill.
"PC Chris McDonough and PD Toro have done us proud, and their exploits highlight what the team are doing to keep residents in Cheshire and North Wales safe, often in difficult and sometimes dangerous circumstances.
"This award recognises PC McDonough's handling abilities and tenacious PD Toro's fantastic loyalty.
"Their partnership has gone from strength to strength, and they are now a formidable crime fighting duo with an incredible 'rap sheet'."
Featured Image – Cheshire Police