What's On
The best things to do in Greater Manchester this week | 20 – 26 March 2023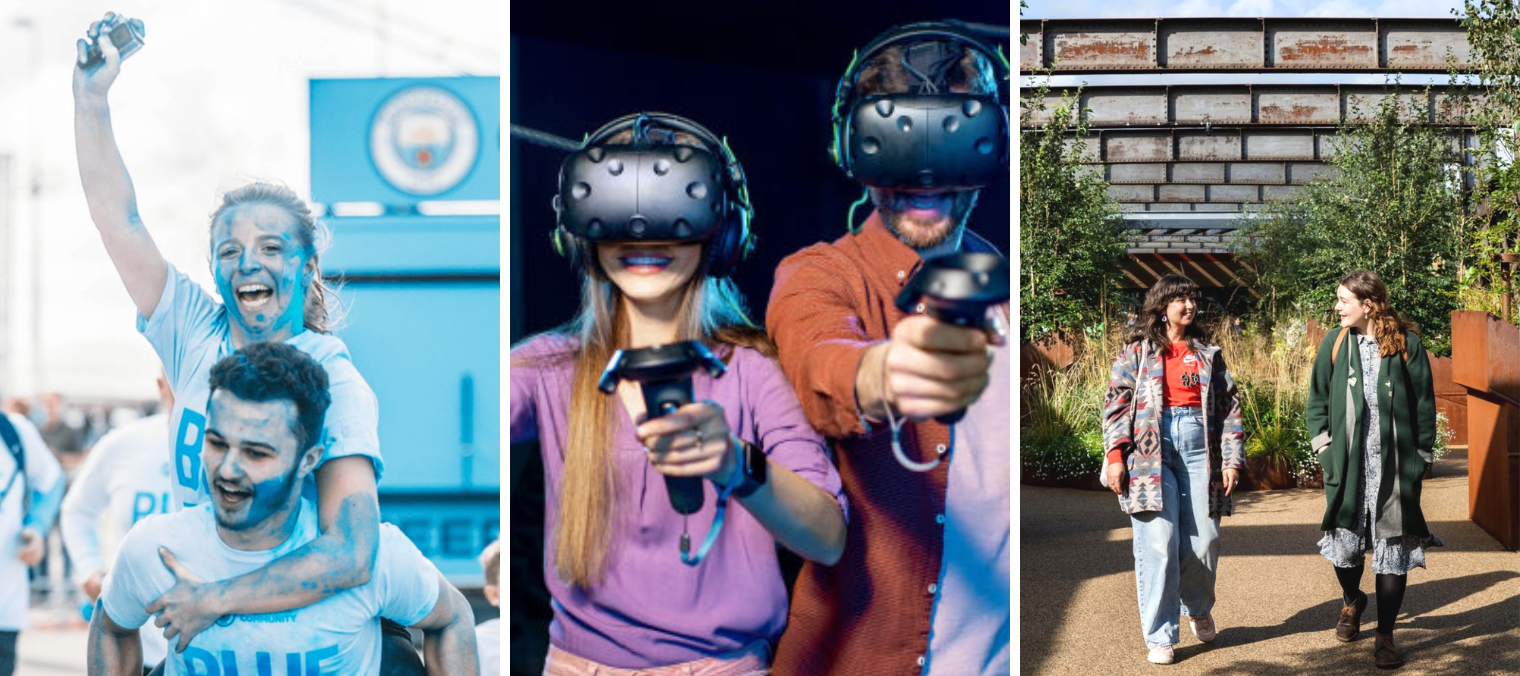 March has been packed with lots of activity throughout Greater Manchester so far, and this week is absolutely no different.
With not long left before the month is out, and before the Easter school holidays roll around once again, we've cherry-picked a few of the best bits happening across the region this week for another edition of our 'what's on' guide.
As always, some of the events we're going to mention are completely free, while others will set you back a few pounds, and many will need to be booked in advance.
Here's our top picks.
___
Read. Swap. Repeat
Corn Exchange
Monday 20 March – onwards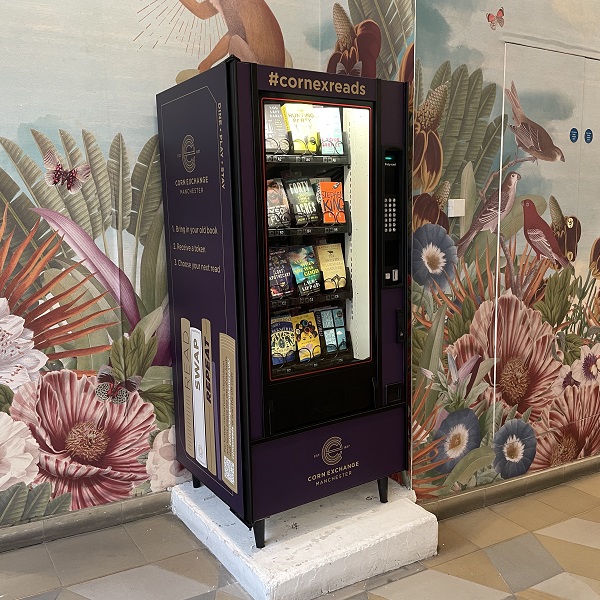 Corn Exchange has installed a book vending machine inside its stunning atrium space.
Whether you're in need a book for your commute into the city, want to update your bookshelf at home, grab a page-turner for your holiday, or simply have a good read over a coffee or glass of something at Corn Exchange, the new vending machine has you covered.
Book lovers are invited to head on down with their old books, grab a token for the machine, and Read. Swap. Repeat.
With the aim to help the environment and reduce waste for book lovers, the machine includes a mix of pre-loved books of all genres, and you'll just need to simply bring in a pre-loved book and swap it for a token with one of the Corn Exchange hosts to access the machine and choose your next read.
Find out more here.
___
Manchester Museum
Manchester City Centre
Monday 20 March – onwards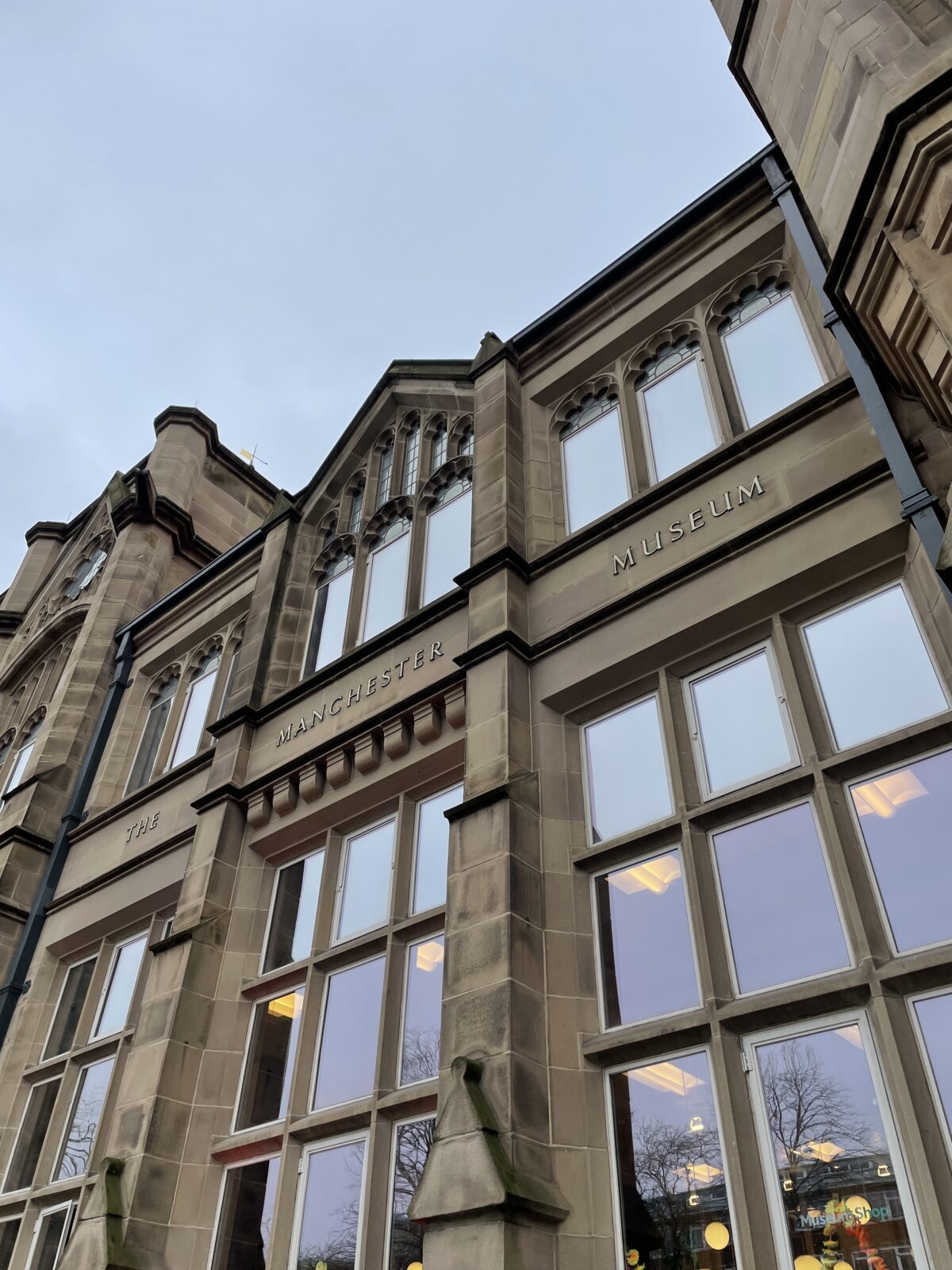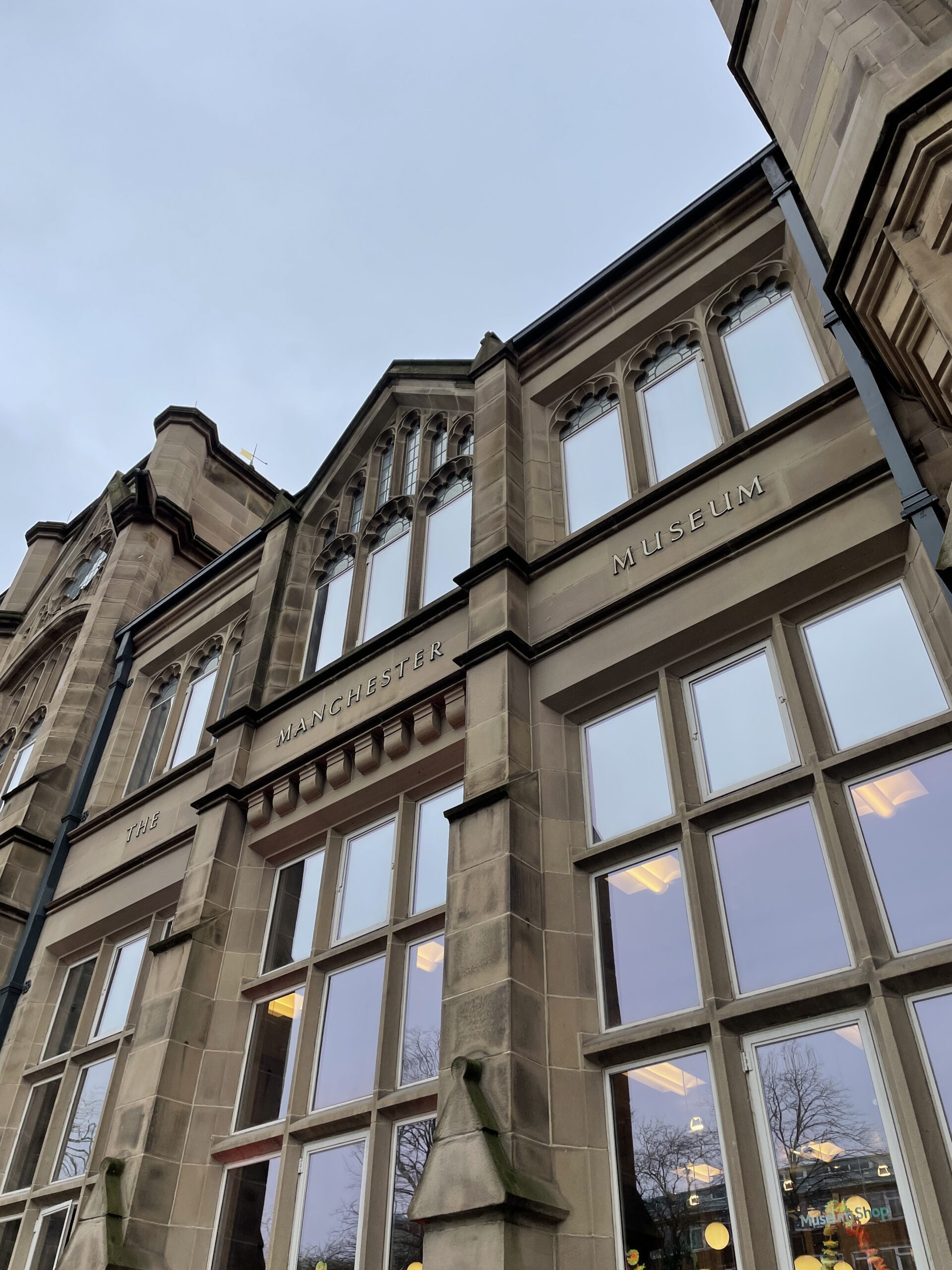 Have you had the chance to visit Manchester Museum yet after it finally reopened to the public after an ambitious £15 million transformation project?
After an 18-month refurbishment, the cultural institution – which is part of the University of Manchester – has expanded into a modern new two-storey extension, with new exhibition spaces and inclusive facilities added into the space.
New spaces inside include a brand new Exhibition Hall, which has opened with the blockbuster exhibition Golden Mummies of Egypt, where visitors get an unparalleled access to more than 100 objects and eight mummies in a UK debut, while the new extension also includes the South Asia Gallery, which will be the UK's first permanent space to explore the lived experience of South Asian diaspora communities.
There's a new dinosaur in town too, joining the museum's legendary T-Rex Stan.
Find out more about Manchester Museum here.
___
The Future Is Ours Festival 2023
Ancoats
Monday 20 – Saturday 25 March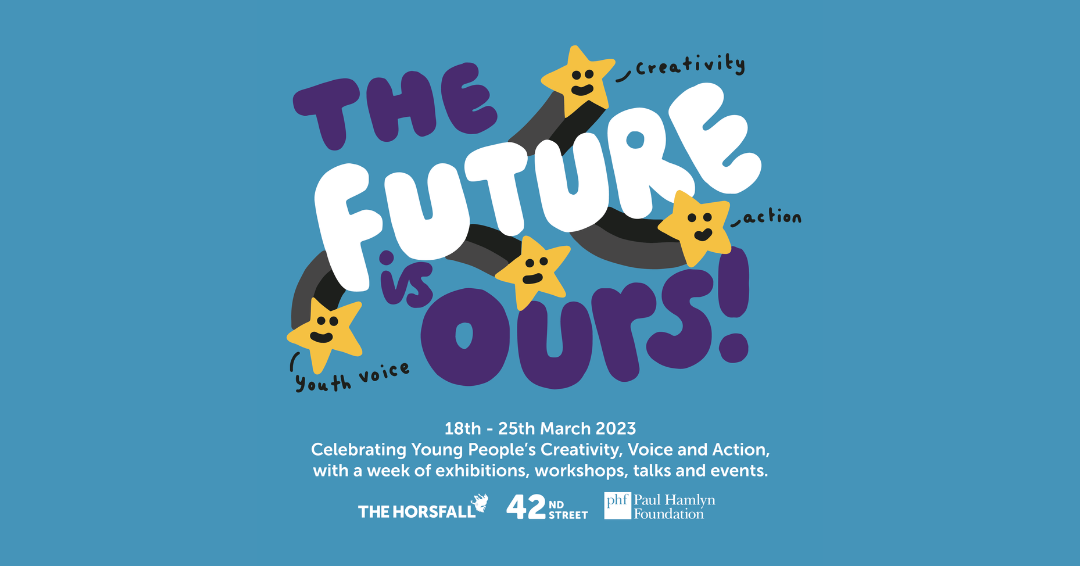 The Future Is Ours Festival is back for its third year in Manchester this week.
The festival is part of 42nd Street, an innovative Greater Manchester young people's mental health charity, and takes place down at The Horsfall in Ancoats – which is one of the only art galleries and creative spaces in the world dedicated to young people aged 13-25
Set to be a celebration of youth creativity, action, and voice, this year's festival will showcase work created by a wide array of young artists.
Find out more and grab tickets here.
___
Let's Move
Kimpton Clocktower Hotel
Monday 20 – Friday 31 March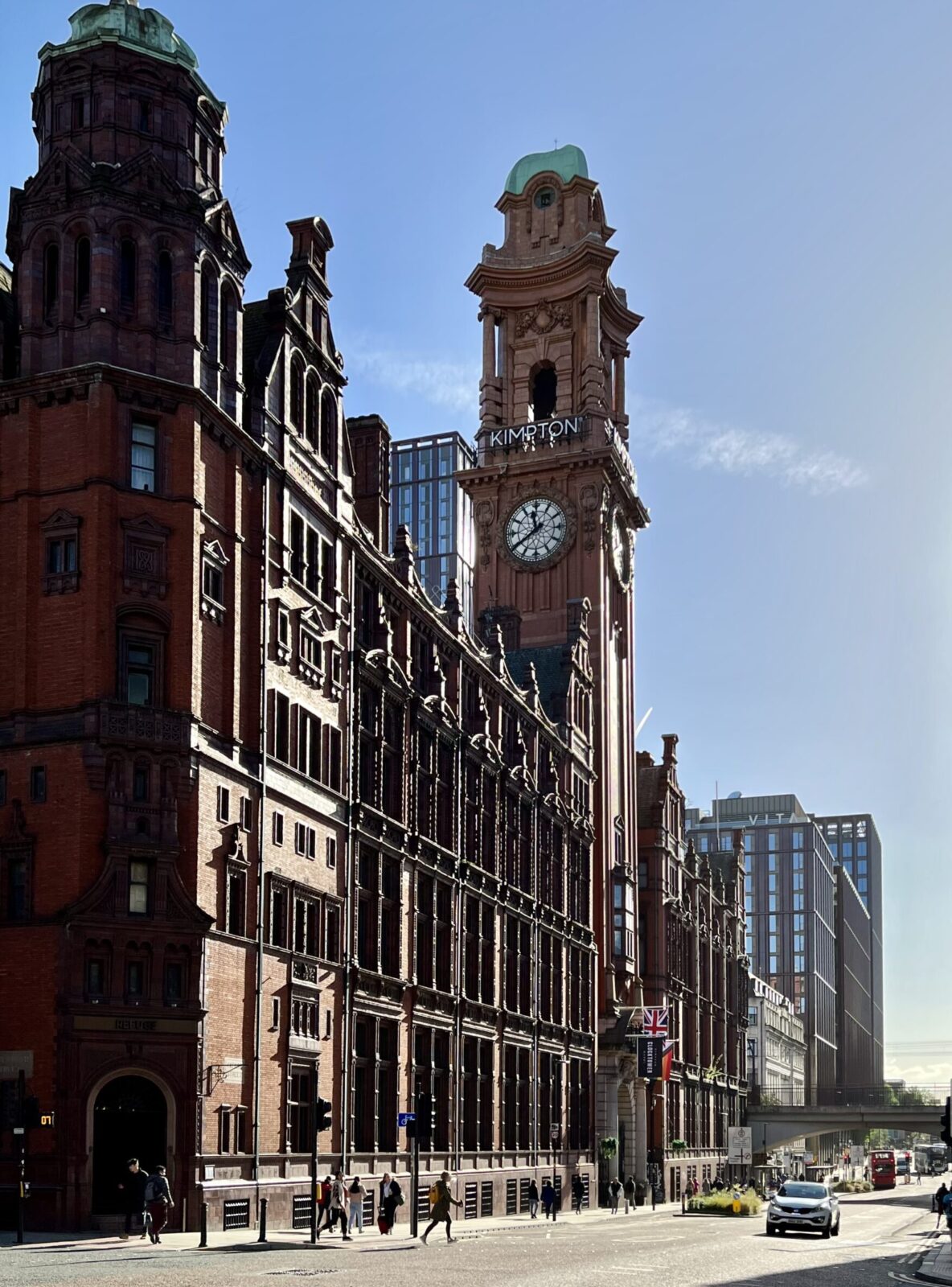 Kimpton Clocktower Hotel has made access to their state-of-the-art gym facilities completely free to the general public for the rest of March.
As part of a new initiative by Technogym called 'Let's Move for a Better World' – which is aiming to get people back exercising in 2023 – the fitness, gym technology, and wellness brand is encouraging gyms across the UK to open up their doors free of charge to local communities.
Running until 31 March, Mancs can get moving and make the most of Technogym equipment for free and join them for a series of fun events – including a 12-hour 'MOVEathon', as well as various circuit classes.
Find out more here.
___
Turn It Up: The power of music
Science and Industry Museum
Monday 20 March – onwards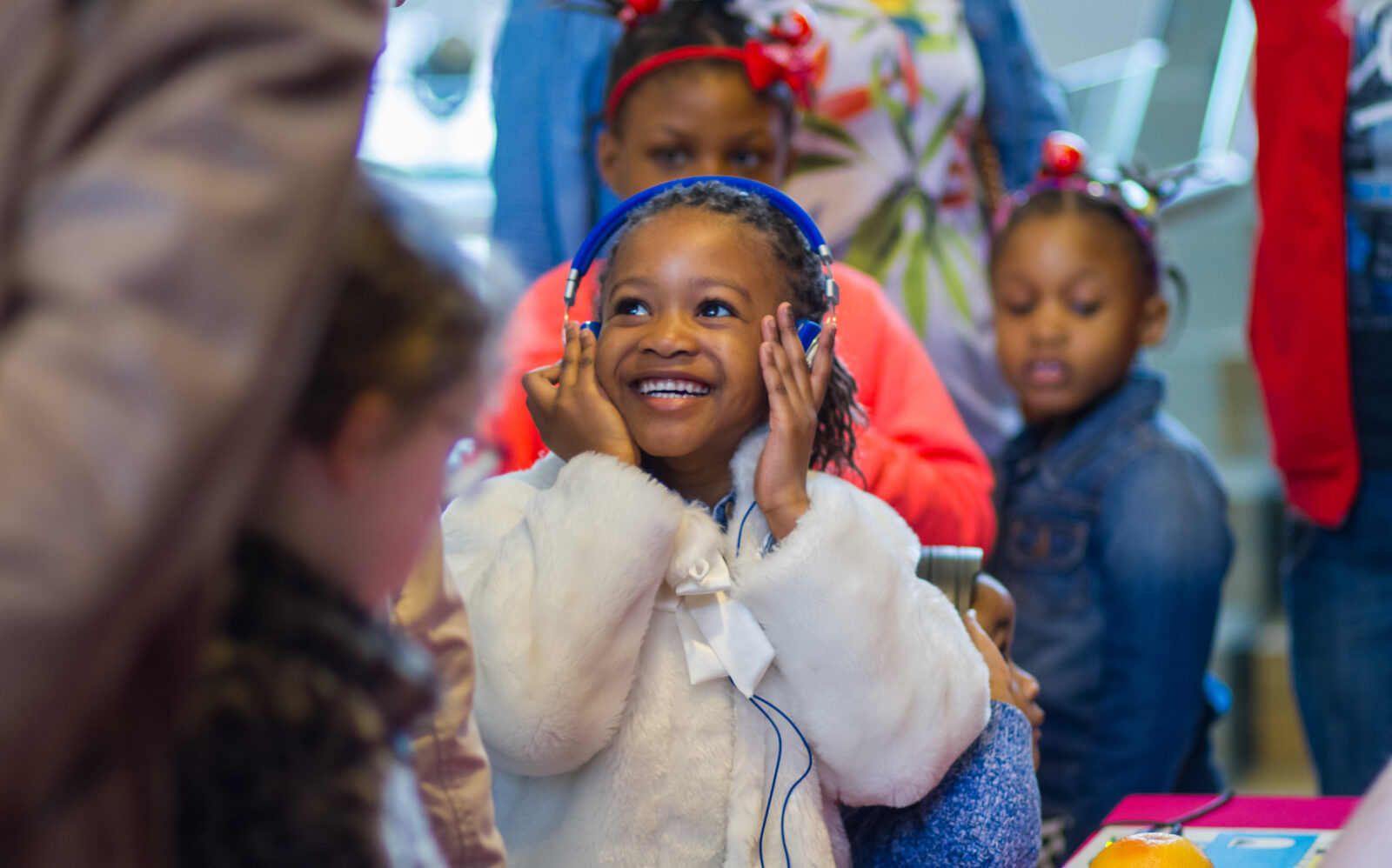 Mancs can make music together and play with beats, melodies and harmonies at the Science and Industry Museum's world-first exhibition.
Running right through until 21 May, Turn It Up: The power of music gives visitors the chance to get creative while exploring the science of music's mysterious hold over us , and how it drives us to create, perform, feel and share.
You can explore how technological advancements continue to push the limits of music, see if you can tell the difference between songs written by humans and machines, and discover some weird and wonderful instruments.
Find out more here.
___
Castlefield Viaduct
Manchester City Centre
Monday 20 March – onwards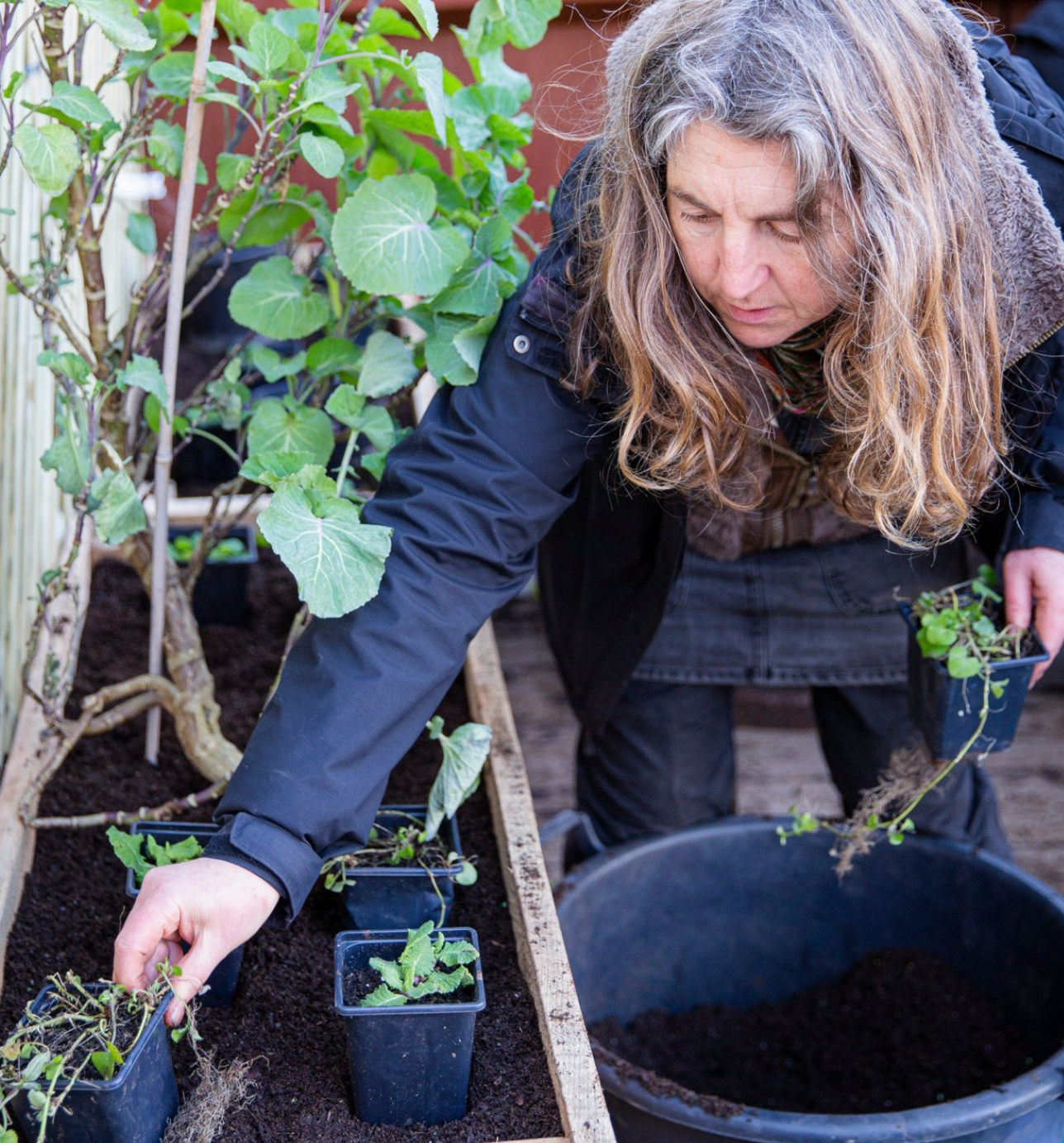 Manchester's new 'sky park' on Castlefield Viaduct has now reopened after being closed for maintenance over the winter.
The New York-inspired elevated urban park on the giant Grade II-listed 330-metre steel viaduct opened to the public as part of a pilot project to gauge opinion back in July 2022, but has been closed since December to allow time for the team of National Trust gardeners, volunteers, and community partners to prune, plant, and create new and exciting areas.
On top of the work to add a variety of seasonal planting displays created by, four plots on the viaduct have also been handed over to local community groups and partner organisations to create their own unique gardens for visitors to enjoy.
Find out more and book tickets here.
___
DNA VR
Manchester City Centre
Wednesday 22 March – onwards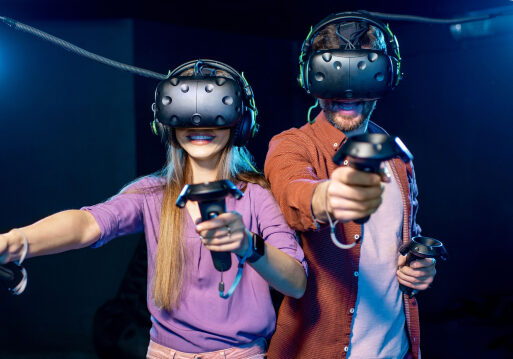 Manchester's gaming scene continues to get bigger and bigger every year, and now one of the UK's biggest VR arcades is opening in the city centre this week.
Promising some of the best and most immersive 'alternative' activities you'll find anywhere in 0161, DNA VR's arcade is packed out with an impressive library of games, over 100 virtual arcade challenges and even virtual escape rooms.
DNA VR Manchester's grand opening is taking place this Wednesday, and the best part is, even for those looking to try it from out of town, the new venue is right in the city centre and just a 15-minute walk away from Piccadilly Station.
Find out more here.
___
Fancy catching all the March deals, discounts, and offers in Manchester's cafes, bars, and restaurants?
Quite a few of the city's best-loved independents have decided to extend their food deals from January into March, and we're absolutely chuffed to see it – so while there's still some great offers to make the most of, we're going to keep promoting them.
Fortunately for us, there are some awesome set menus, lunch deals, and general discounts going around this month.
If you're looking for somewhere to grab a bite this week, we've rounded up some of the best Manchester March restaurant deals to take advantage of in 2023.
You can read our list here.
___
BBC Radio 6 Music Festival
O2 Victoria Warehouse
Friday 24 & Sunday 26 March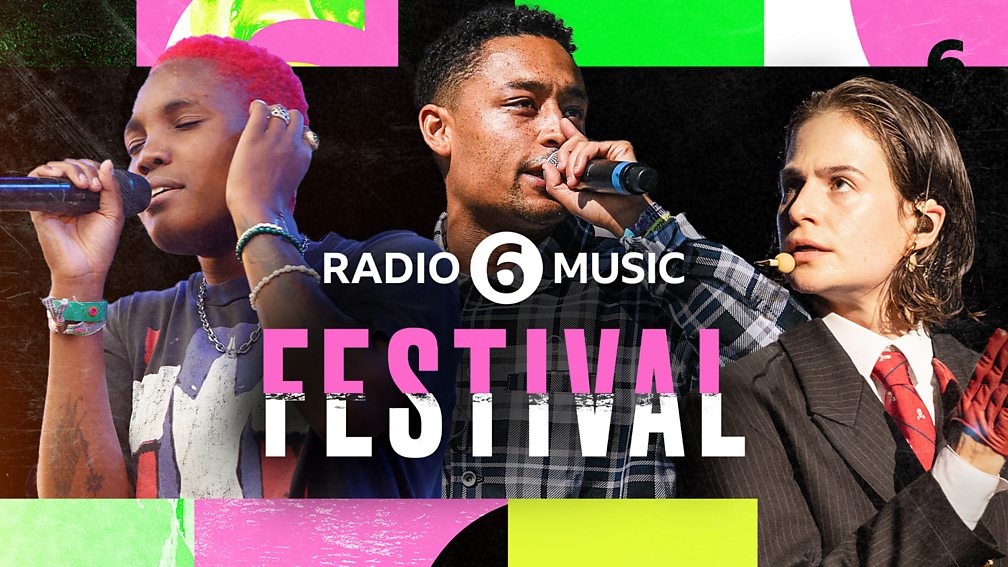 The BBC Radio 6 Music Festival is returning Greater Manchester this weekend with a massive line-up of musicians.
The radio station's flagship event will include global premieres of new live shows, music debuts, surprise guests, and major collaborations.
Set to take over the O2 Victoria Warehouse, the bill of performers includes Loyle Carner, Christine and the Queens, and Arlo Parks, who'll also be joined by the likes of Wu-Lu, Lava La Rue and The Big Moon, not to mention DJ sets across the weekend and a warm-up show at Band on the Wall from BBC Music Introducing Live.
Find out more here.
___
Is a trip to the theatre on the cards this year?
Greater Manchester has firmly earned itself a spot as a place for world-renowned touring theatre productions to make a stop off at.
While the past couple of years amid and post-pandemic may have hit the theatre pretty hard, it's a beloved industry that has now well and truly bounced-back – with the region's three main theatres, Palace Theatre Manchester, Opera House Manchester, and The Lowry, all having welcomed some absolute show-stopping productions last year.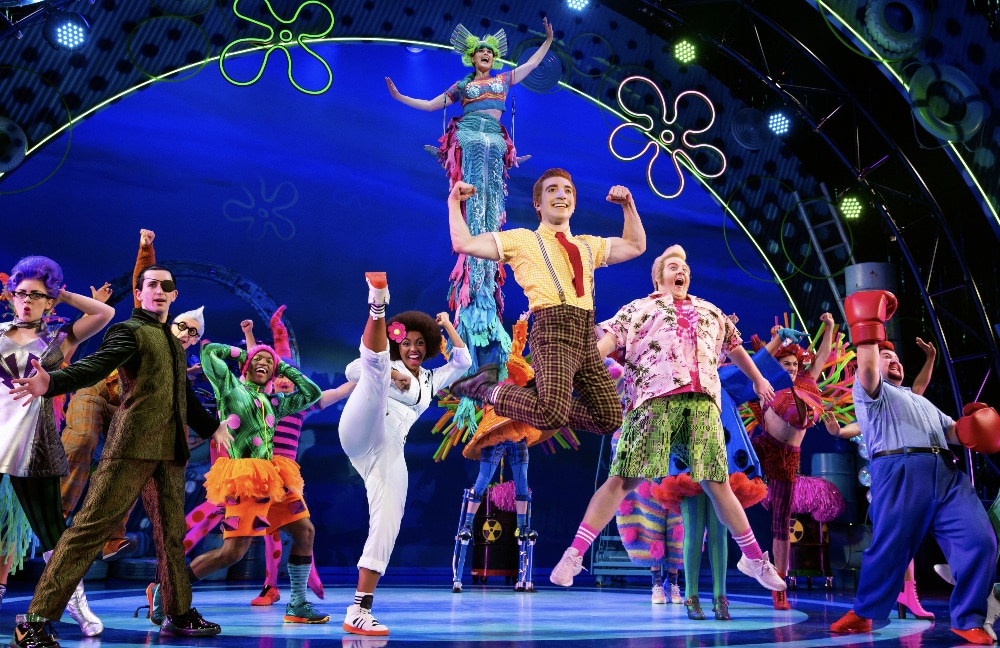 And 2023 is set to be absolutely no different – with award-winning musicals, family-friendly plays, inventive dance productions, and more on the agenda.
You can read our round-up of the best productions in 2023 here.
___
Tequila Tasting & Margarita Night
GRUB
Friday 24 March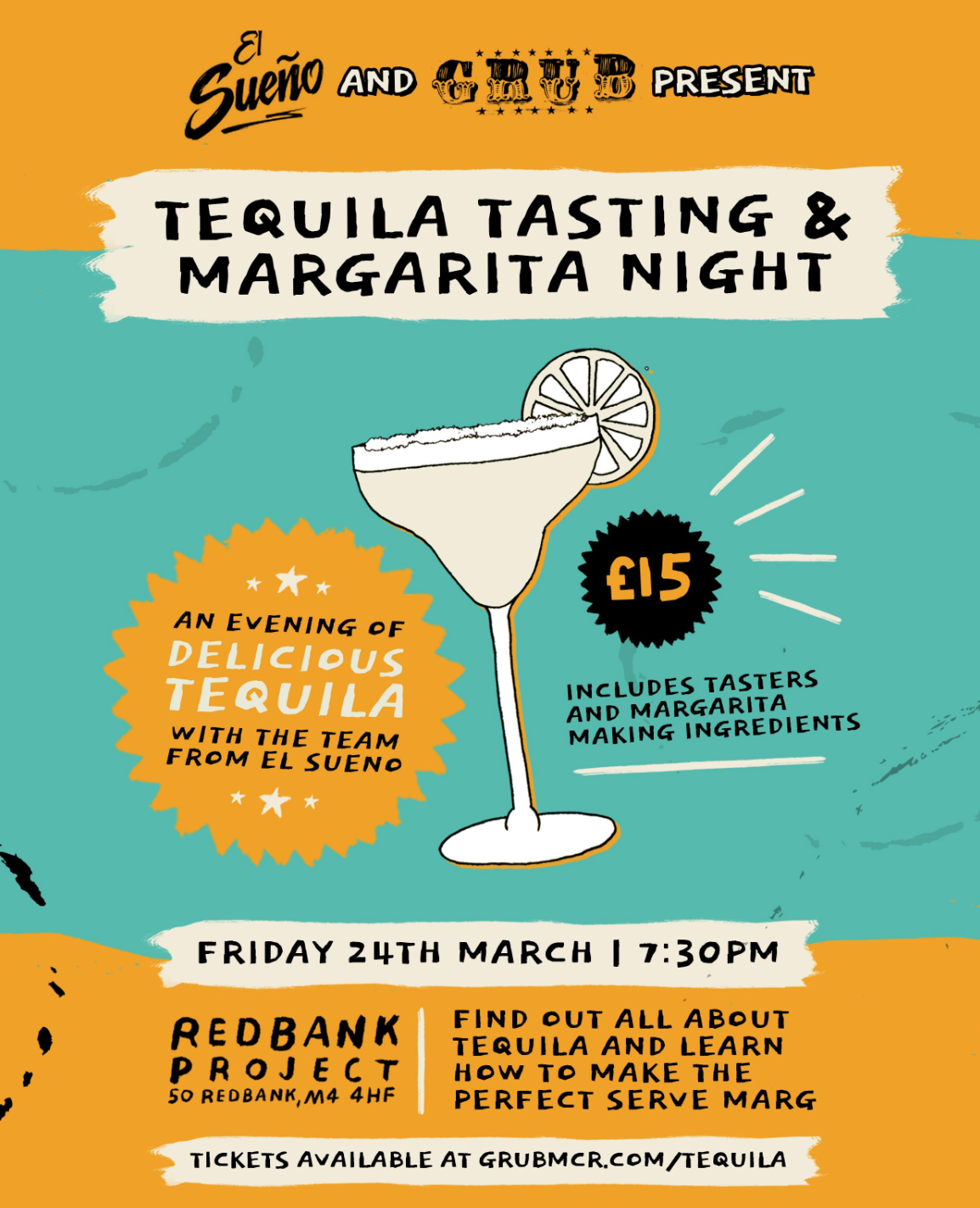 GRUB is joining forces with the award-winning El Sueño Tequila for a night of tequila tasting and margarita sipping this weekend.
The cocktail masterclass nights down at Manchester's largest street food fair are known for always being an enjoyable way to spend time with friends, learn about new drinks, and do something a little different on a Friday evening.
While the tasting itself starts at 7:30pm, street food and drinks will be available from an exciting range of food traders, and the fully-stocked bar opens from 5pm, so you're welcome get yourself down there early.
Tickets are only £15 per person, and include all tasters and cocktail making ingredients, and you can find out more here.
___
Blue Run 2023
East Manchester
Saturday 25 March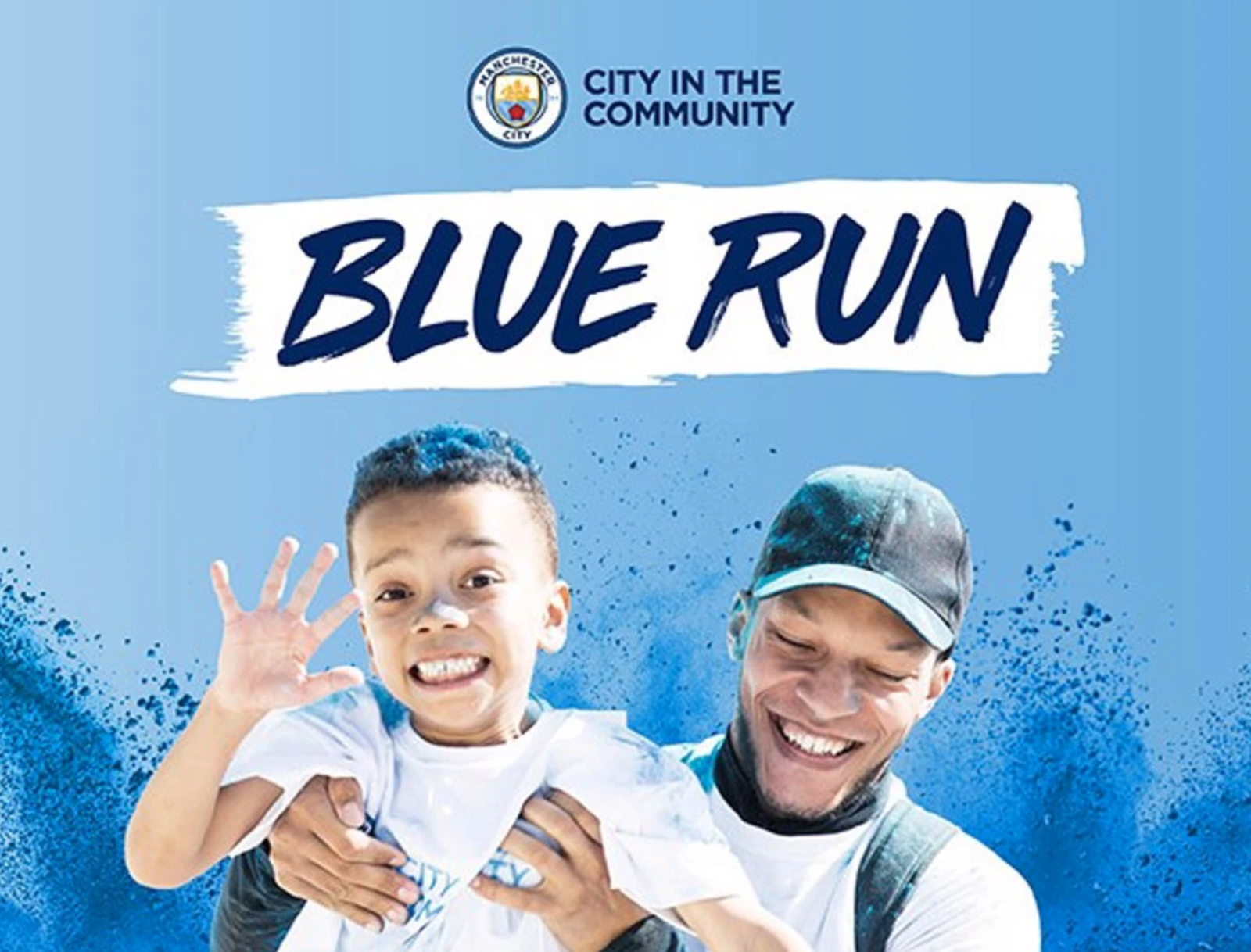 The Blue Run is back at the Etihad for 2023.
Taking place on Saturday 25 March, the popular run organised by Manchester City and City in the Community (CITC) takes you from the Etihad Stadium to the City Football Academy, while being covered in blue powder along the way, and has two distance options for fans to choose from, so mini blues may enjoy taking on the 2.5km route, but there's also a 5km option if you want more of a challenge to get stuck into.
It's your choice to run, walk, or dance your way around the Blue Run route.
All funds raised will go towards sustaining CITC's work to create healthy people, healthy futures and healthy communities across Greater Manchester.
Find out more about Blue Run 2023 here.
___
Coffee Lovers Class
Food Sorcery
Sunday 26 March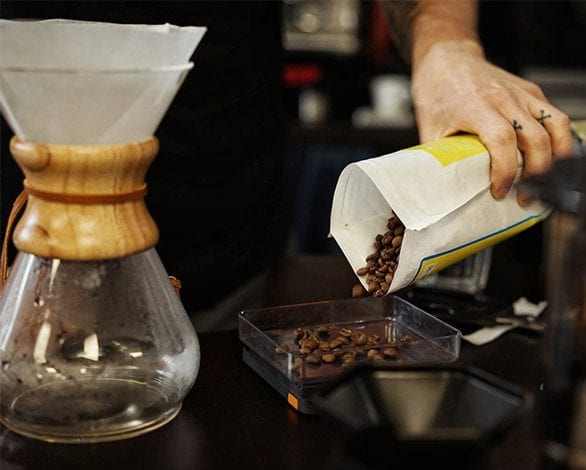 Didsbury's very-own cookery school, Food Sorcery, is hosting a special class where you can learn some fun facts and even a little bit of science about coffee.
During this three-hour session that's suitable for all abilities, you'll learn the differences in techniques used to make the perfect coffee, find out what'll work best for you at home and how to use all the kit that you bought and have tucked away in the back of the cupboard.
There'll be plenty of opportunities to practise your skills and even try a little latte art to impress your friends too.
You can find more information, and book your place here.
___
Featured Image – Manchester City | DNA VR | National Trust