What's On
The best things to do in Greater Manchester this week | 24 – 30 May 2021
The city has risen.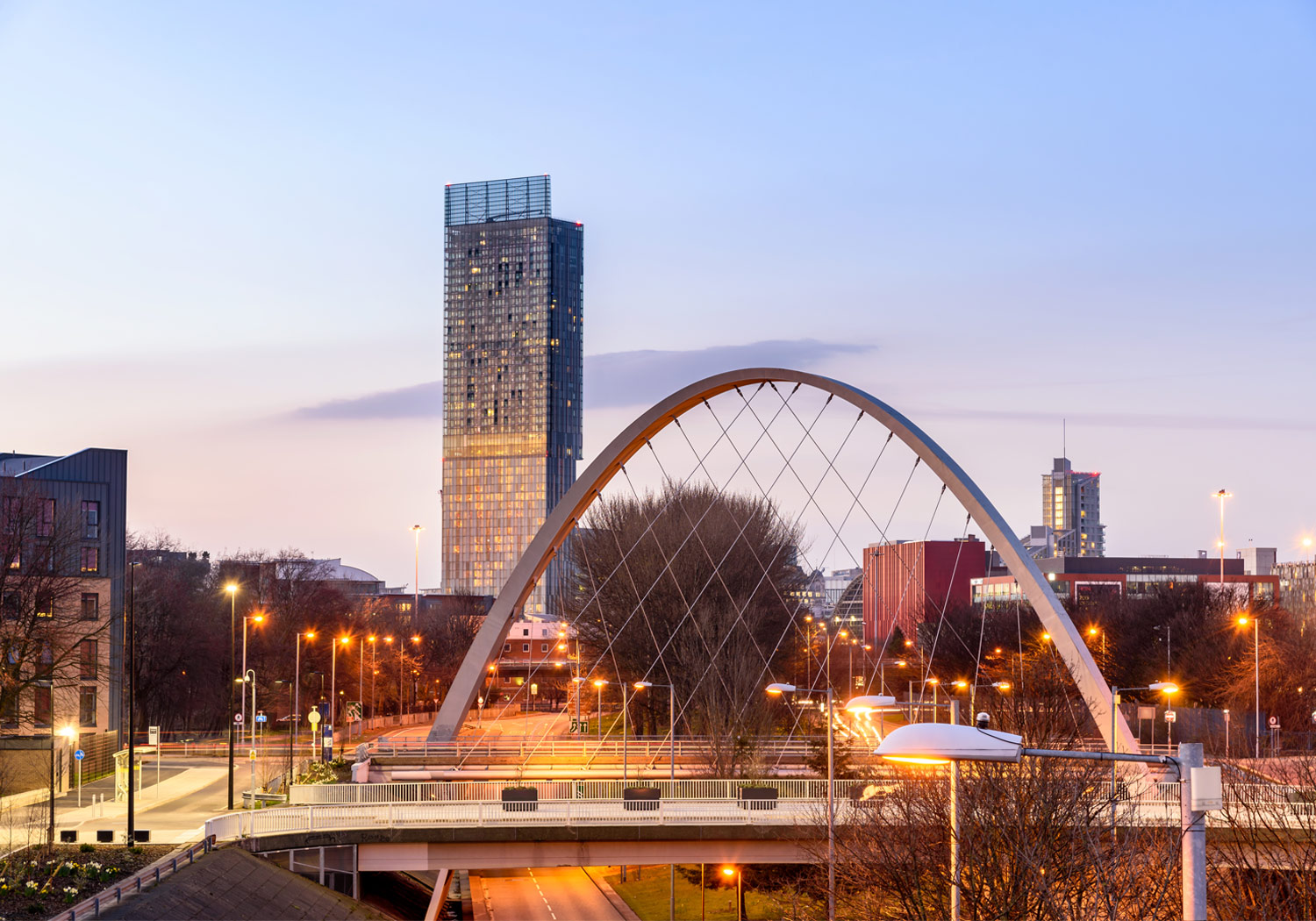 The hustle and bustle of city life has hit our streets one again, and 2021 is finally starting to look up.
'Step Three' in the government's roadmap to lifting England's current national lockdown was finally introduced last week, and a sense of normality has returned to Greater Manchester.
30 people from different households can now gather outdoors, whilst hospitality, entertainment and culture venues have all got the green light to reopen.
And there's plenty to be getting up to.
If you're stuck for something to do, this is your go-to guide for what's on and what's happening in the city of Manchester and beyond this week.
Some of the events we're going to mention here are completely free, others will set you back a few pounds, and most will need to be booked in advance – but all are COVID-secure in order to keep you as safe as possible.
Whatever you fancy doing, though, there's certainly no shortage of choice in our region, so here's some of the things you can get stuck into.
___
Box on the Docks
MediaCityUK
Monday 17 May – onwards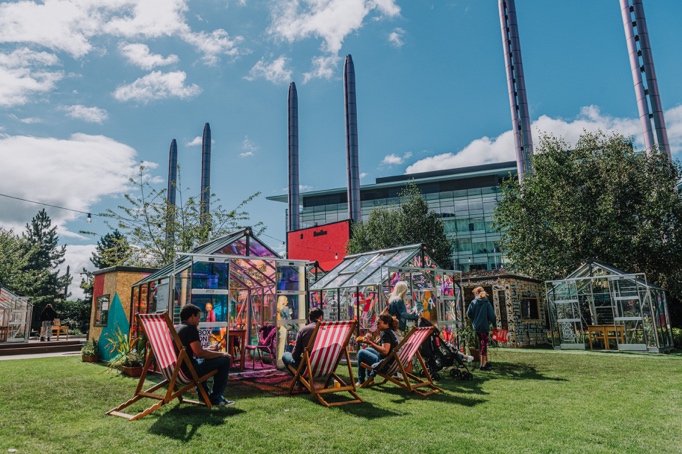 Do you remember Box on the Docks from 2020?
MediaCityUK's popular outdoor dining concept Box on the Docks (BOTD) is welcoming customers back to its waterside 'pods' this week, with the collection of 30 sheds and greenhouses having undergone renovation from local artists and an exciting range of residents moving into the neighbourhood for the summer.
Beloved local eateries from across the region – Grandad's Sausages, I Knead Pizza, Bada Bing Deli and Batard Bakery – have all arrived at BOTD.
You can find more information about Box on the Docks 2021 here.
___
Top Secret
Science and Industry Museum
Wednesday 19 May – 31 August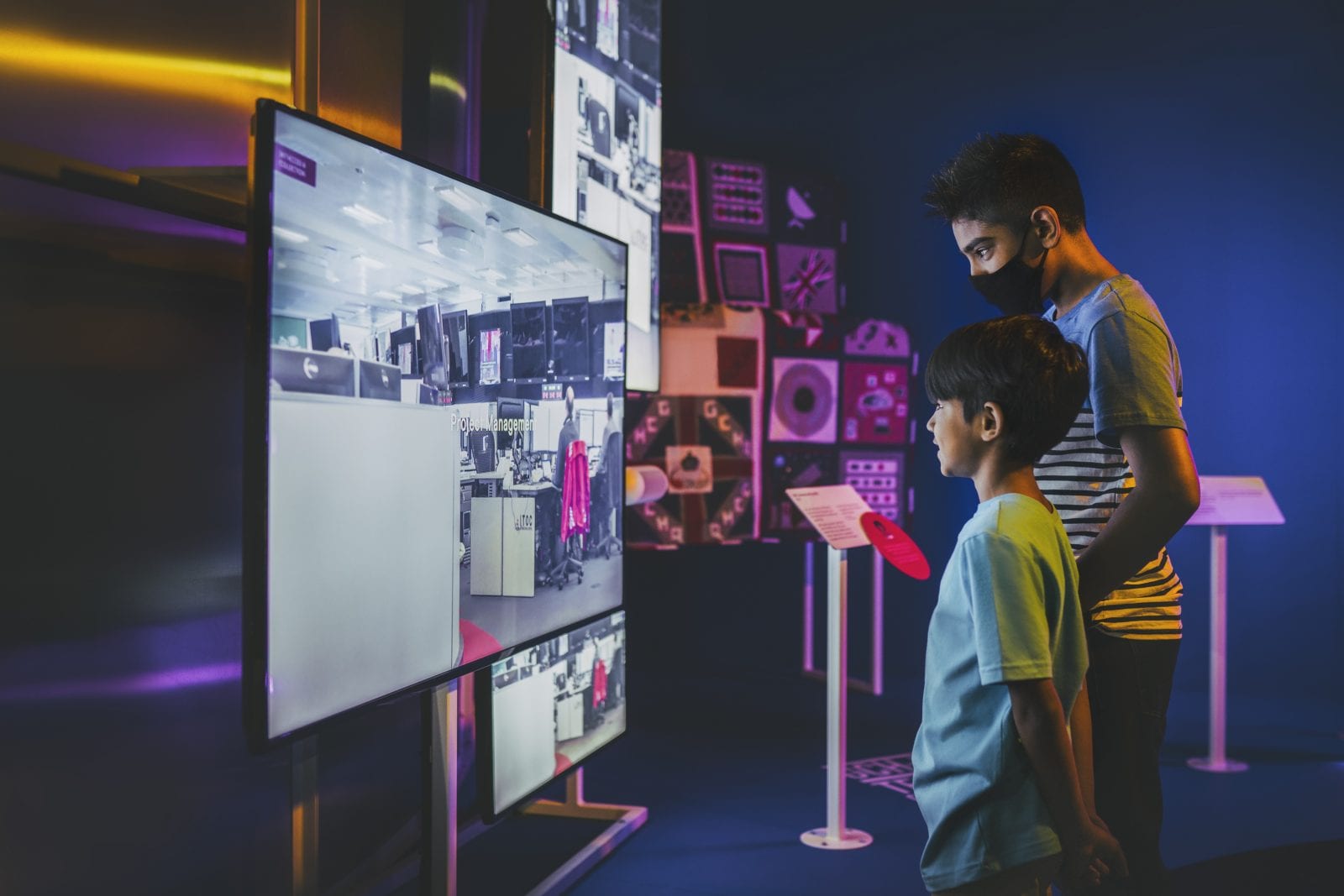 Top Secret: From Ciphers to Cybersecurity will pore over a century's worth of secret communications and intelligence in an exhibition containing over 100 objects from GCHQ and the Science Museum Group.
The exhibition will include, for the first time, objects related to Alan Turing and his team's work intercepting German comms at Bletchley Park, and visitors can also explore how Britain protected its skies during WWI, how codes were cracked in WWII, and the ways in which intelligence agencies foiled one of the most successful spy rings operating during the Cold War.
The exhibition will also explore modern digital security – considering recent examples of major cyber hacks such as the WannaCry attack on the NHS.
You can find more information ahead of the exhibition's opening here.
____
Flower Power Yoga
Angel Meadow Park
Friday 28 May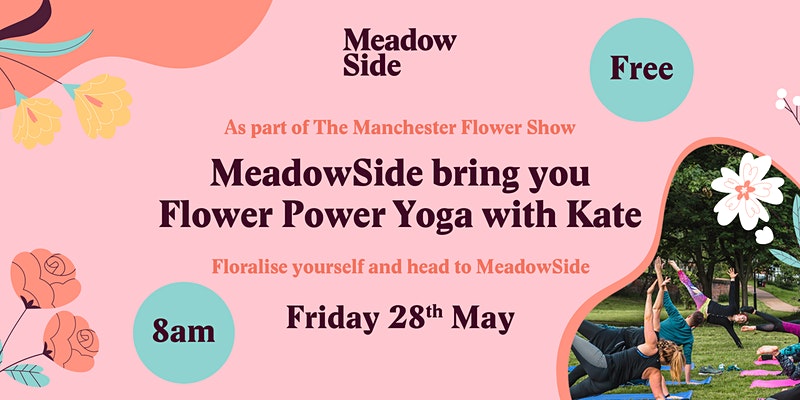 As part of the Manchester Flower Show, MeadowSide and yoga instructor, Kate Tittley, are hosting a 45-minute 'flower power' edition of Yoga in the Meadow at Angel Meadow Park in the Green Quarter from 8am.
Yoga helps to alleviate stress and anxiety, boost creative energy, enhance metabolism and improve posture, with all experience levels welcome.
Social distancing will be in place at this event, Track and Trace will be required for all in attendance and no yoga mats will be provided due to risk of COVID-19 transmission, so you are asked to bring your own mat.
You can book your spot on the class here.
___
FAC51 Haçienda House Party
Victoria Warehouse
Friday 28 – Sunday 30 May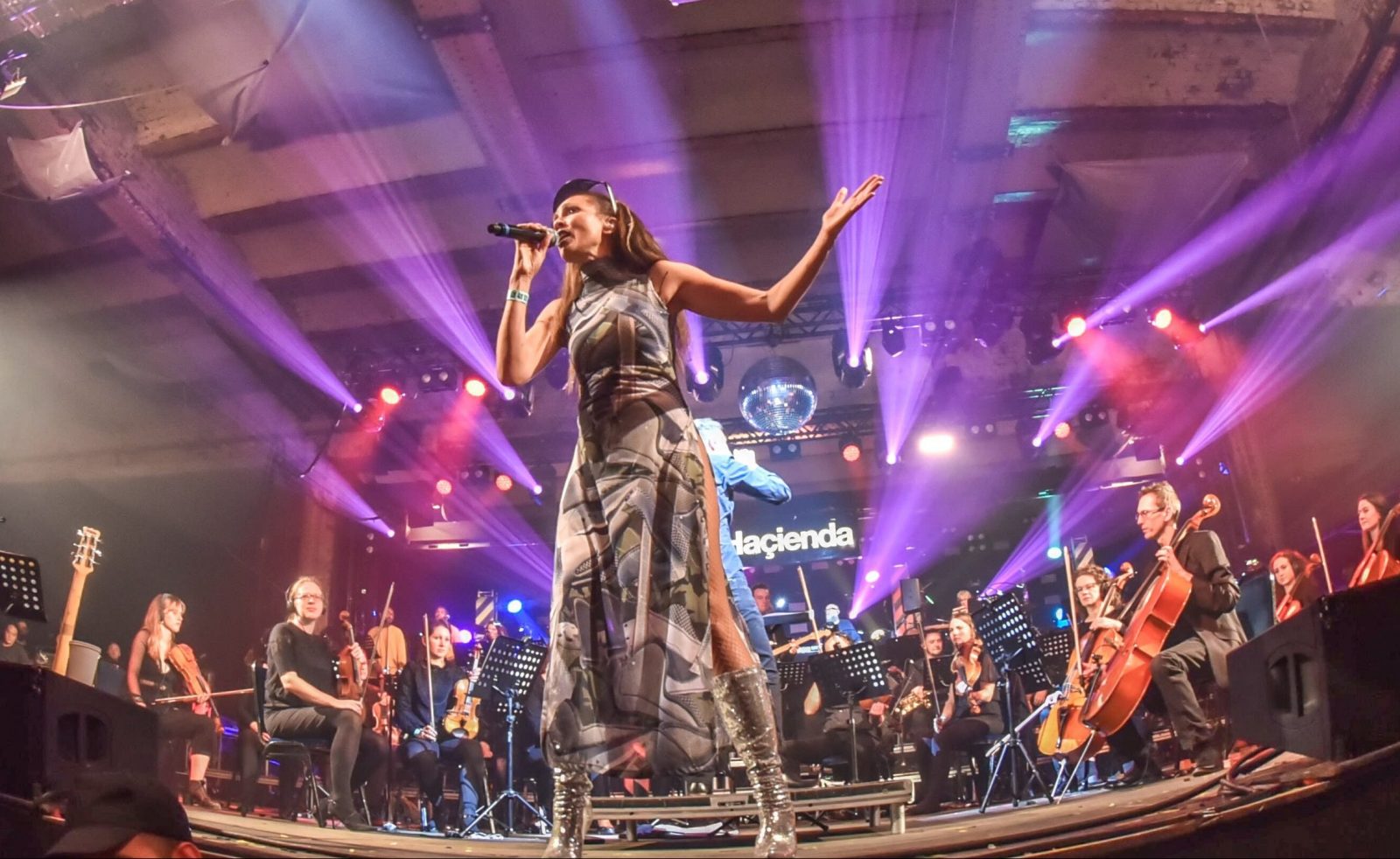 FAC51 has announced it will return with two live socially-distanced Haçienda House Party shows at Victoria Warehouse on May bank holiday.
On Friday 28 May, Haçienda Classical will take over with Graeme Park and Manchester Camerata, plus DJ Paulette and Peter Hook. On the second night, Sunday 30 May, we'll see a special set from legends Orbital, alongside A Guy Called Gerald live with DJs Jon Dasilva and Justin Robertson.
Tickets for both events have already gone on sale, but there's no need to worry if you missed out or can't make it down as they'll also be streamed online from 7pm to 12pm for free.
You can find more information here.
___
Manchester Flower Show
City Centre
Saturday 29 May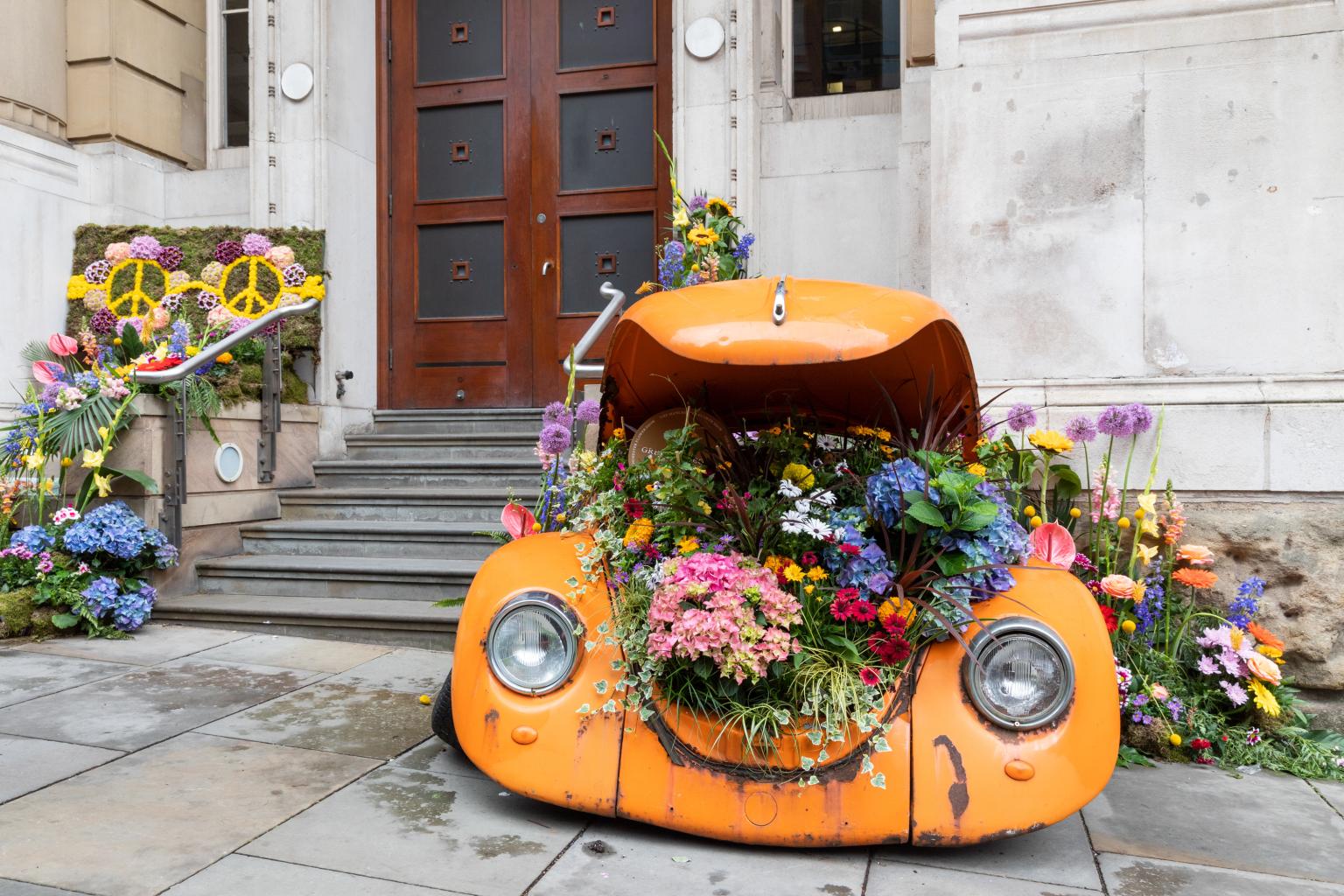 Manchester is about to become the most picturesque places in the country this Saturday, as the city gets dressed up in celebration of the annual Flower Show.
Organised by CityCo and Manchester BID, the nine-day festival – dubbed the "most Instagrammable event of the year" – will see Manchester draped from head to toe in magnificent floral tributes; with plants and flowers covering landmark buildings, shop windows, doorways, balconies, statues and fountains.
Manchester Flower Show will run until Sunday 6 June, and you can find more information here.
___
The Champions League Final at 4TheFans Fan Park
Event City
Saturday 29 May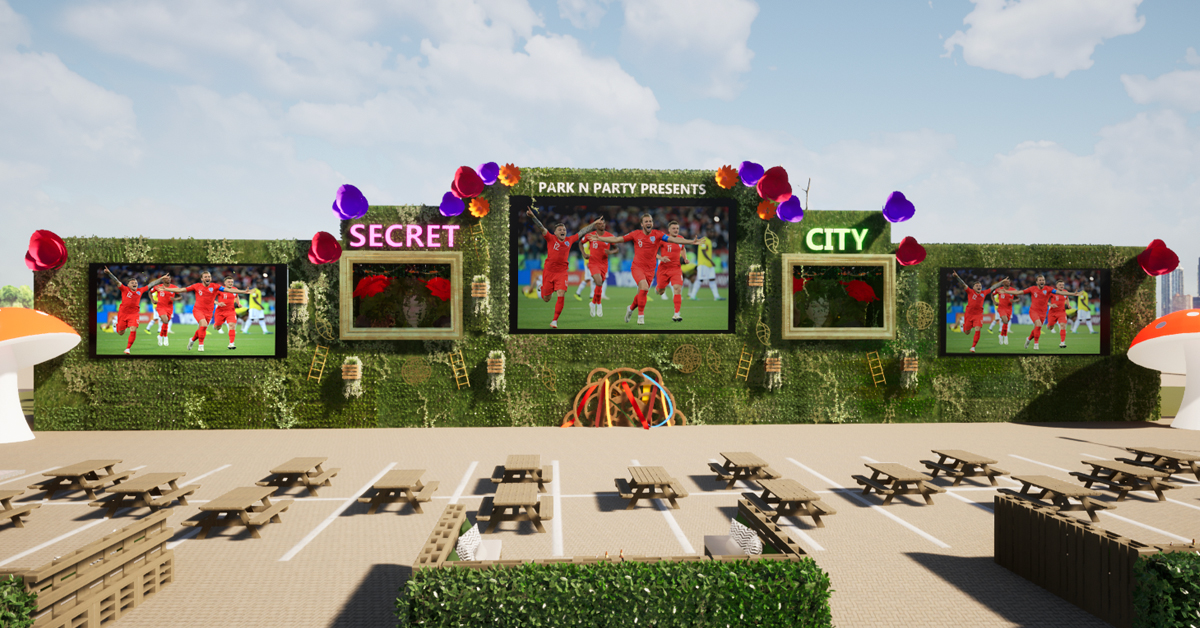 It's the Champions League final next Saturday, with Manchester City and Chelsea set to battle it out to take the title, but with only 6,000 fans from each club allowed make the trip the Estadio do Drago in Porto, Portugal to watch the biggest club event in European football, there is even more of a need for a catered and COVID-safe space where fans can come together to watch.
4TheFans Fan Park at Event City in Trafford will provide the perfect setting for fans to immerse themselves in the atmosphere and action.
Tables start at £70 per table of six and include a drink per person (beer /wine / soft drink) and table snacks.
You can find more information and book your tickets here.
___
La Discotheque Bottomless Brunch
Albert Hall
Saturday 29 May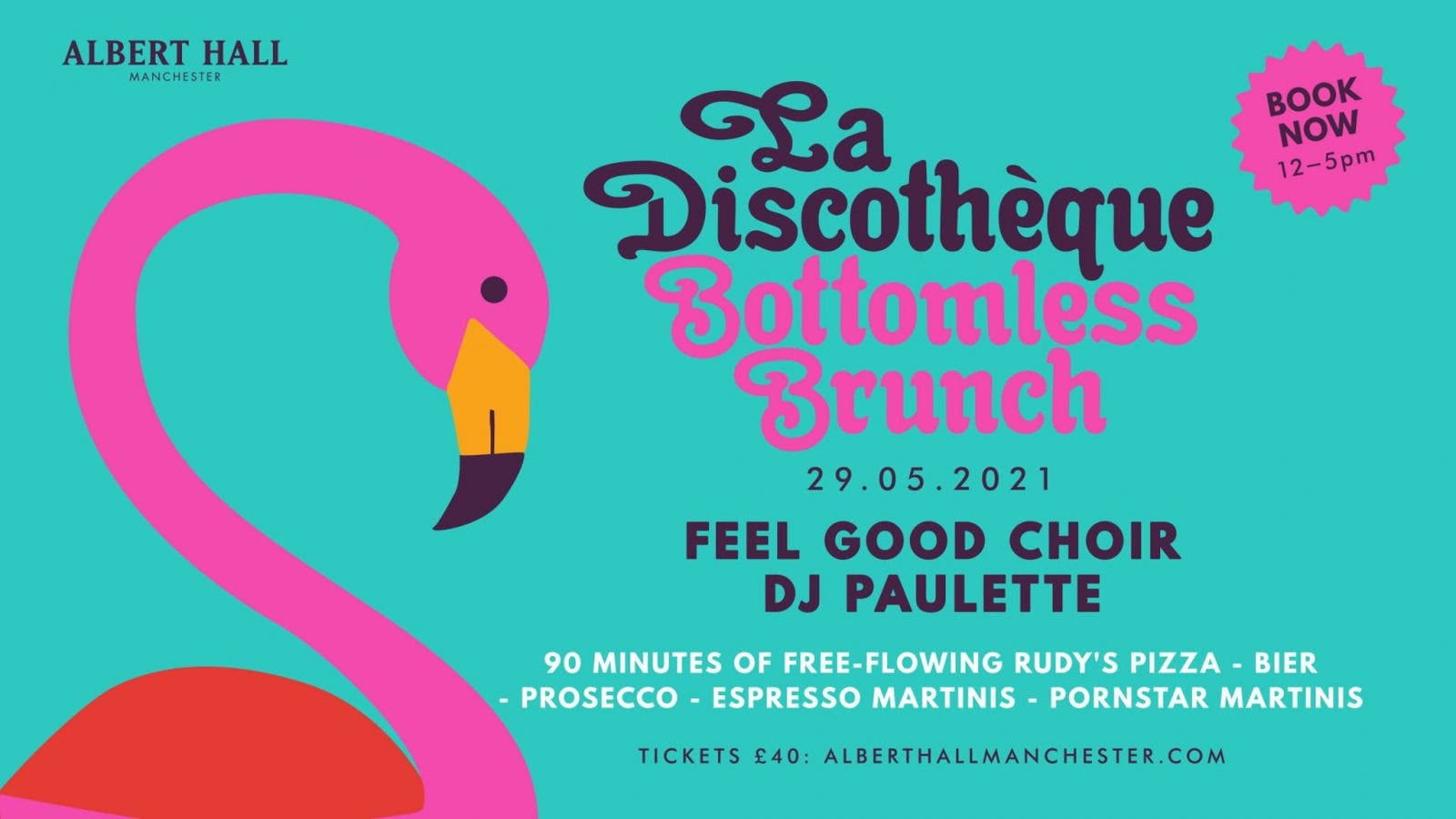 A glitter-draped disco brunch with an endless amount of Rudy's pizza and booze is coming to Albert Hall this Saturday.
La Discotheque – the show-stopping party promotion famed for serving up funky dance beats, psychedelic decorations and limb-twisting stage performers – is putting its own excited spin on the classic midday meal event; cranking up disco tunes and partnering with one of Manchester's most beloved food and drink vendors for the occasion.
Albert Hall's neighbours and nationally-renowned Neapolitan pizzeria Rudy's will also provide slices exclusively for the occasion.
Tickets are priced at £40 and you can find more information here.
___
Ancoats Pop-Up Market
Ancoats
Saturday 29 May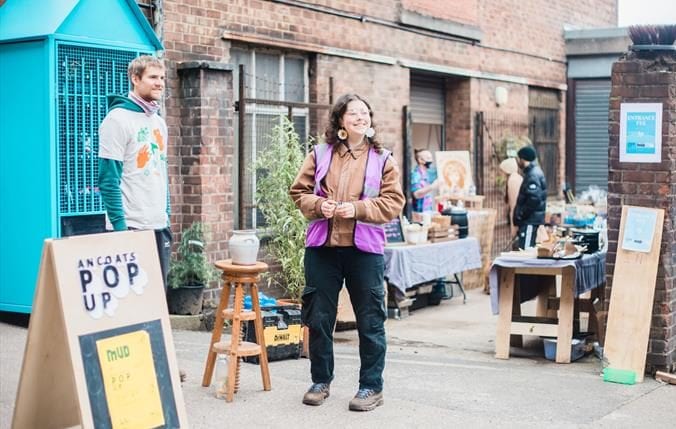 Nestled among the backstreets of Manchester and tucked into the courtyard of an old, red-brick historic mill, Ancoats Pop Up Market is a COVID-safe weekly-run market event which has teamed up with MUD (Manchester Urban Diggers) to supply the neighbourhood with a wealthy selection of fresh, organic and locally-grown fruit and veg, as well as dry goods, all throughout May.
The market also features Manchester-based stallholders serving speciality coffee, locally-brewed rum liquors, locally-sourced bakes and crafts, and more.
Street food and freshly-brewed coffee is also available while you browse.
You can find more information here.
___
Manchester Cheese Crawl
Central Manchester
Saturday 29 May
The Manchester Cheese Crawl will take you around some of the cheesiest spots the city has to offer for two hours of non-stop cheese-related fun, including everything from blue cheese tasting, to cheese quizzes, competitions and more.
Starting off in St Ann's Square, the tour wanders across the city and gives you the chance to try the finest cheeses Manchester has to offer along the way.
With tours taking place every Saturday until 25 September, tickets cost just £25 each and include cheese samples, optional bread and crackers, and some red wine to complement.
You can grab your tickets here.
___
Secret City
EventCity
Wednesday 24 – Sunday 30 May
Manchester's newest event space is back and it's better than ever.
Park N Party – the team that delivered both the sell-out successes of ScareCity and ChristmasCity, and a number of other outdoor live events throughout 2020 – has launched SecretCity, and there's a whole host of immersive drive-in entertainment events happening this week.
There's screenings of cinema classics such as Pretty Woman, The Jungle Book, Grease, The Exorcist, Sinister and more all on show throughout the week.
Tickets must be booked in advance, and you can grab yours from £35 per car here.
___
Totally Roarsome
Mottram Hall
Monday 24 – Sunday 30 May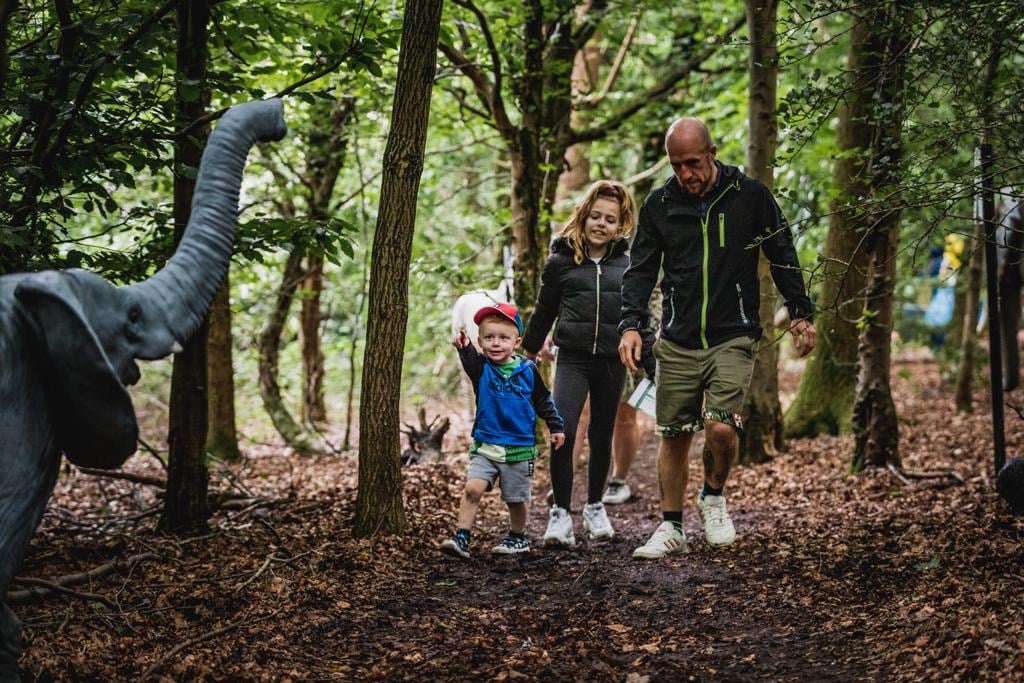 Named by many as being one of the safest attractions for all the family in Greater Manchester, Totally Roarsome took the region by storm last summer after it opened to the public following the initial lifting of coronavirus (COVID-19) lockdown restrictions in mid-2020, with visitors flocking from far and wide.
Now at the new location of Mottram Hall, just over the border into Cheshire, Totally Roarsome features everything from dinosaurs, jungle animals and Arctic creatures, to superheroes, pirates and cartoon characters.
Tickets are priced at £7.95 per ticket (+ £1.50 booking fee, per transaction), and must be booked in advance online from the Totally Roarsome Facebook page.
This is to manage and restrict the number of visitors / families being allowed around the attraction at any one at a time, with five minutes between slots, to allow for necessary COVID-safety precautions and social distancing measures to be upheld.
You can find out more information, and book your tickets here.
___
BBQ Cookery Class
Food Sorcery
Sunday 30 May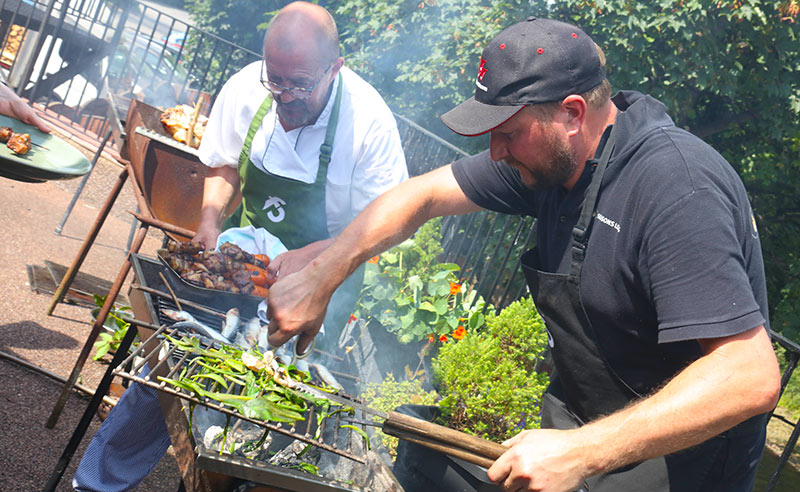 Didsbury's very-own cookery school, Food Sorcery, is helping you to enhance your barbecue repertoire with a BBQ Cookery class this Sunday.
In this easy four-hour class catered to all ability levels, you'll learn basic skills such as lighting the BBQ and temperature control, alongside creating six tasty dishes as this event is about enjoying the BBQ experience with a focus on preparing and cooking meat, fish, vegetables and sides.
The class will include welcome drinks, all ingredients, and access to a great bar with fantastic beers, wines and spirits to enjoy throughout the day.
You can find more information, and book your slot on the course here.
___
OT Art Trail
Old Trafford
1 May – 31 July
The OT Art Trail – which has been organised by OT Creative Space and is funded by Arts Council England – sees a number of local artists work together with members of the Manchester community to create six individual large scale murals which have been painted onto walls and building gable ends around the area, including in Seymour Park and Ayres Road.
The new murals have added to murals and artwork already seen around Old Trafford.
The several new street art sites will be linked together via a downloadable audio tour, which is suitable for people of all ages.
Each mural centres around the theme 'community togetherness and diversity'.
You can find more information on The OT Art Trail via the OT creative SPACE website here.