What's On
The best things to do in Greater Manchester this week | 24 – 30 October 2022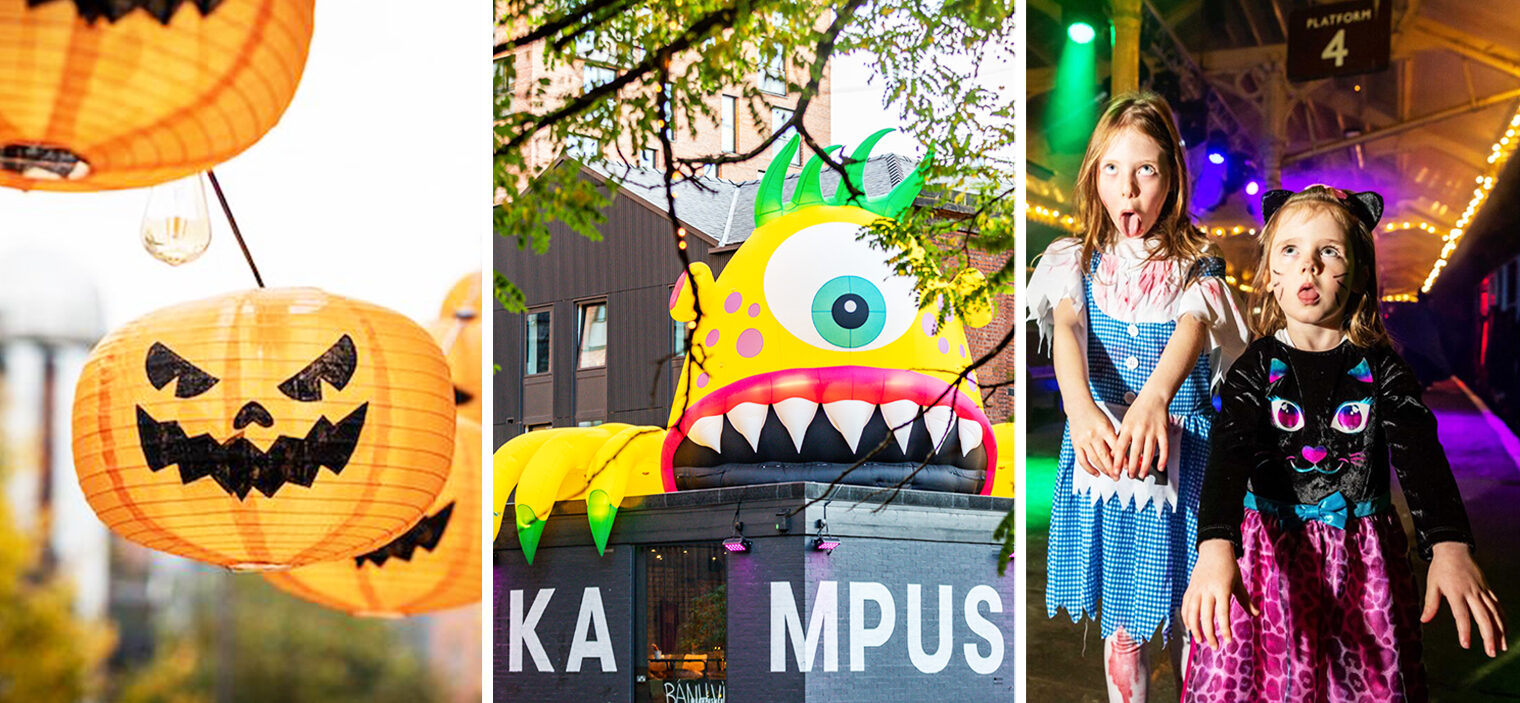 It's both half term and Halloween, so you know we're in for a busy week across Greater Manchester.
With the spooky season officially here, and schools across the region out for October half term, the events calendar is absolutely jam-packed with all sorts of different things to be getting up to this week, so we've cherry-picked a few of the best bits for another edition of our 'what's on' guide – only this time, with a terrifying twist.
As always, some of the events we're going to mention are completely free, while others will set you back a few pounds, and many will need to be booked in advance.
Here's our top picks.
___
Pumpkin Lanterns
Manchester City Centre
Monday 24 October – 1 November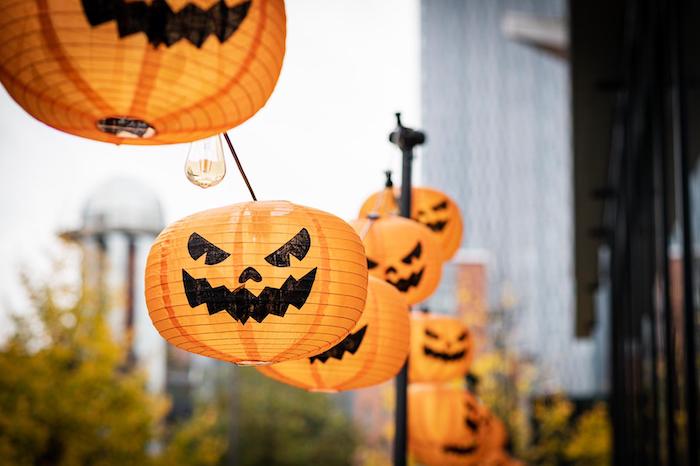 There couldn't be a more ideal time to catch a glimpse of the pumpkins.
If you're looking to get in the mood for Halloween, but want to keep things a little on the cheaper side this week, then you need look no further than up above in the city centre as the annual decorative pumpkin lanterns are back once again and they're here all week.
Going on a little tour to see the lanterns in the trees in St Ann's Square, Market Street and beyond is the perfect activity for all the family, easy to plan and great for pictures.
And it's FREE too.
You can find more information here.
___
Harry Potter: A Forbidden Forest Experience
Arley Hall & Gardens
Monday 24 October – onwards
The hugely popular woodland trail inspired by the forbidden forest from the Harry Potter and Fantastic Beasts franchise has officially returned.
After what was undoubtedly a massive success back in 2021, with people travelling from all across the UK to see what it was all about, organisers of the Harry Potter: A Forbidden Forest Experience have announced it's back to the Grade II-listed Arley Hall & Gardens in Cheshire.
Having arrived just in time for Halloween, Potter-heads can "walk into the depths of a dark forest", and "discover fantastic beasts and iconic Wizarding World moments illuminated like never before".
Find out more here.
___
Scare Skate
Cathedral Gardens
Monday 24 – 31 October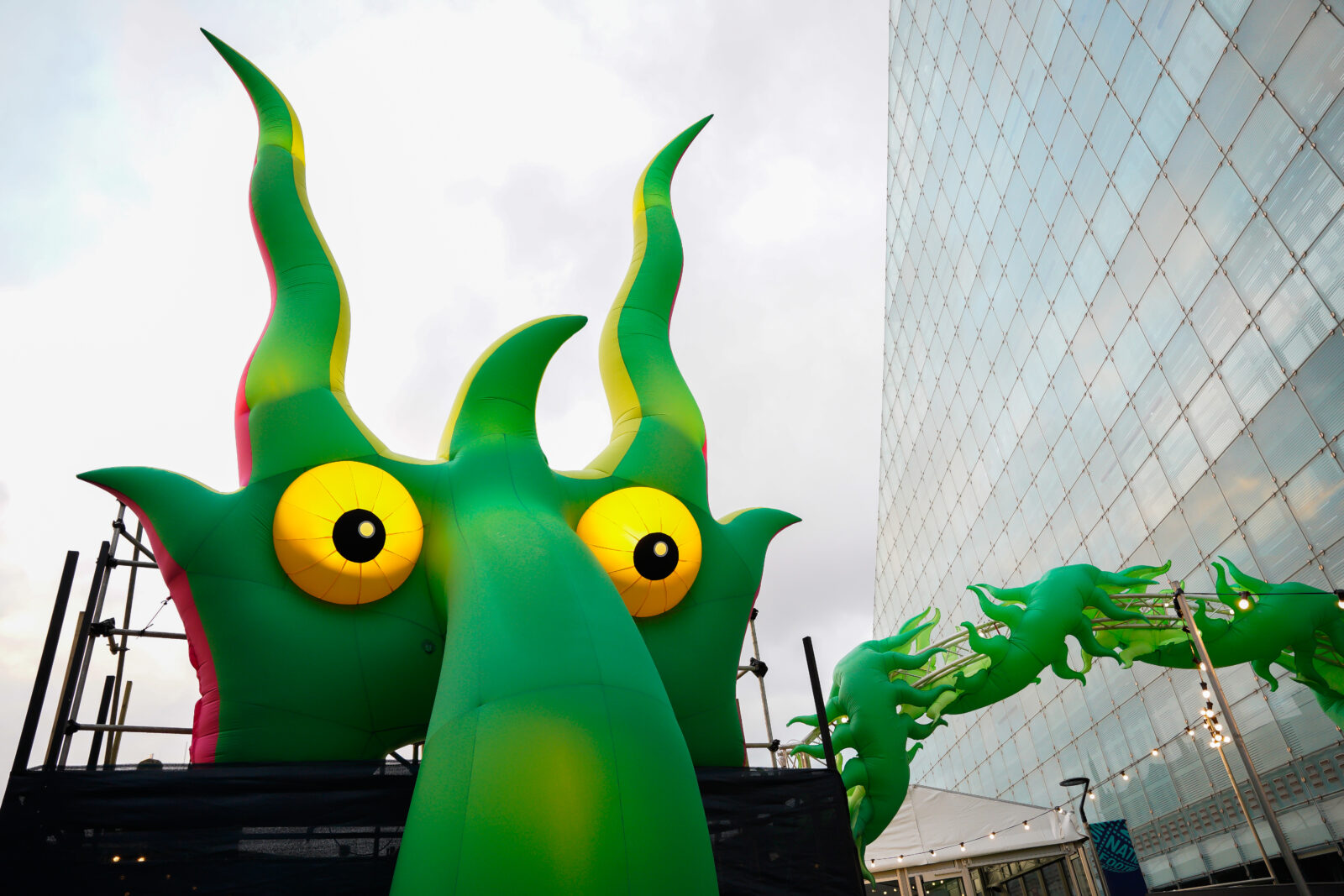 The city's largest outdoor ice rink has returned just in time for Halloween.
Scare Skate gives Halloween fans and fear-loving families the chance to take to the ice for some "frightfully good fun" this October half term up until Monday 31 October.
Described as being "a frightful experience to remember", not only is the spooktacular rink home to one of the iconic MCR Monsters taking centre stage as part of the annual Halloween in the City event, but it's also complete with Halloween-themed music and lighting.
Find out more here.
___
Horror-Nation Street
MediaCityUK
Monday 24 – 31 October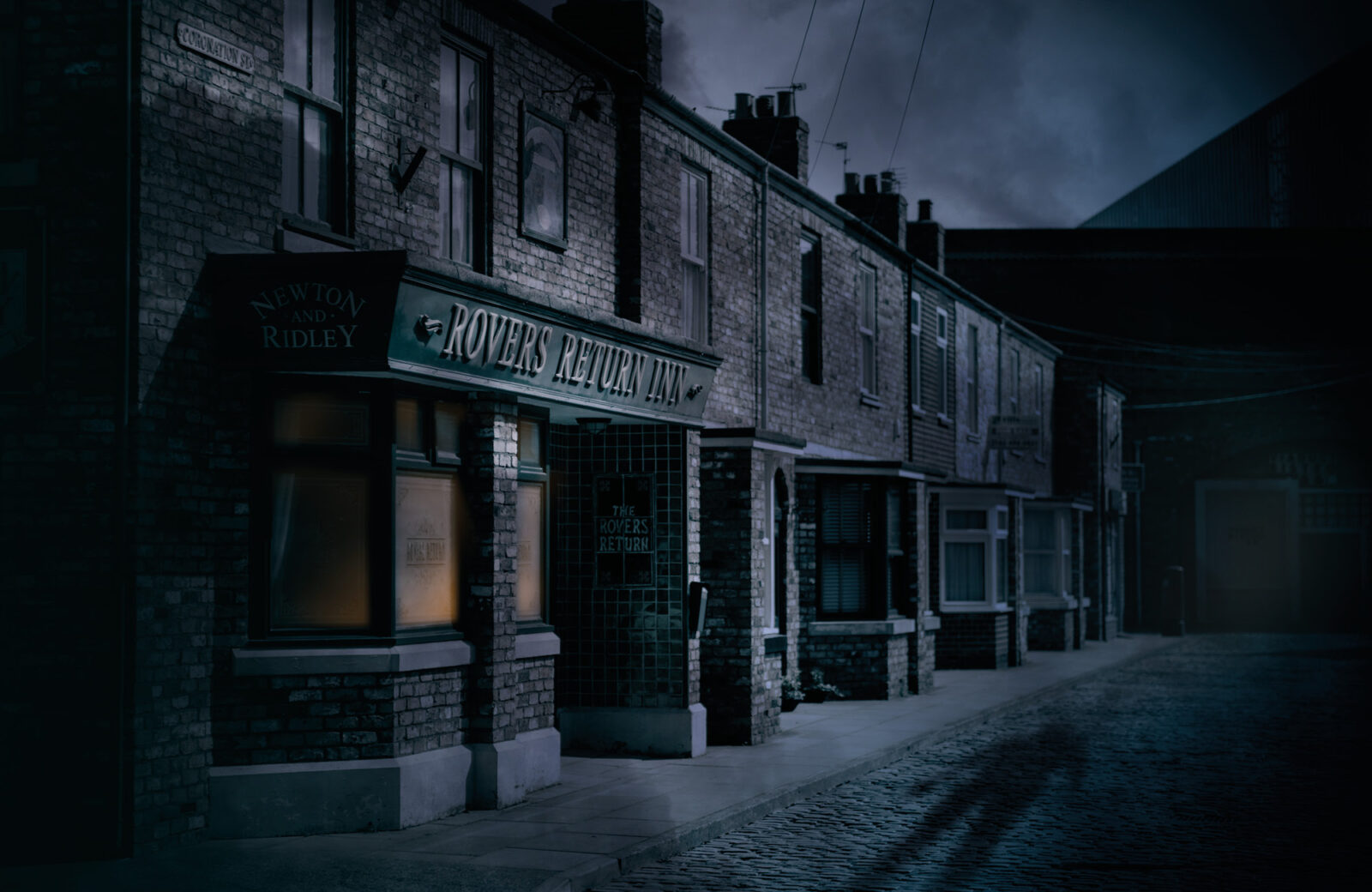 One of TV's most famous streets is taking a terrifying turn this Halloween, and fans can revisit all the horrors of the last 60 years.
Coronation Street has been turned into Horror-Nation Street: The Tour, and has had itself a spooky makeover fit for the occasion, complete with pumpkins and eerie lighting, so you can revisit ghosts of storylines past in a special-edition tour that takes you through over 60 years of villains, death, and destruction.
There'll also be face painting, trick or treating, and other "spook-tacular treats" in store.
Find out more and book tickets here.
___
Scare City Experience
Camelot
Monday 24 October – onwards
Have you seen that Scare City Experience is back for 2022?
The hugely-popular outdoor immersive horror experience has taken on a new life just in time for Halloween, and this time round, it's taken over the derelict site of one of the North West's most iconic theme parks.
Events company Park N Party's sell-out success Scare City has arrived at Camelot with a new walkthrough scare attraction, and it's described as a "blood-soaked ordeal".
For those who've got the guts to enter this year, a trek through "nightmarish zones" awaits.
Find out more and book tickets here.
___
Looking for some new restaurants and bars to try out in Manchester city centre this month?
As ever, a host of exciting new restaurants and bars are opening in Manchester in October.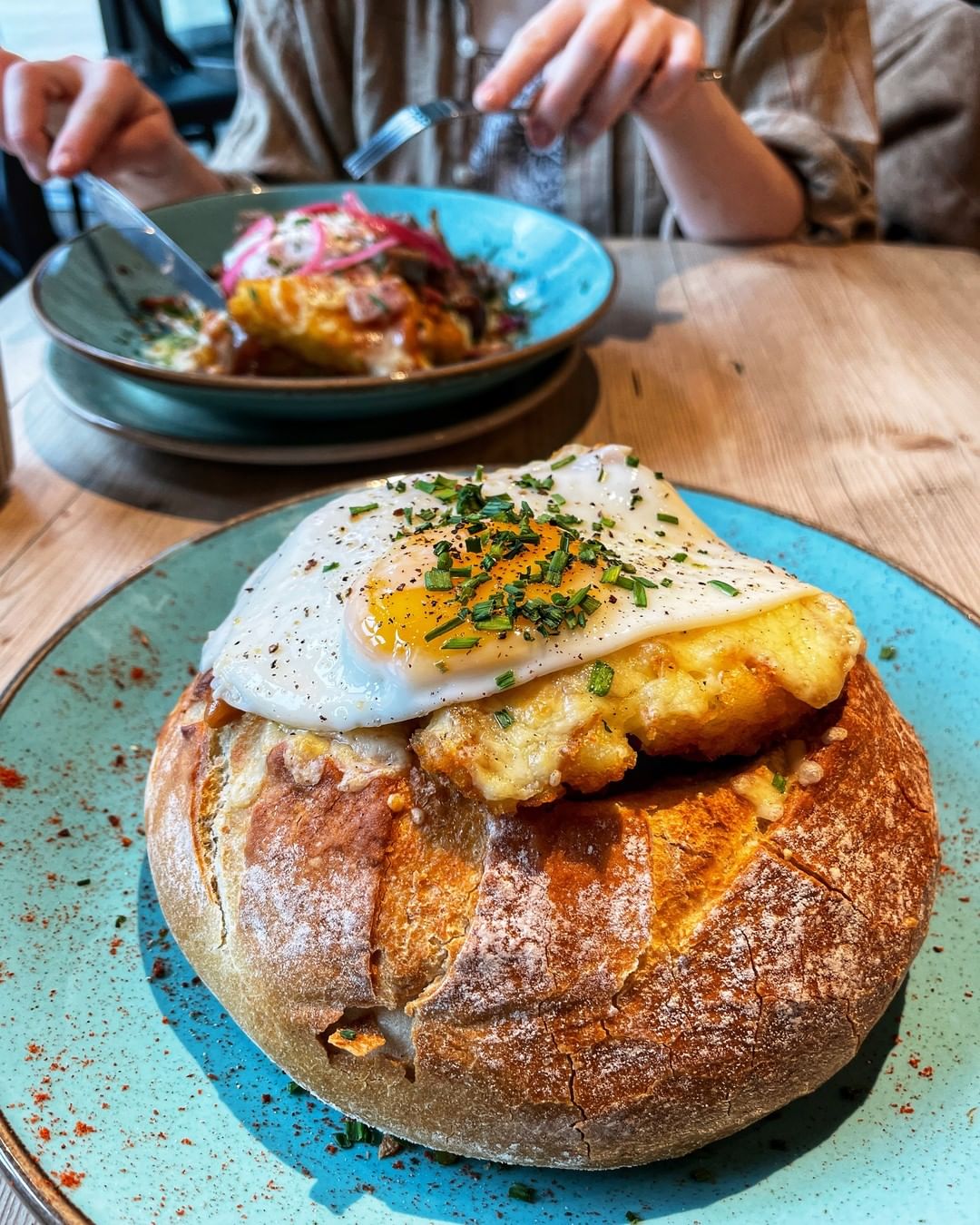 Whether you're into glitzy late-night hang outs, casual dining turnarounds or award-winning burritos, let's just say there's something on the list for you – from the brand new Shogun Ramen and Bar, which sees beloved Chorlton restaurant Peck & Yard give it 'one more shot' with a ramen and sushi concept, to Mayfair celeb haunt Mnky Hse.
You can read our round-up to find out where to put on your list this month here.
___
Hallowe'en Week
GRUB
Monday 24 – Sunday 30 October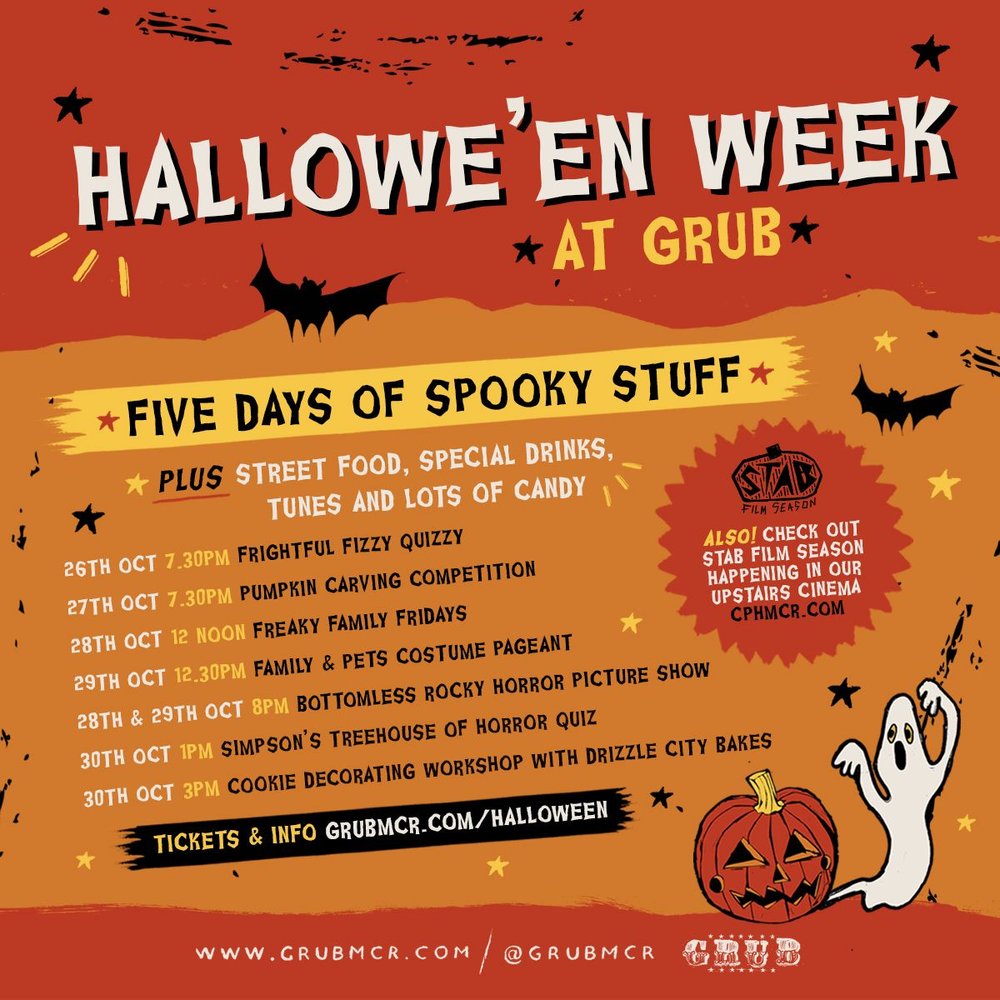 The city's largest street food fair GRUB will be celebrating the spooky season with a full week of Halloween events.
Not only can you expect a spookily-decorated venue, a special themed beer and cocktail menu, street food specials, tunes and lots of sweets, but there the Cheetham Hill-based venue will also be putting on a series of Halloween-themed events with something for absolutely everyone.
There'll be pumpkin carving competitions, cookie decorating workshops, scary film festivals, fancy dress parties, and so much more.
Find out more here.
___
Manchester Science Festival 2022
Science and Industry Museum
Monday 24 – Sunday 30 October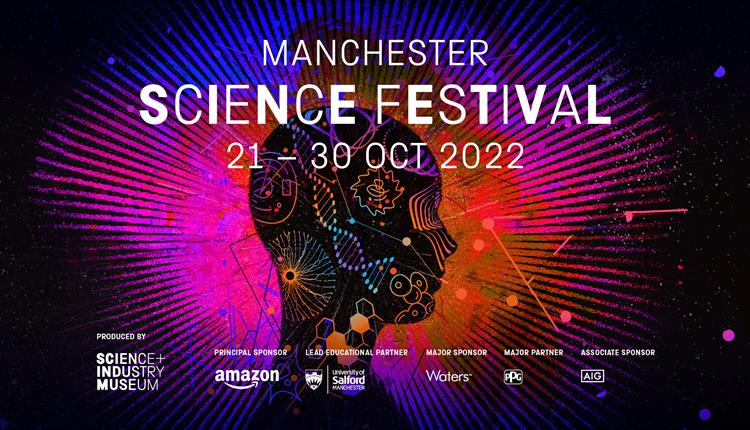 Manchester Science Festival has made a glorious return for 2022, with events for all ages taking place at both the Science and Industry Museum and venues across the city.
This year's event is celebrating science through immersive performances, interactive activities, and after-hours amusement, with highlights across the festival including a headline exhibition Turn It Up: The Power of Music, a nocturnal nature tour, and a chance to meet people who already work in STEM careers, including experts from festival sponsors Amazon.
You can find out about everything happening at this year's festival here.
___
Flight Academy
Runway Visitor Park
Monday 24 – Friday 28 October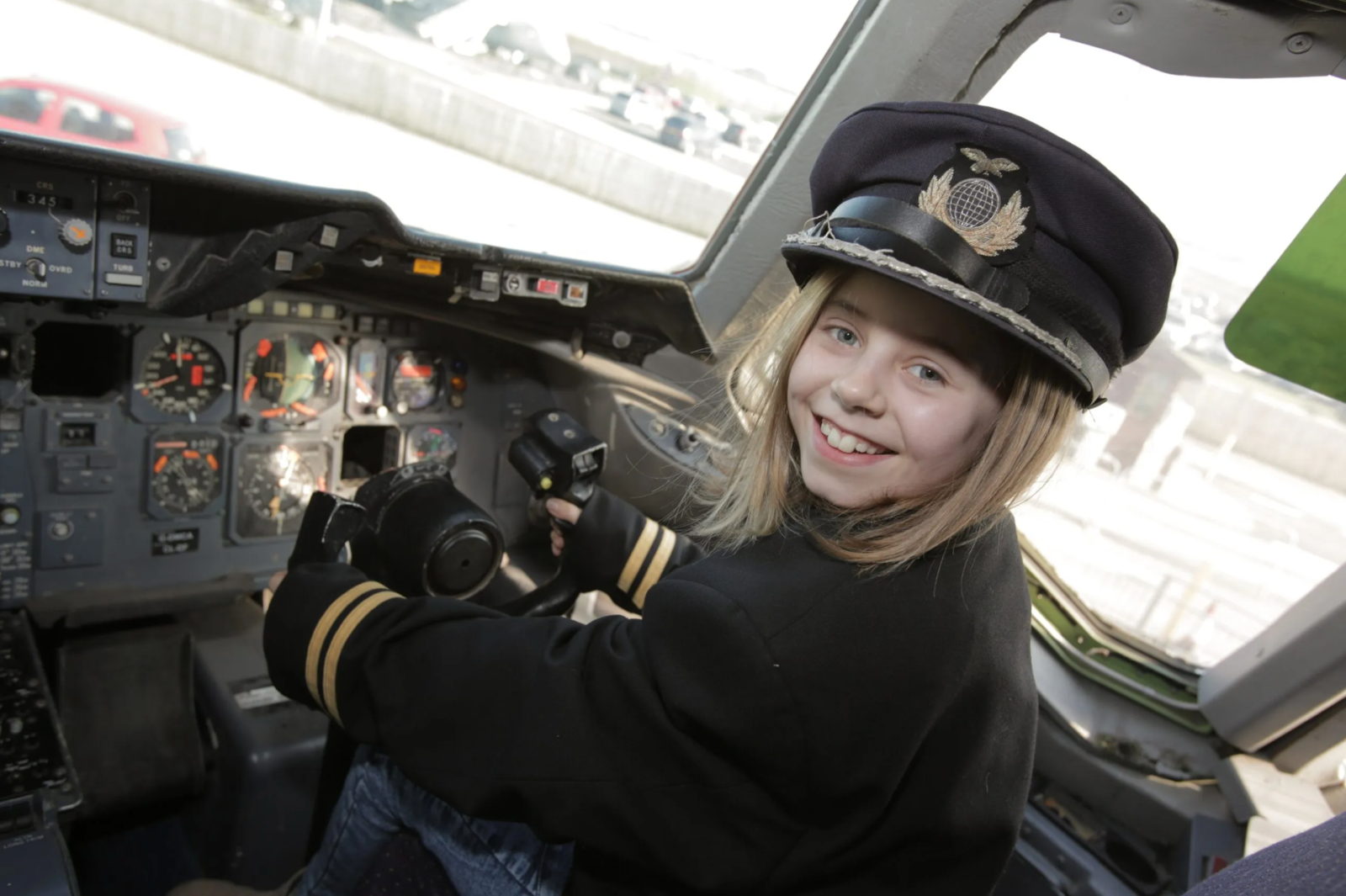 Little Mancs can try their hand at becoming a pilot this October half term, as the much-loved Flight Academy returns to Manchester Airport.
The Flight Academy programme is back at Runway Visitor Park with 90-minute sessions to give curious kids the chance to learn all about the different job roles that help keep Manchester's airport in action throughout the year.
The first part of the session takes place aboard a retired Monarch DC10 airliner, so kids can sit in the cockpit and find out about everything from the cabin crew's role, to the ground operators, and more, and they'll even get to dress the part, and "take control" of the flight deck too.
Find out more and book your tickets here.
___
The Art of Banksy
MediaCityUK
Monday 24 October – onwards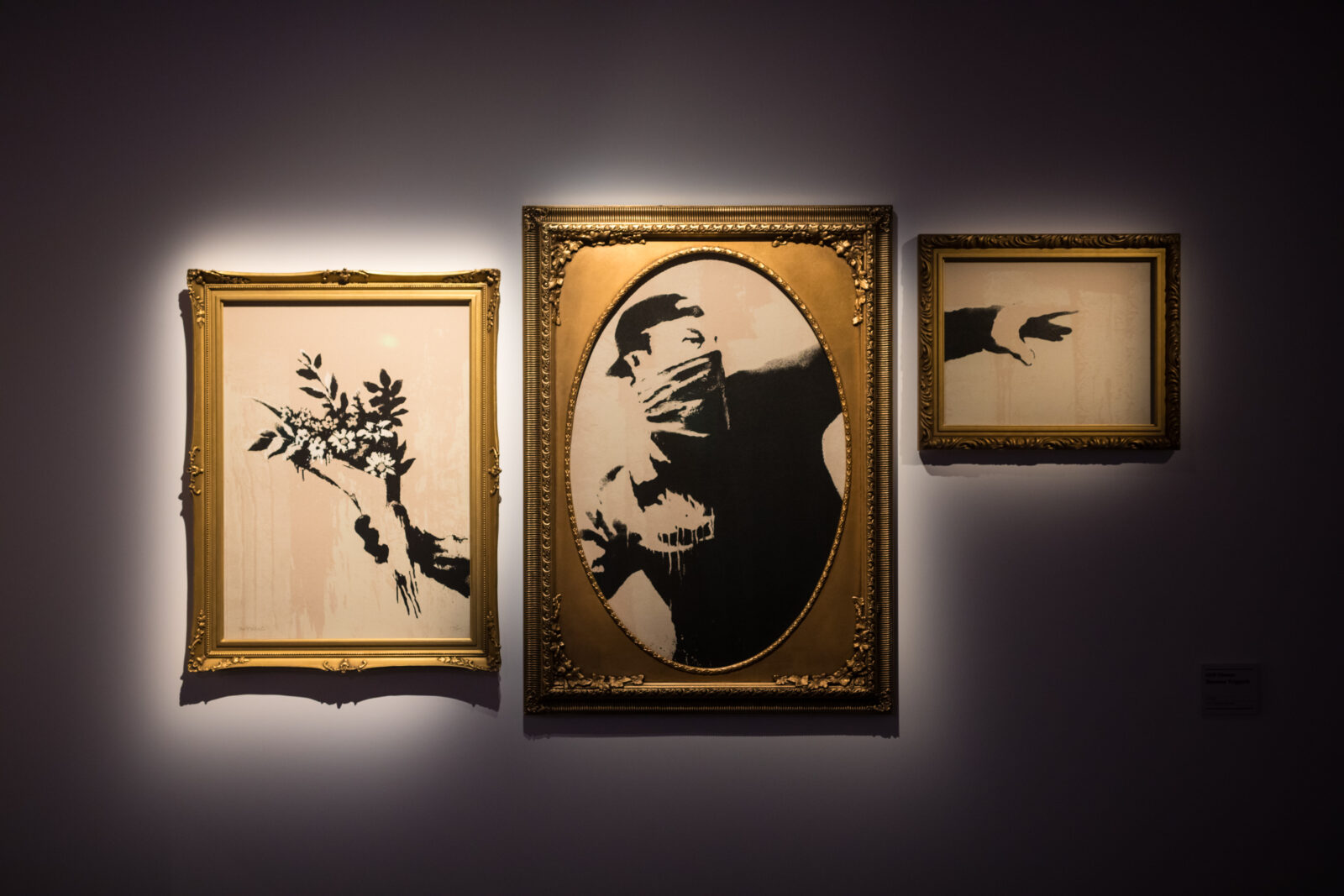 The Art of Banksy has finally arrived MediaCityUK.
The highly-anticipated and long-awaited exhibit is currently showcasing 145 iconic Banksy pieces all amassed from private collections across the globe to create the world's largest touring collection of Banksy artworks.
Visitors will have the chance to experience the infamous artist's most well-known works alongside those rarely seen by the public, all on loan from private collectors.
Find out more and grab tickets here.
___
Pokémon: Art Through the Ages
Trafford Centre
Monday 24 October – 13 November
A Pokémon art trail and treasure hunt-style event has taken over the Trafford Centre for the next couple of weeks, and the best part is, it's absolutely free to get involved with.
'Pokémon: Art Through the Ages' gives fans the chance to discover hidden art of the 151 Pokémon that were originally discovered in the Kanto region through an interactive trail – which event organisers say showcases "a wide variety of artistic techniques and styles" from across the ages.
There's cave paintings, stained glass, and more for families and Pokémon fans of all ages to enjoy free of charge.
Find out more here.
___
PowerUP
Science and Industry Museum
Monday 24 – Sunday 30 October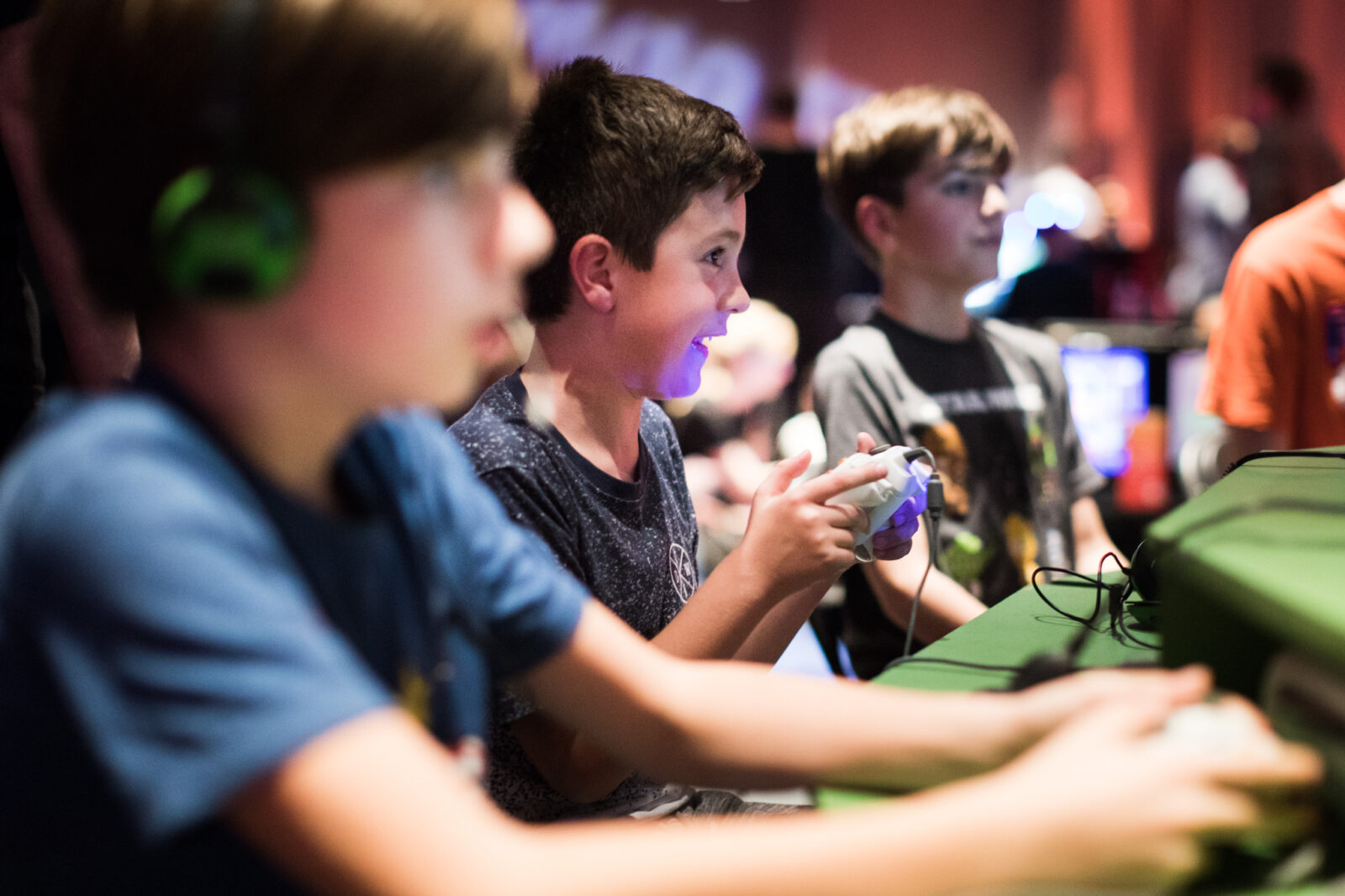 A huge gaming event has returned to Manchester.
With more than 160 consoles and hundreds of games to play, Power UP is back at the Science and Industry Museum for the first time in three years, taking ticket-holders on a journey through five decades of gaming, with everything from retro arcade games, to state-of-the-art virtual reality, and so much more.
Power UP is taking place every day throughout October half term, and each weekend all the way through to December 2023 – with each ticket including unlimited play all day.
You can find more information here.
___
MCR Monsters
Manchester City Centre
Tuesday 25 – Sunday 30 October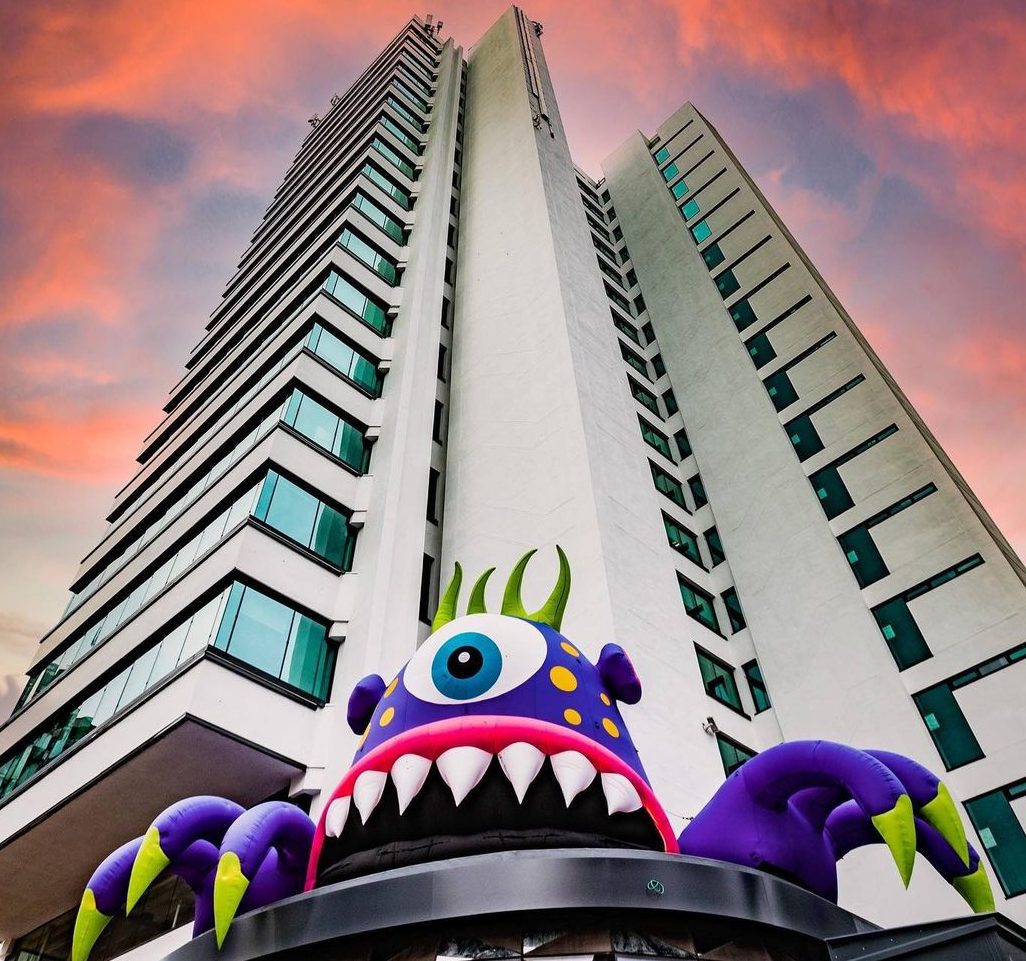 The MCR Monsters are back once again.
Just as they have been doing for the past few years now, giant inflatable monsters will be looming and creeping over buildings across the city centre this week to transform some of our most well-known landmarks with tentacles and googly eyes and pointy teeth for a FREE trail.
And this year, it'll be bigger than ever before, with 14 monsters to spot around town.
Find out more here.
___
Halloween Ghost Trains
East Lancashire Railway
Thursday 27, Friday 28 & Saturday 29 October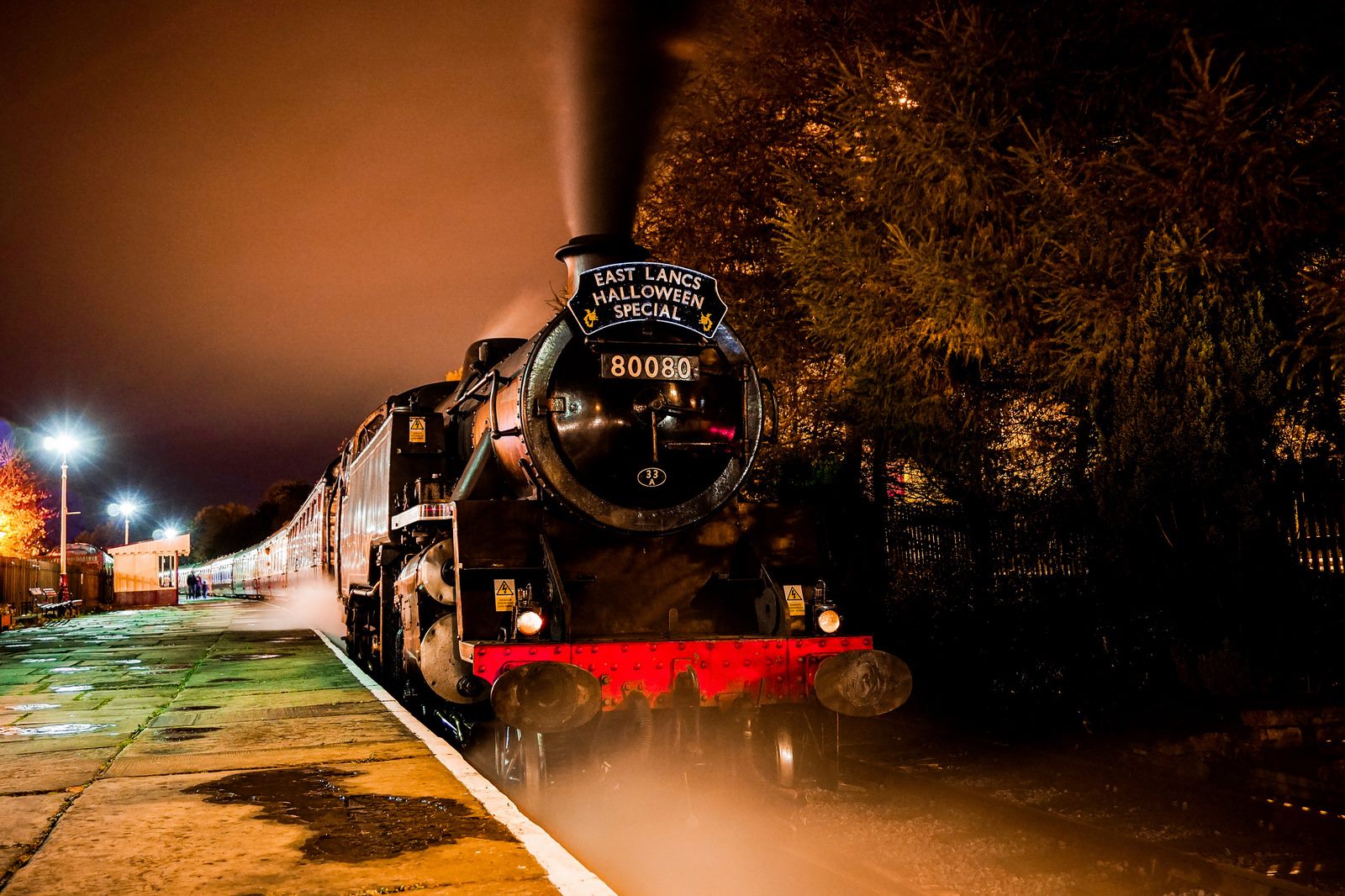 A whole host of "terrifying tricks and terrific treats" are waiting for the whole family on the East Lancashire Railway (ELR) this week.
Or at least those brave enough to climb aboard one of the eerie Halloween Ghost Trains.
Can you lend a helping hand to banish ghosts, ghouls, and monsters? And do you have the guts to ride on a haunted steam engine through the heart of Greater Manchester with the heritage railway's scream team this Halloween? Then you can join ELR's horrible heroes, Count Brian the vampire, Veronica the witch, and Zombie Bob for the train ride of a lifetime.
Find out more here.
___
Halloween in the City
Manchester City Centre
Saturday 29 & Sunday 30 October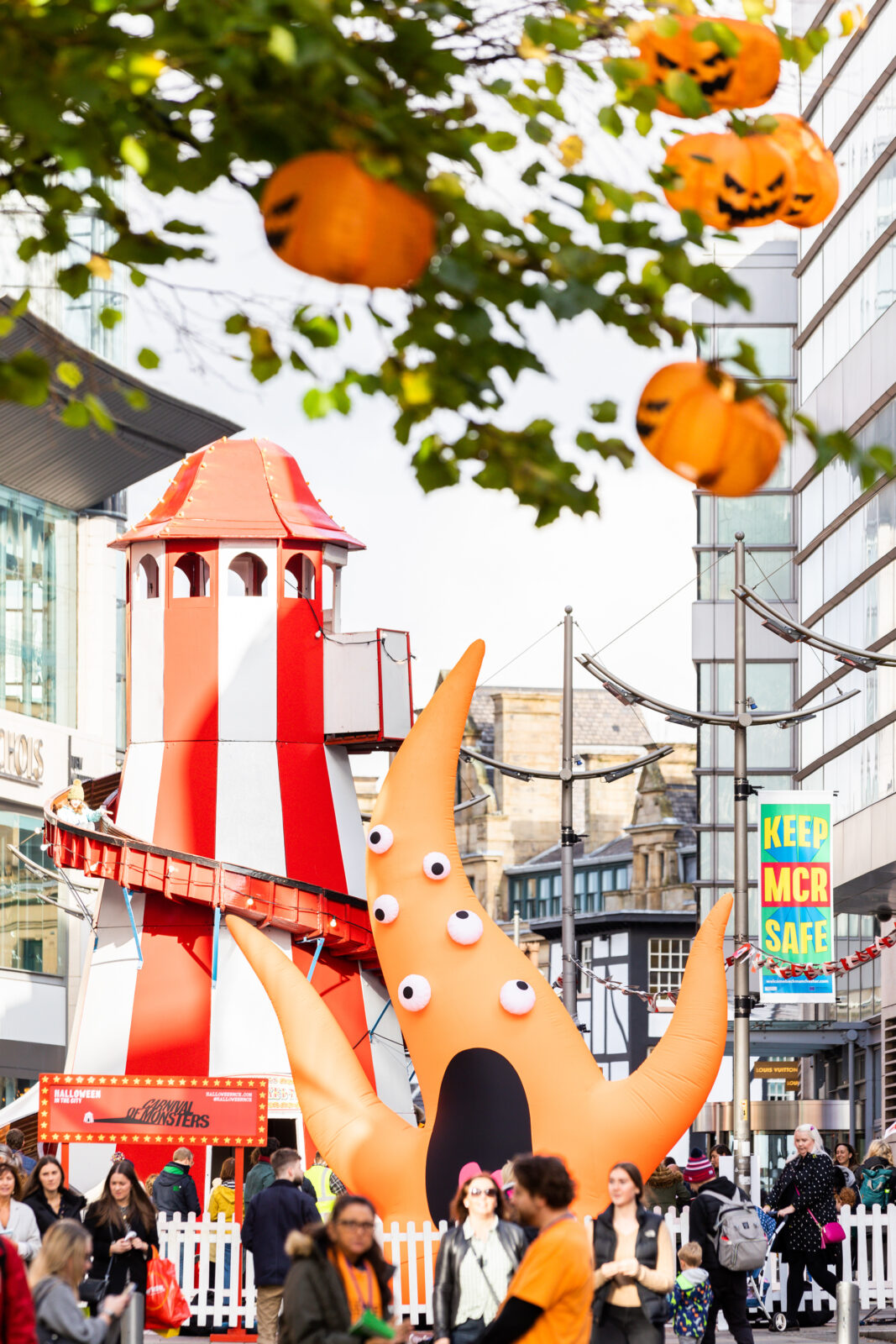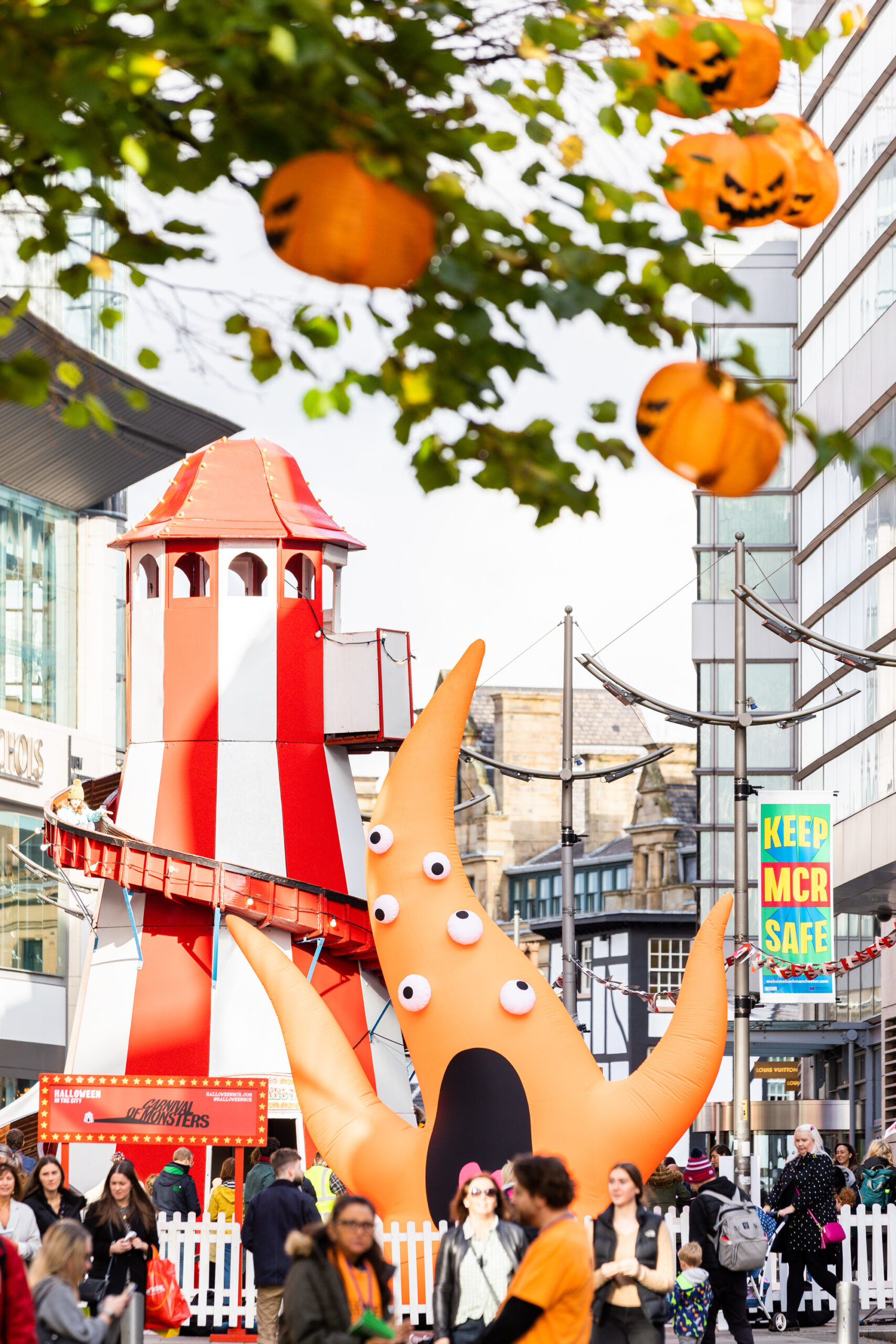 Halloween in the City will be turning our streets into a spooktacular celebration, with a weekend of shockingly good family-friendly events on Saturday 29 and Sunday 30 October.
Organised by Manchester Business Improvement District (BID), this year's Halloween in the City will include some ever-popular events as well as some brand new attractions, with families heartily encouraged to don their best fancy dress.
Some of the free events to look forward to this weekend include the Monsters Rock! Party Procession, with stilt walkers, monster puppets, and a five-piece band mingling with shoppers weaving through Manchester Arndale and Market Street, and the a Creepy Carnival made up of a carousel, helter skelter, street food, and circus performers sprawling across New Cathedral Street.
You can find out more about what's happening for Halloween in the City 2022 here.
___
Halloween Spooktacular
New Century
Sunday 30 October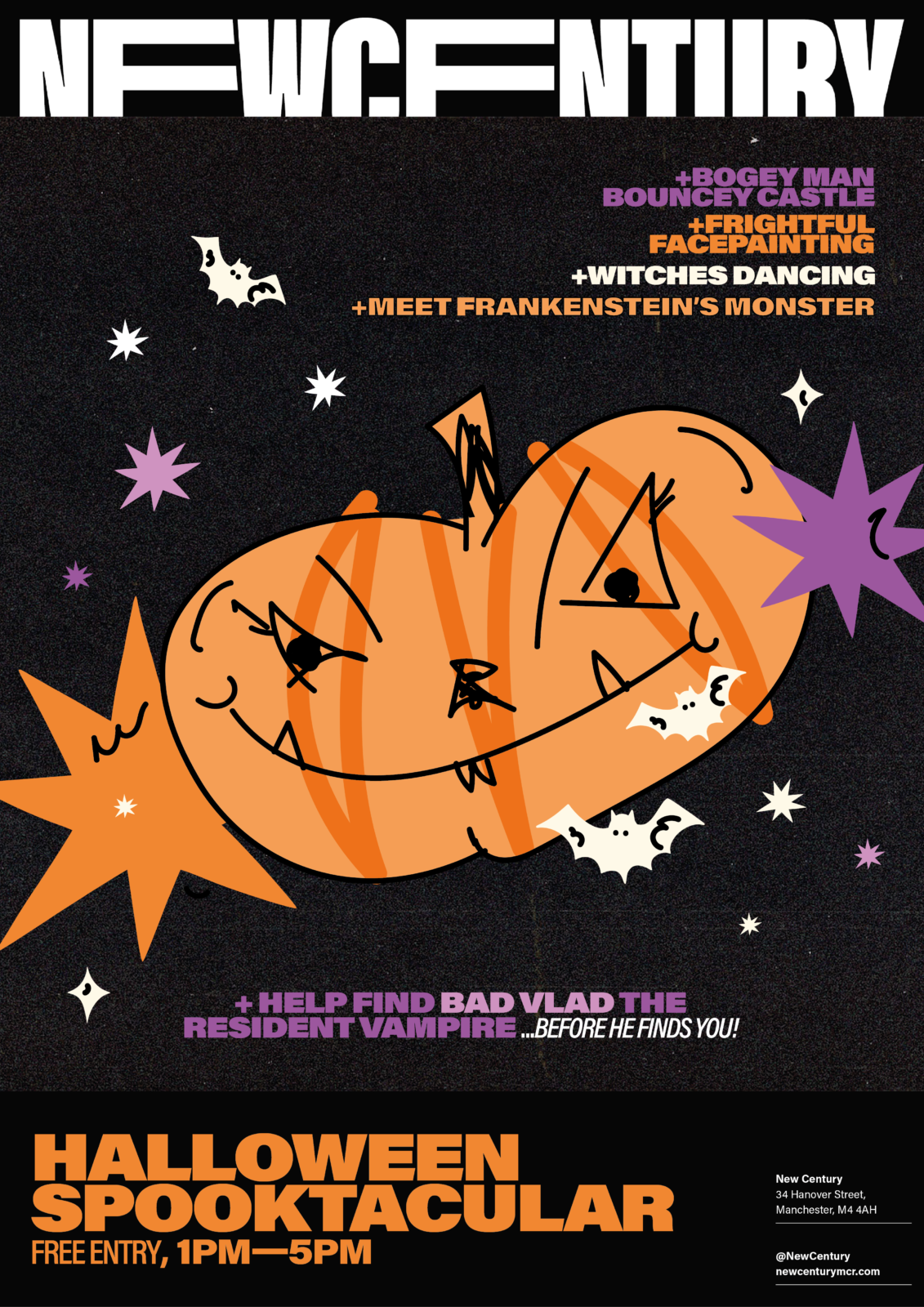 Manchester's beautifully-restored new social destination, New Century, is hosting its very own Halloween Spooktacular event this Sunday, with a full day of themed events and activities for grown ups and kids alike taking over the whole space.
Free family fun events will be hosted both in the hall upstairs and downstairs kitchens.
There'll be frightful face painting, a bogey man bouncy castle, a photobooth, and kids food and drink available, with the NOMA team on hand hosting spooky workshops throughout too.
Find out more here.
___
Featured Image – City Co & Manchester BID | ELR