Food & Drink
Bolton chef spoofs Salt Bae's £850 steak with gold-wrapped chips and sausage butties
"There's people starving at this moment in time and we're wrapping stuff in gold and charging ridiculous prices for it"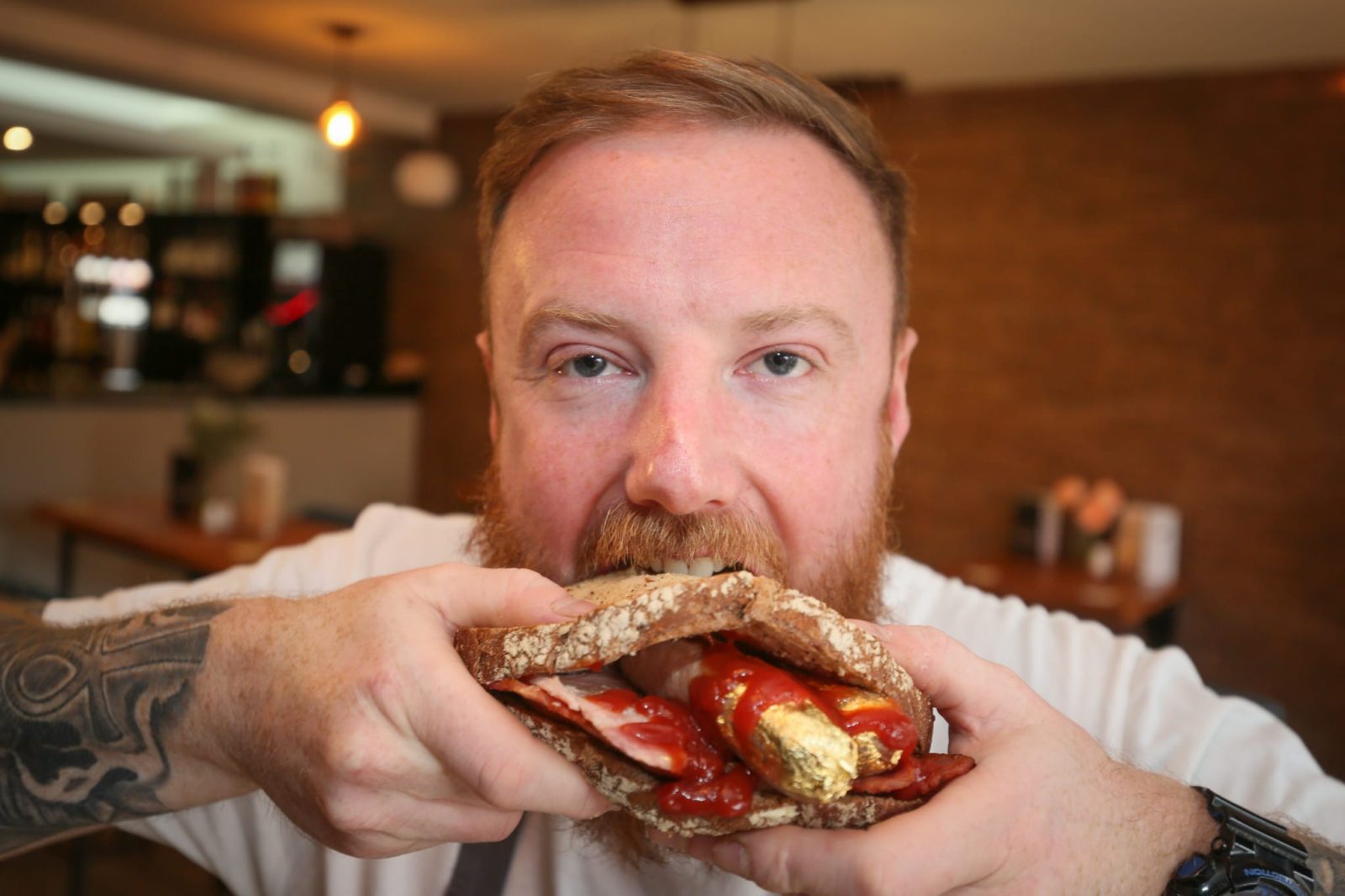 A chef in Bolton has mocked Salt Bae's restaurant Nusr-Et and its £850 gold-wrapped steak by producing his own versions – including a bacon and gold leaf-covered sausage butty.
Chef Gareth Mason decided to spoof the eye-wateringly expensive London steakhouse by creating his own gold-covered dishes.
Of the opinion seemingly held by many Brits that "getting a steak and wrapping it in gold doesn't make it worth £800", he tells us wrapping stuff in gold might be time-consuming and nerve-wracking but it "still doesn't justify a thousand pounds for a steak or £45 for a cappuccino."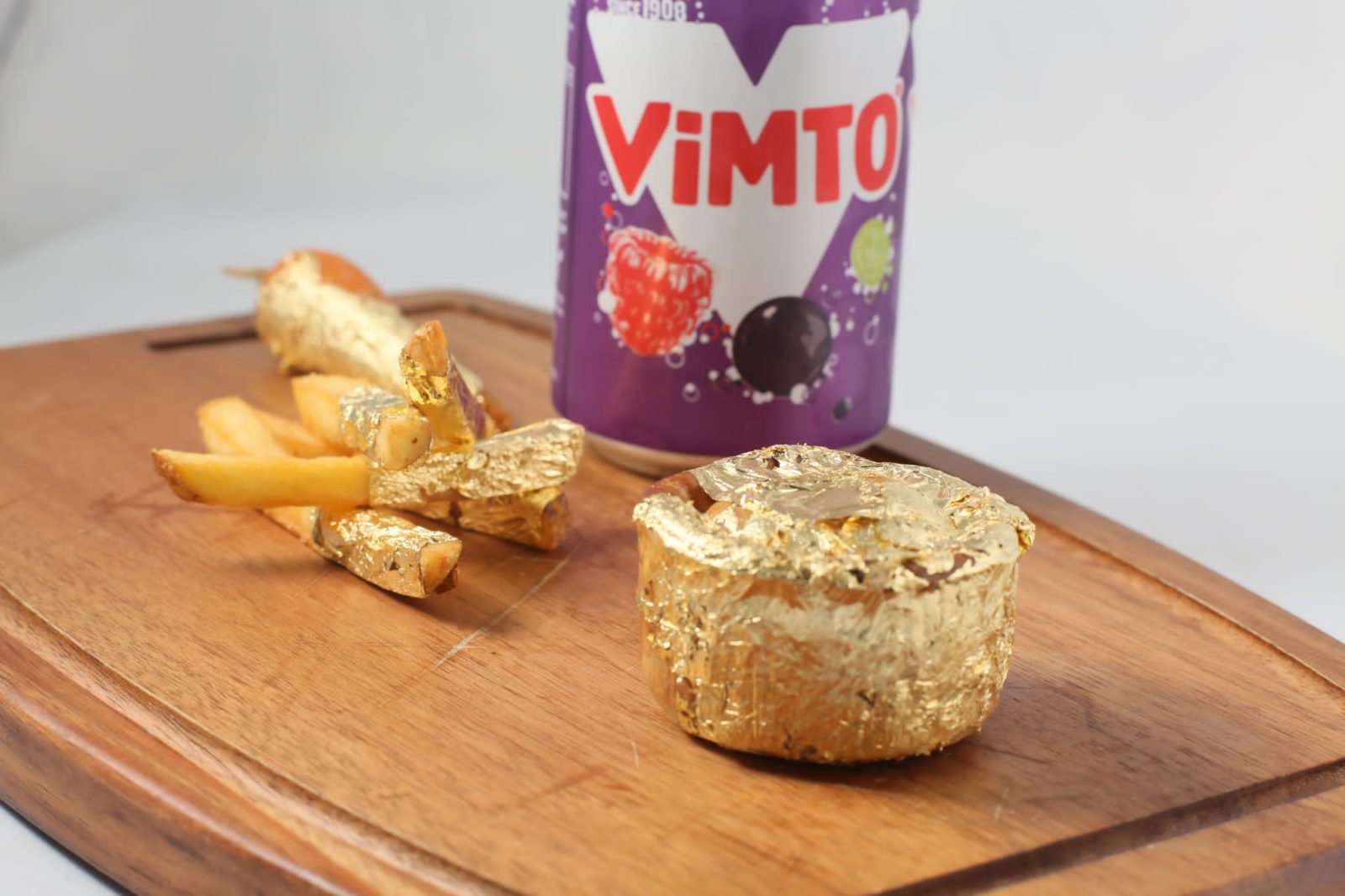 As well as giving the gold treatment to the iconic sausage butty, the Absolute Bar and Bistro head chef has also wrapped his signature miniature meat Whist Pies in gold.
He also created further options like gold-wrapped chips, a 24-carat carrot, and a gold pork pie and pickle platter.
The bar and bistro is relatively new to the area, having opened on Westhoughton's Market Street in the summer of 2021. First launching with just coffees and teas, followed by drinks and tapas in the evening, the menu offering has certainly picked up since Gareth Mason joined the team.
Formerly Group Executive Chef at Retreat Restaurants, his dishes made headlines last year too – when he created some 'ingenious' substantial meals for the group, including a 'three-tier' fish, chips and mushy peas pie.
"It was national pie month in Wigan at the time," he tells us, "so we made this pie, encased it in pastry, and topped it with chips."
His creations were covered numerous times in 2020, including when he cooked a menu with Irn Bru in response to a story that said the iconic Scottish drink cured Covid.
As a reaction to that, Gareth created the likes of blue and orange Irn Bru macaroons, Irn Bru cranachan jelly, haggis Scottish roll with Irn bru and onion chutney, and Scotch pancakes with an Irn Bru syrup.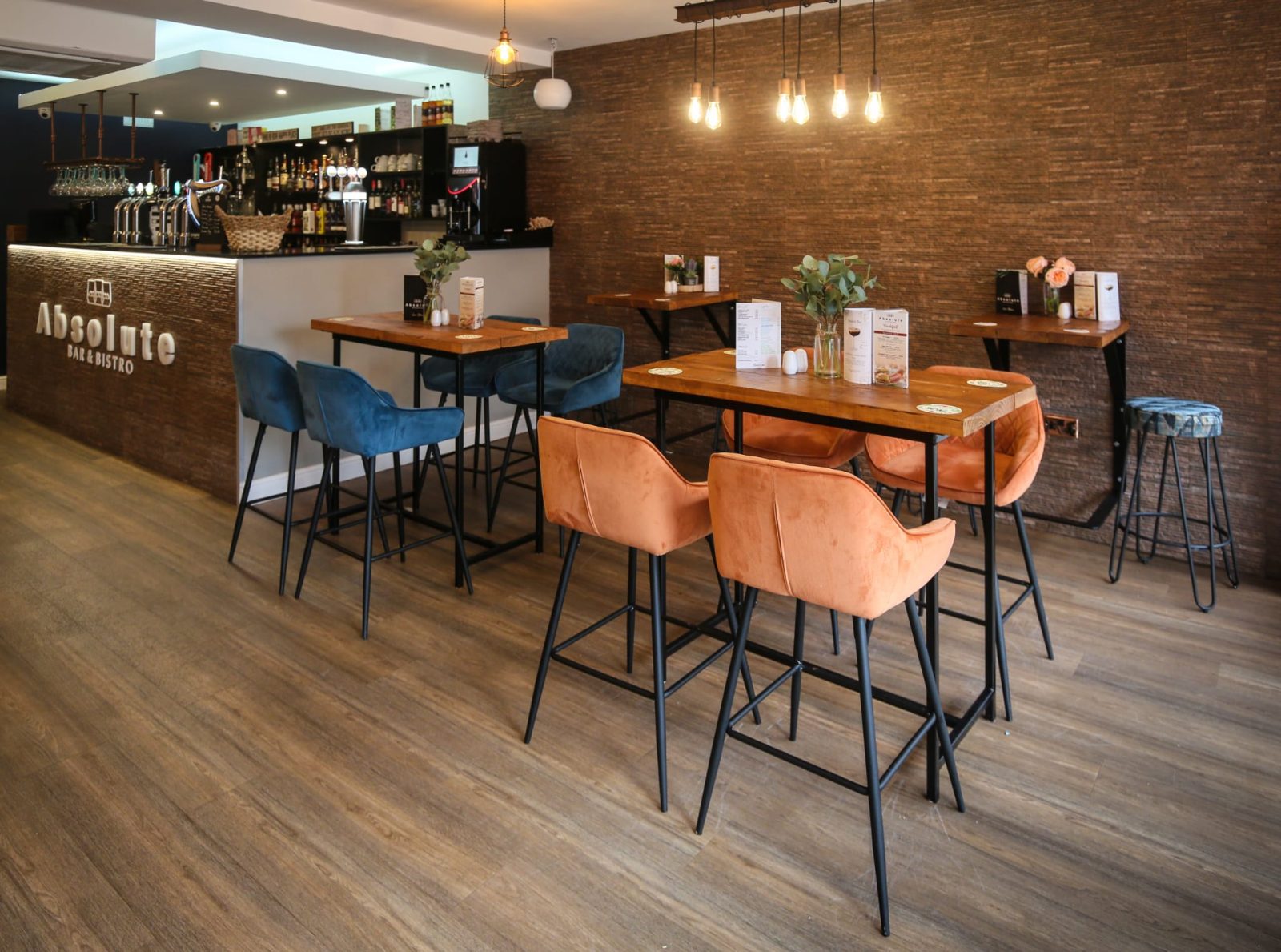 "I can't say I've ever cooked with Irn Bru before to be fair," he tells us.
Now, it seems he has put the Absolute Bar and Bistro on the map with these new creations that highlight the extortionate expense of dining at one of Salt Bae's Nusr-Et restaurants.
Speaking to The Manc, he told us his gold-leaf creations were "just a bit of fun" and customers won't be able to actually get a gold-covered sausage at his Bistro.
Rather, he decided to put a spin on some of the menu's classic items to make a point.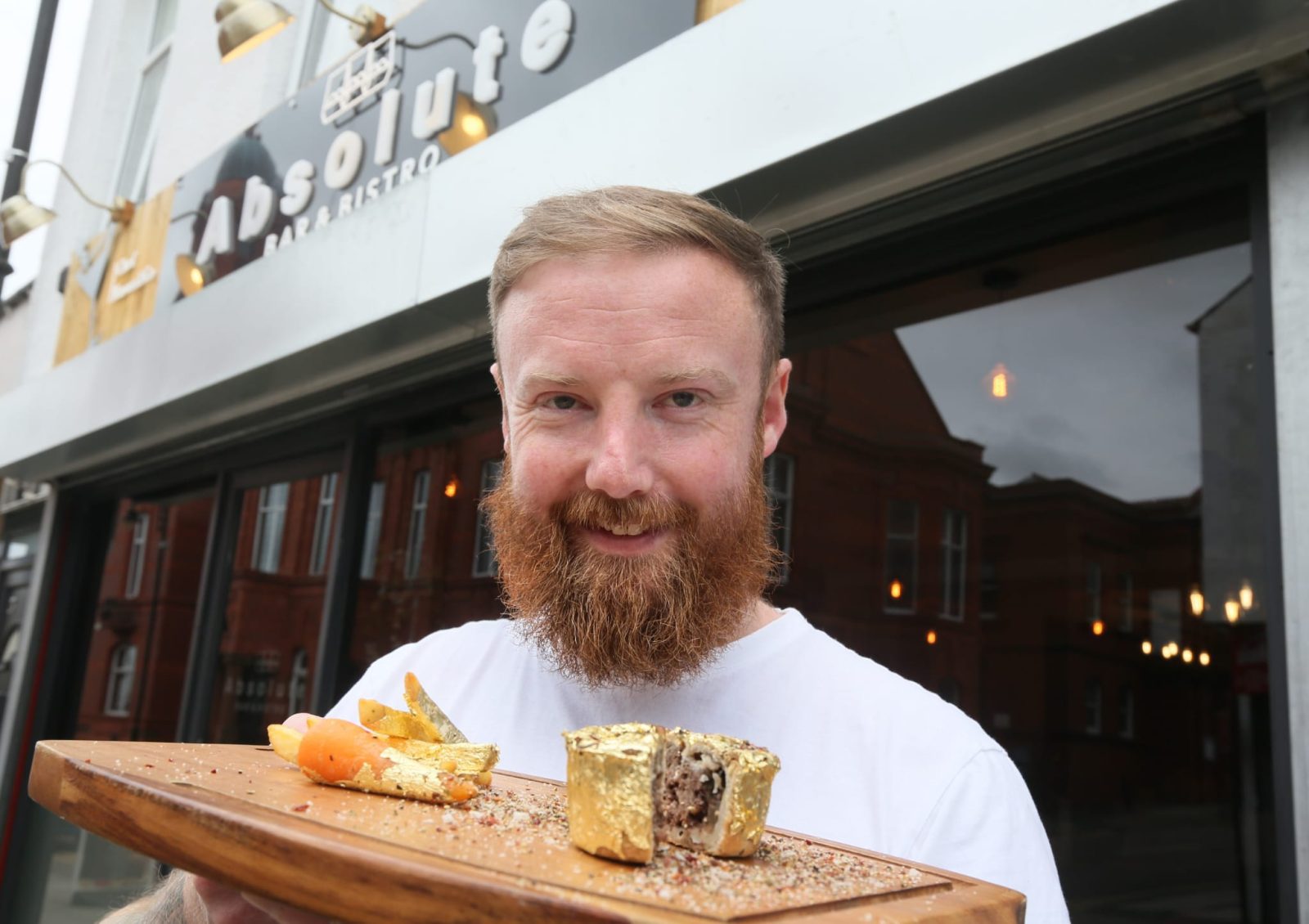 "Clearly some people have got more money than sense," said Gareth.
"There's people starving at this moment in time and we're wrapping stuff in gold and charging ridiculous prices for it."
Calling the Nusr-Et prices "ridiculous", he concedes that whilst wrapping food in gold is time-consuming and "quite nervewracking to be fair […] as the gold is very temperamental."
However, he still doesn't think that makes it worth the price – not by a long shot.
Asked what he thinks is next, he jokes "Diamonds, platinum, white gold." We're laughing, but sadly he's probably right.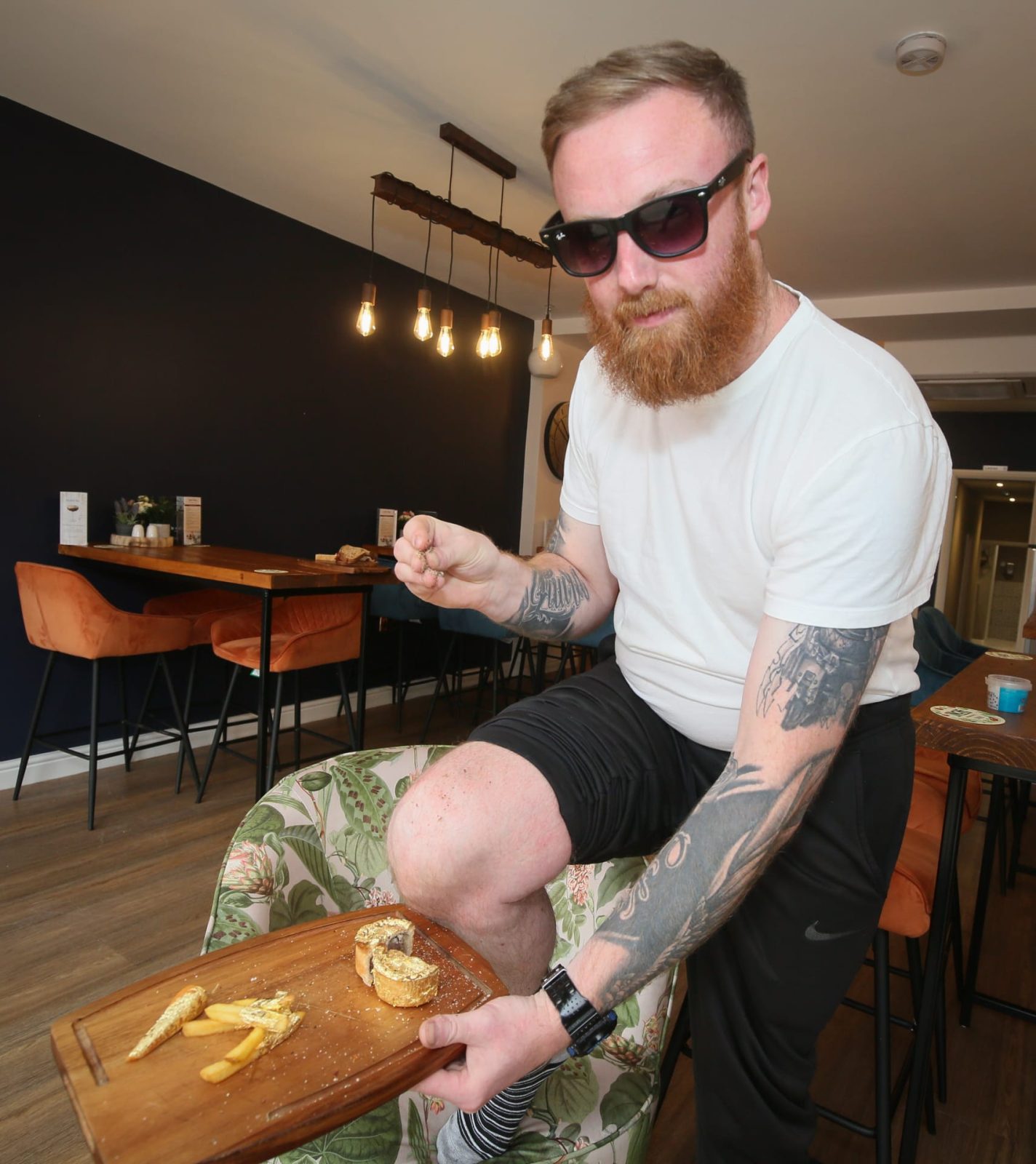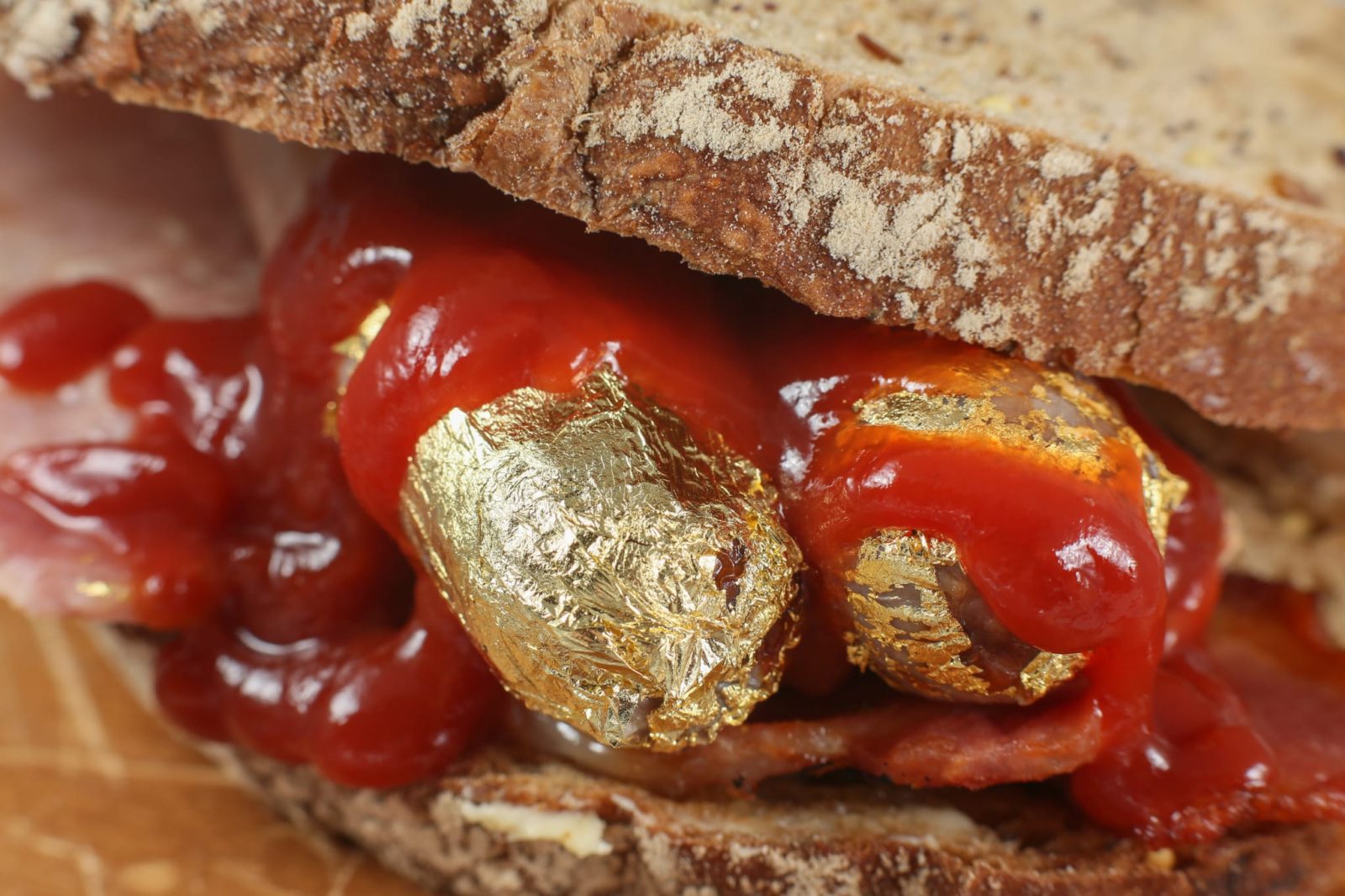 For those who don't know, Turkish butcher-turned-chef Salt Bae first rose to fame after going viral online for a technique that involved sprinkling salt down his arm, has faced reams of criticism online following the opening of his new London restaurant.
One group of diners recently shared a bill for £37,023.10 – including a service charge of nearly £5,000 – after a boozy wine-fuelled night at the restaurant.
If you don't fancy splashing that sort of cash, though, you'd better head over to Westhoughton in Bolton.
Whilst you won't exactly get a taste of the gold-wrapped Nusr-Et experience, you're definitely guaranteed to receive some wholesome Lancashire options with a healthy dose of humour on the side.
Feature image – Phil Taylor / SWNS