Eats
The weird (and wonderful) history of the Peveril of the Peak
The Victorian boozer and former brothel once had something of a sordid reputation - that is until landlady Nancy Swanick turned it around.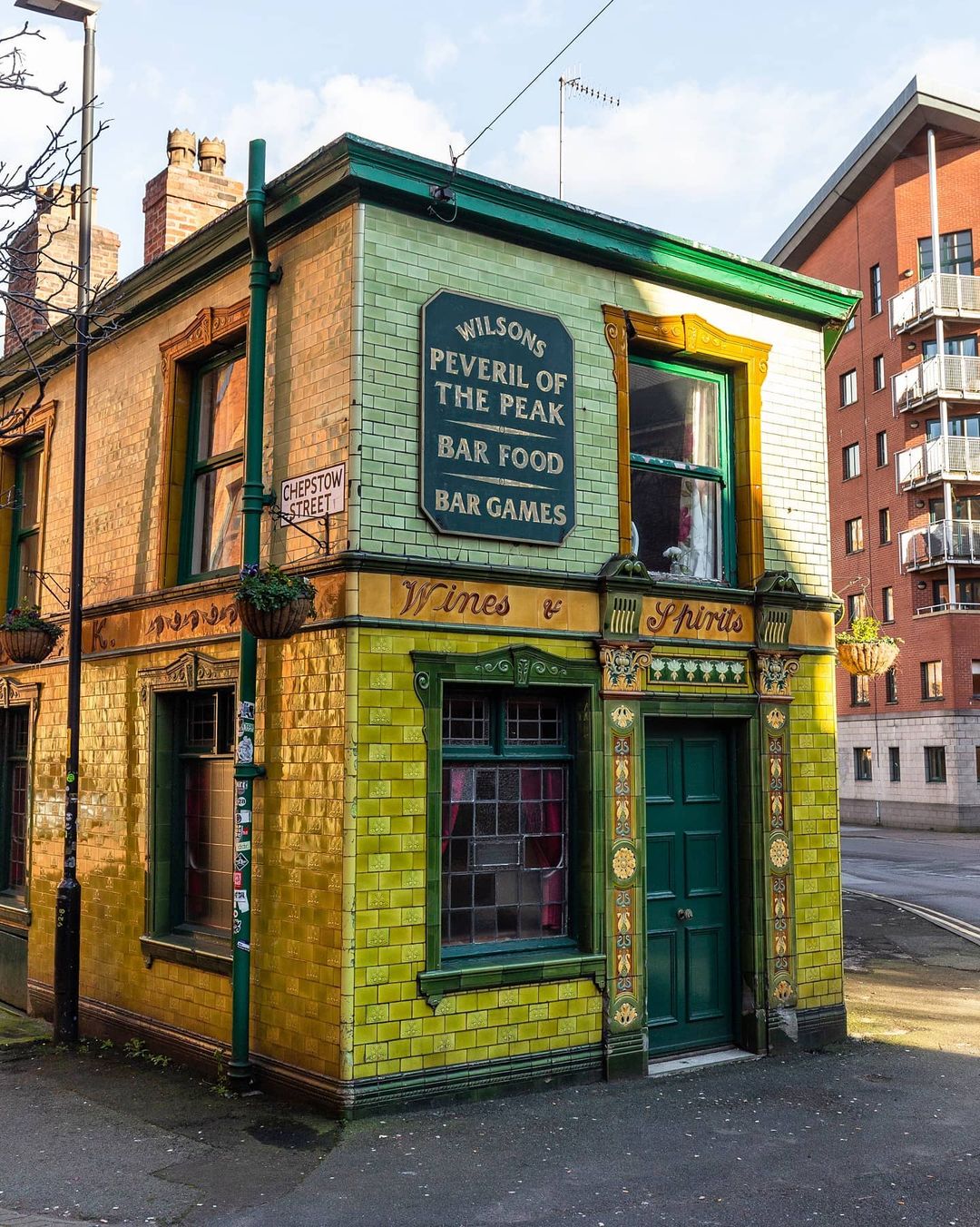 With its bold green tile-clad exterior and stained glass windows, the Peveril of the Peak is one of Manchester's most beautiful pubs. It's also a famous institution in its own right.
Run by one of Britain's oldest and longest-serving landlords for five decades now, the 'Pev' is a great survivor just like its landlady Nancy Swanick.
Aged 93, she celebrated 50 years at the helm tin 2021 and has seen all sorts in her time here: from glasses levitating behind the bar to brewery bosses who wanted to turn the 'Pev' into a themed pub with plastic palm trees. Both equally horrifying, we're sure you'll agree.
Thankfully, the brewery never got their way and today The Pev is now a respectable institution with a mellow atmosphere and friendly clientele.
No-nonsense County Donegal woman Nancy's done a lot to turn its reputation around – not least talking the brewery out of the tacky refurb and into a proper refurbishment and restoration of the pub's historic features.
Suffice to say, it hasn't always been the charming, friendly little watering hole we know and love today – in fact, it once had quite a rough reputation.
During the Second World War, the pub was frequently used as a brothel by GI's, and when Nancy and her late husband first took it over in the 70's she initially said she didn't want anything to do with it.
"You'd get lads coming in straight from work and not leaving until they'd spent their wages and had a punch up," remembers Nancy's son Maurice. "Mum told dad she wouldn't do it."
Reportedly, in its early years, some of the pub's biggest customers were factory blokes on their lunch who'd "knock back three pints and a pie without blinking" then head straight back to it.
Today, there's none of that, really. Locals and students drink happily side by side and there's a whole host of regulars for whom the pub is more than just a drinking hole, it's become a home from home.
The last man standing in a row of terraces, it's now shorn of its original surrounding buildings and stands alone on a small triangular island, surrounded by much taller (and newer) office and apartment blocks.
Visit and you'll notice various keepsakes nodding to Nancy's long tenure here, like in the smoke room turned snug where a heavy etched mirror hangs commemorating forty years of Nancy's proprietorship.
Other treasures hidden inside include an antique "table football" machine and the original bell pushes that customers once used for summoning staff and ordering drinks.
Read more: First look at The Stock Market Grill, the new restaurant opening inside Gary Neville's Manchester hotel
Nancy remains the key decision-maker at the pub and has pulled thousands of pints over the years for punters – including for a whole host of famous customers, most recently football legend Eric Cantona.
But whilst much has been made of her celebrity clientele (and rest assured, there have been a lot of them) for Nancy and her son Maurice (who helps her run the pub today) the non-famous regulars are much more important.
Stories like that of the Manchester taxi driver who waived Nancy's fare because of all the happy hours he'd spent in her pub, or the nurse who recently administered her COVID jab waxing lyrical on the Pev after spotting Nancy's address, mean the most.
"You never get tired of hearing that," adds Maurice.
The historic Manchester pub is also said to be home to another regular – their very own resident ghost. Over the years, many punters have reportedly seen spooky activity in spades: like pint glasses rising into the air and dropping into the wash of their own accord.
As well as doing a spot of cleaning, the spectre is also known for giving the odd guest a jolly good kick in the back when they've had enough to drink, just to help the management out, of course.
It's a friendly ghost, as long as you're not annoying the pub's proprietors, anyway.
The origins of The Pev itself can be traced back to 1830, when it was first registered as a public house.
Regarding its name, there's a bit of a dispute with some saying it commemorates a horse-drawn stagecoach that departed from the nearby Peacock Coach Office on Market Street when the pub opened in 1830.
Others say it references the 1823 Sir Walter Scott novel of the same name, which references Peveril Castle near Castleton in Derbyshire.
According to Salford University graduate Erik Merriman, who won an award for his research into the matter, there aren't any obvious geographical links between the pub name and the novel, but it's clear that the stagecoach was in operation before the pub opened.
Of course, that's not to say that the stagecoach wasn't named after Walter Scott's novel.
Read more: Buzzrocks, the family-run Hulme takeaway feeding Mancs for over 30 years
The only detached pub in the whole of the city centre, it used to only open on Saturdays when Manchester United was playing at home but is now open to drinkers every weekend.
Awarded Grade II-listed status in 1988, the pub continues to resist pressure to close its doors for good and become another victim of city centre 'regeneration'. It's truly one of the most iconic pubs in town.
Find it at 127 Great Bridgewater St, Manchester M1 5JQ and rest assured, it's even more beautiful on the inside.
Feature image – Adam Pester.