Sport
Where to watch the Six Nations in Manchester
Whether you're English, Irish, Welsh or Scottish — even French or Italian for that matter — you're in the right place to watch this year's tournament.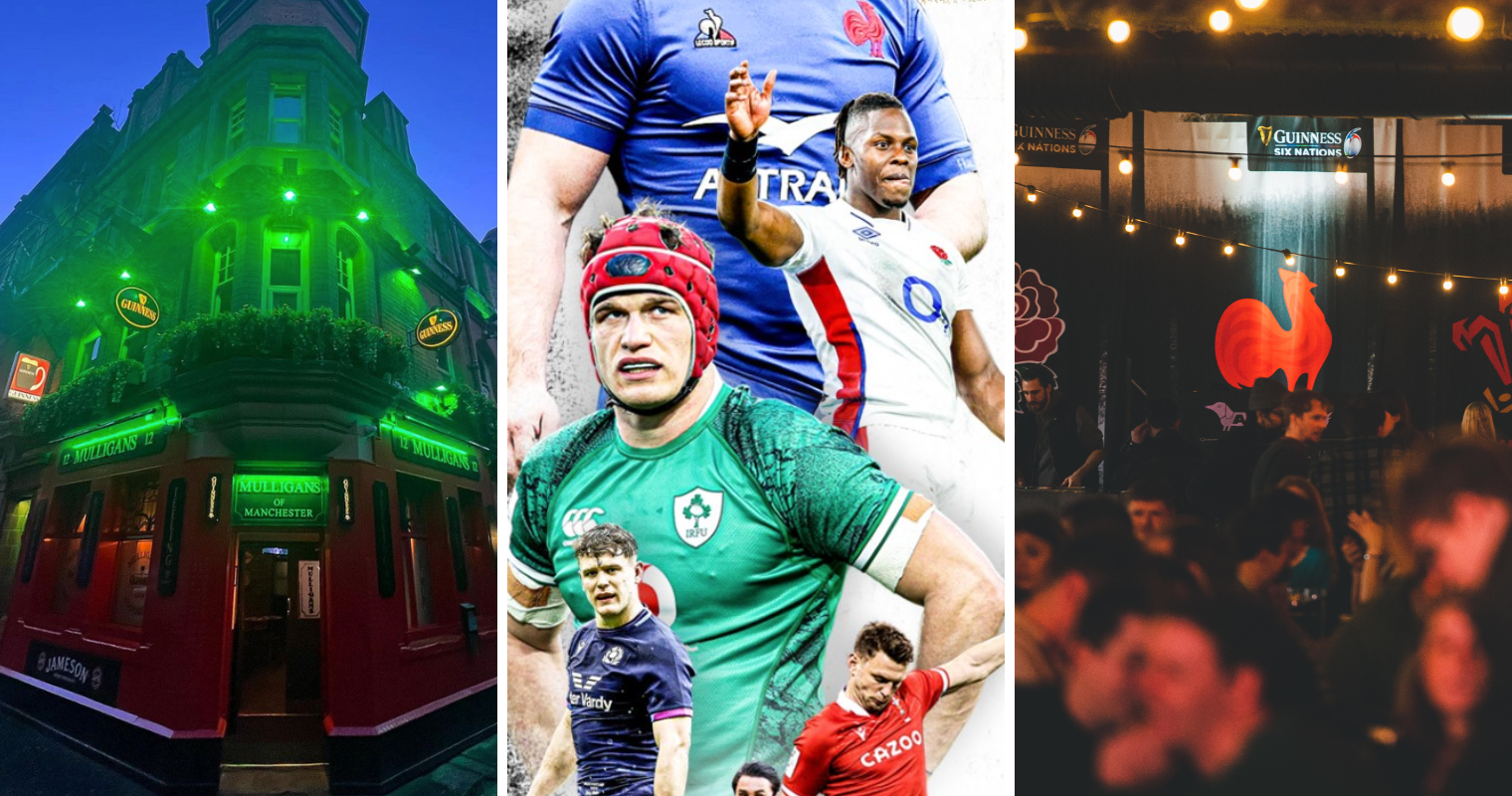 It's that time again, the Six Nations is just around the corner and we can practically taste the pints already. That being said, we thought it only right to put together a list of where to enjoy those pints.
With the tournament kicking off on Saturday, 4 February, we don't want you scrambling around to find places showing the Six Nations in Manchester; we just want you to sit back and enjoy the games.
So, without further ado, here is our list of the best places to watch the Six Nations in Manchester:
1. Guinness Fan Zone at Escape to Freight Island – Mayfield
Guinness and the Six Nations go hand in hand — I mean, their name's literally on the trophy — so what better place to start than the official Guinness Fan Zone at Escape to Freight Island? It's the biggest outside of London and it's got plenty more on offer than just the games:
2. Shooters/Bierkeller – Printworks
Next up, a tried and tested favourite of any punter who frequents sports bars in Manchester. Shooters Bar inside the Bierkeller at Printworks. Showing the Six Nations every year, this place always draws in a big crowd so best get your booking sorted early HERE.
3. Calcio! – Northern Quarter
You'd be forgiven for thinking a place called Calcio only shows football, but au contraire mon frère (one for those few France fans among you): this new hotspot just on the edge of Northern Quarter and not far from Piccadilly has all kinds of sports, tonnes of retro games, plenty of pints and some seriously whopping burgers. Give it a try.
4. Mulligans – Deansgate
As far as Irish bars go, you can't go wrong with Mulligans. A go-to for sports fans and punters in general, not to mention Guinness' second home in Manchester, this traditional Irish pub sandwiched just across the road from Spinningfields will be showing the games and promises live music every night. It's always good craic in here.
5. Tib Street Tavern – Northern Quarter
No list of Manchester sports bars would be complete without Tib Street Tavern, one of the most popular in NQ or the city centre in general, for that matter. With booths for you and all your mates to pile into, massive screens filling the walls and solid grub, this place is packed out noon till night, so give 'em a ring to sort your seat whilst you still can.
6. Waldorf – Piccadilly
Now, if you're looking for something right next to the station so you don't have to walk far for your first pint or, equally, can make a quick exit if the result doesn't go your way, the Waldorf is the one for you, Spanning aross multiple floors with the upstairs usually dedicated to rugby fans, you'll catch many a face watching the sport in here most weekends. Again, it fills up quick so bag yourself a table while you can.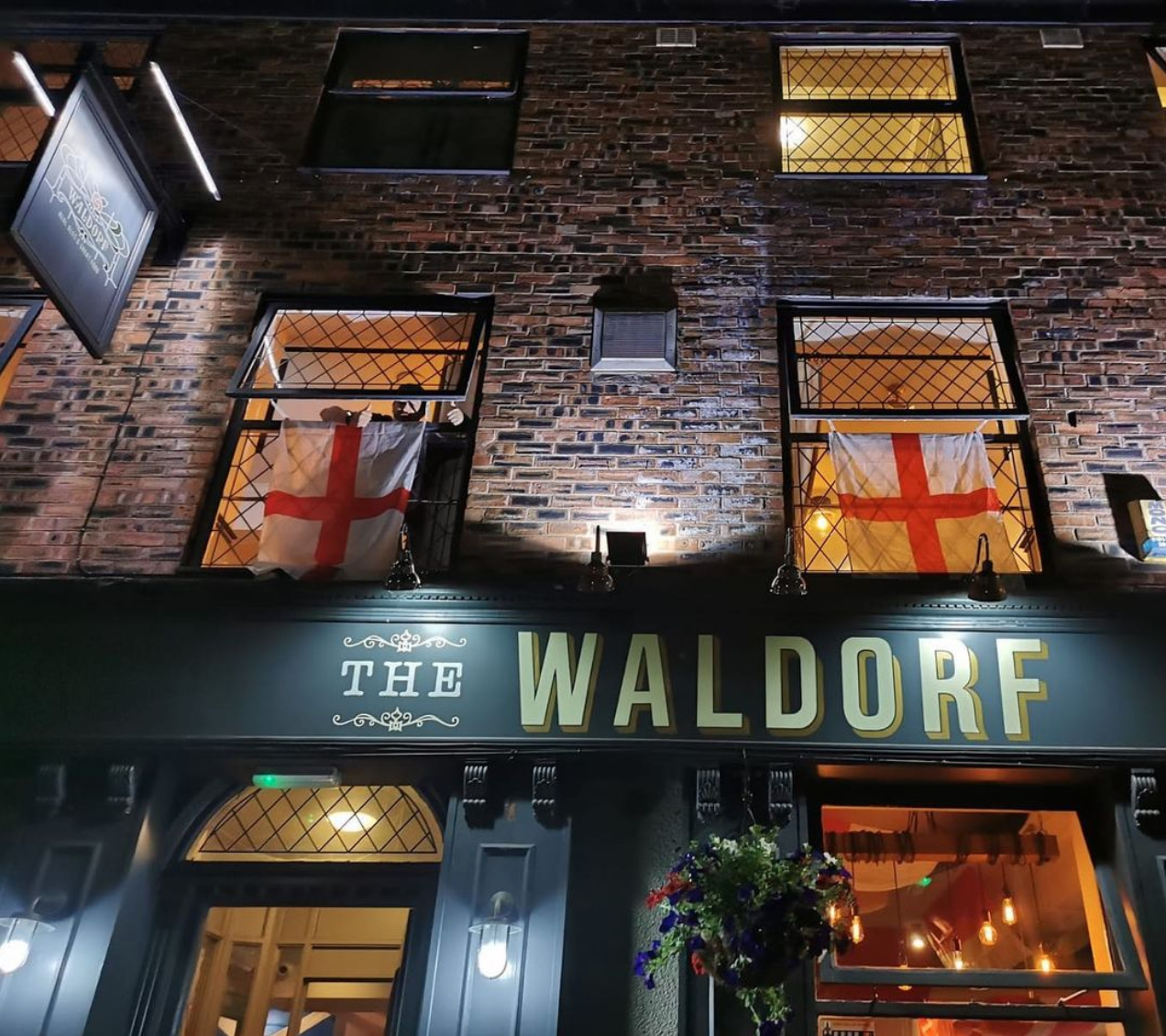 7. Directors' Box – Central
Another all-time classic Manchester sports bar, The Directors' Box just off St Peter's Square in the city centre has plenty of pints, an absolutely mint menu full of sharing platters perfect for watching the game with your mates, as well as a pool table to keep you occupied during the breaks. Book HERE.
8. Kiely's – Great Northern
Whether you'll be cheering on Ireland or not, Kiely's is prime location to watch the Six Nations. Yet another place for Guinness lovers and showing live sport all week-round before the rowdy live music kicks off in the evenings, we've spent many night in here and can heartily recommend it for the rugby.
9. BOX – Deansgate
One of the newest bars on this list, BOX on Deansgate brings a real sense of the American sports bar culture with shuffleboard, giant steins of booze, banging food and TV on every wall — including a big 360-jumbotron screen so nobody misses a second. Even with two large floors, this place packs out quick, so we would get booking your place now.
10. Walkabout – Printworks
Last but not least, Mancunians have made memories in the one and only Walkabout. The massive pub, club and local nightlife institution has plenty food, pints and screens to cater to the hordes of punters. Better still, with its Australian roots, there's a real love for rugby in here, whether you're an England fan or otherwise. Book you place HERE.
Read more:
So, if you're still wondering where to watch the Six Nations in Manchester, that should be plenty of options for now. It's one of the biggest competitions on the sporting calendar so we're looking forward to similar festivities to the kind we saw for the World Cup.
It may be a fairly frosty February but we've never been the type to let the weather put us off going out and having a good time.
The first match between Wales and Ireland starts at 2:15pm on Saturday, 4 February, with England facing off against Scotland at 4:45pm that same day. Who do you fancy for it this year?
For all the latest news, events and goings on in Greater Manchester, subscribe to The Manc newsletter HERE.
Featured Image — Mulligans of Manchester (via IG)/Six Nations (via Twitter)/Supplied