Trending
A 'world's first' fish and chips-themed hotel is opening in Blackpool
The new hotel pop-up combines two of the nation's favourite things: bingo, and fish and chips.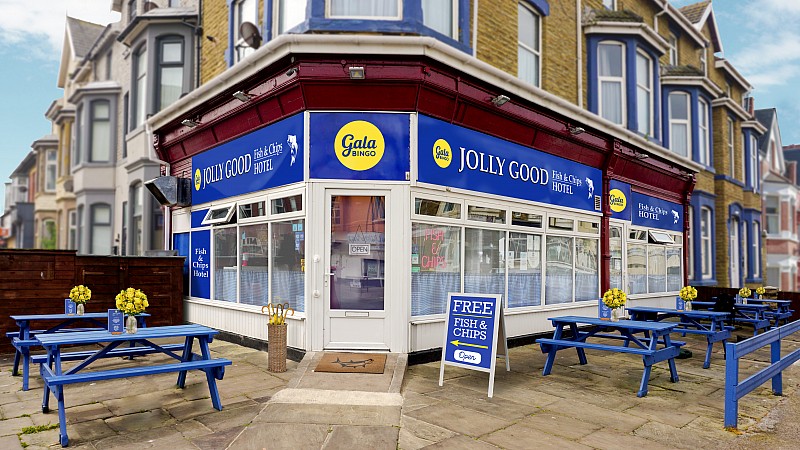 A 'world's first' fish and chips-themed hotel is testing out the waters for an opening in Blackpool this summer, and it looks a bit, erm, grim.
Called The Jolly Good Fish and Chip Hotel, the prototype will be popping up on the coastal town this weekend for two nights only across 8 and 9 July – giving visitors a chance to see what a hotel inspired by the seaside classic might look like in the flesh.
Images released by Gala Bingo, which is behind the project, show the frontage of the hotel and – to us, at least – it looks part chip shop canteen, and part estate agents.
Possibly it's the font, or it might be the bright yellow Gala Bingo sign above its door. There's definitely some estate agent energy going on outside here, though.
Inside, it's more like a canteen with a Gala-branded fish and chips counter and rows of tables with yellow and white gingham tablecloths.
That said, there are some freebies in it for those who want to go down and see it for themselves.
Across the weekend, the pop-up hotel will be welcoming visitors to enjoy a portion of fish, chips and peas on the house – a dish inspired not just by British tradition, but also the bingo call 33.
Guests will be invited to dig into their chippy teas as they play some games of bingo, also for free courtesy of Gala.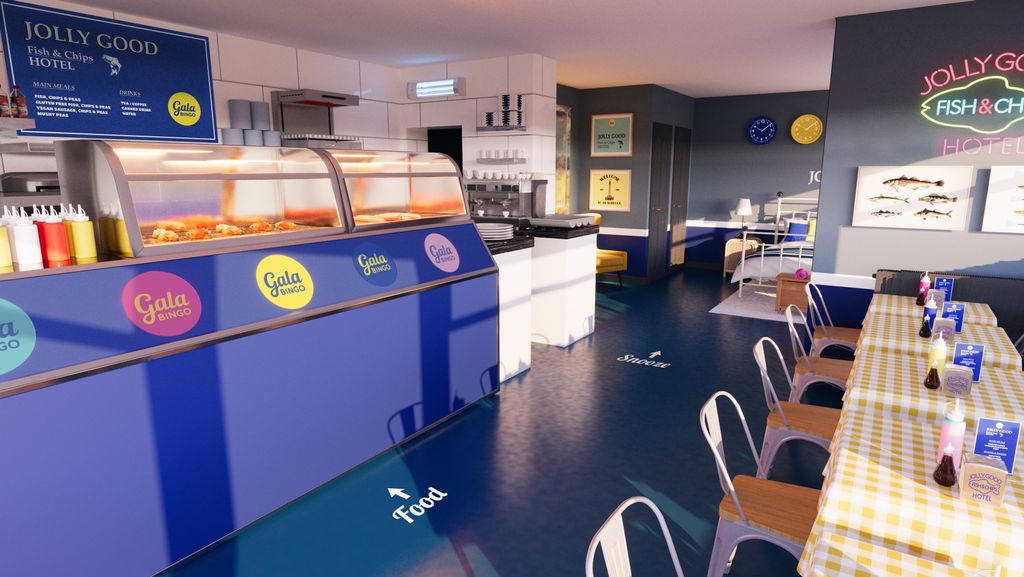 When it opens this weekend for its two-night run, The Jolly Good Fish and Chip Hotel pop-up will be 'five in a row' themed.
From midday until 8pm on both Saturday 8 and Sunday 9 July, visitors to the hotel will be invited to indulge in a free portion of the British staple, inspired by the iconic bingo call 33, fish, chips and peas.
Guests will be able to enjoy their fish and chips at the hotel's dining room and join in on games of bingo held throughout the day, or take them away to enjoy in the sun at the Blackpool Pier or Pleasure Beach nearby.
Read more: Wigan business owner says staff who only work four days a week are 'more productive'
The Jolly Good Fish & Chip Hotel room will also be open for visitors to snoop around.
The Gala Bingo concierge will be there to meet and greet guests and welcome them into the 'five in a row' themed suite.
They can test out the hotel bed, and experience what it would be like to spend a night in the world's first Fish & Chip Hotel room.
When in Blackpool, eh. We just hope that the seafront's resident scarecrow is in attendance to shoo away the birds.
Featured image – Supplied