What's On
The best things to do in Greater Manchester this week | 13 – 19 June 2022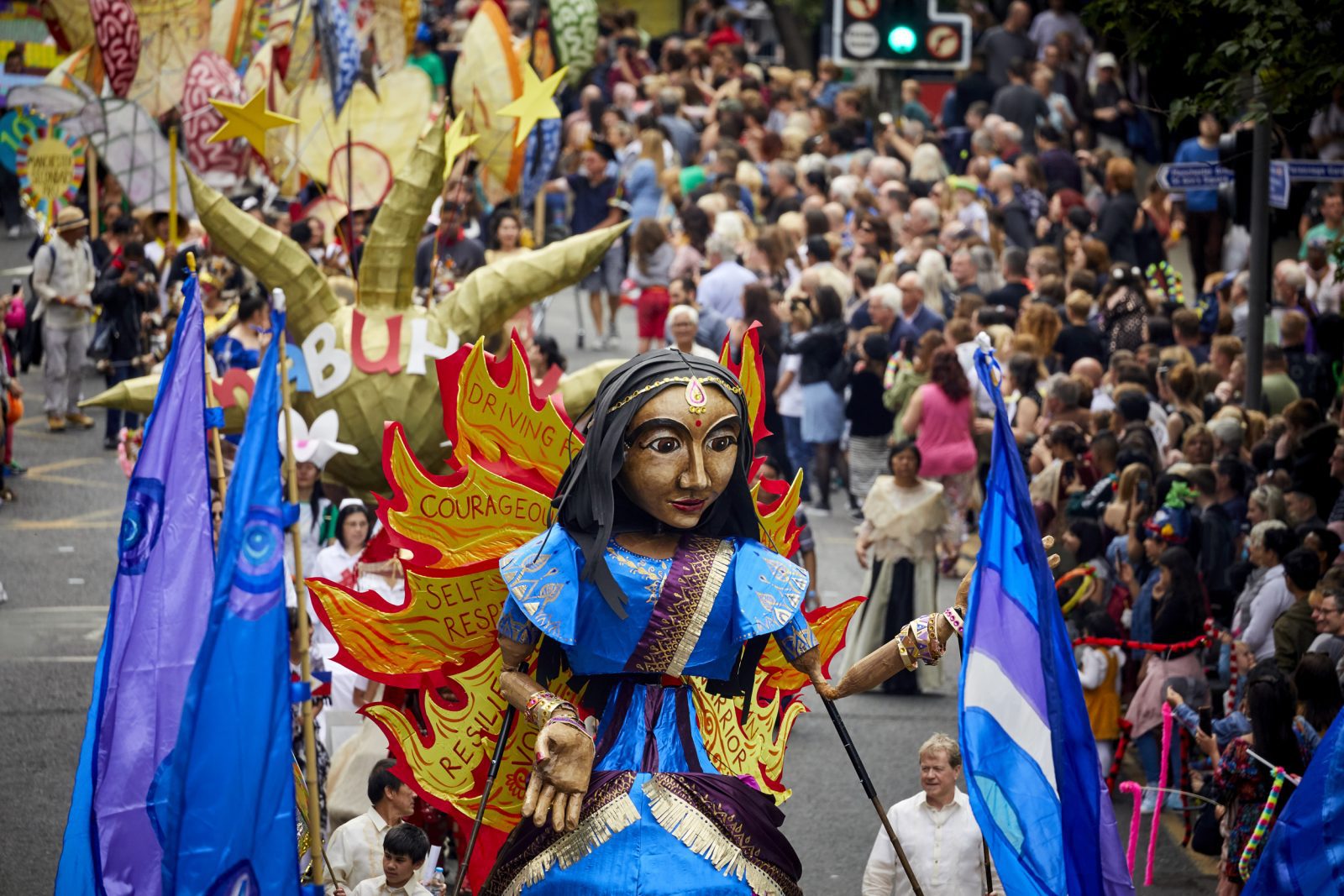 It's really starting to feel like summer across Greater Manchester now as we head into our third week of June.
With the temperatures hotting up and the sunshine season right around the corner, the summer events calendar is starting to get a whole lot busier now, and there's plenty to be getting up to across the region this week.
So we've cherry-picked a few of the best bits for another edition of our 'what's on' guide.
As always, some of the events we're going to mention are completely free, while others will set you back a few pounds, and many will need to be booked in advance.
Here's our top picks.
___
Box on the Docks
MediaCityUK
Monday 13 June – onwards
Box on the Docks has returned to the banks of Salford Quays for the summer, and there's be flowing beers, freshly-baked bagels, and boozy ice cream.
Back for its third year in a row, MediaCity's popular outdoor dining concept, Box on the Docks, is set for another busy summer on the waterside piazza – but for the first time, it has taken on a brand-new format, as this year's event is in partnership with SEVEN BRO7HERS.
The Salford-based brewing company has been put in charge of operate a rotating residency of the region's emerging and established independent food and drink pop ups.
There's also been an exciting lineup of live music and events for all ages.
You can find out more here.
___
British Pop Archive
John Rylands Library
Monday 13 June – onwards
A new national collection that's dedicated to "the preservation and research of popular culture" has now opened in Manchester city centre.
The British Pop Archive (BPA) has been created by the University of Manchester (UoM) and has opened at the iconic John Rylands Library on Deansgate in the heart of the city centre, with the aim of celebrating British popular music and other aspects of popular culture to recognise its "pivotal influence" on the world stage.
Featuring "iconic items" relating to quintessential British bands, legendary UK television, youth culture, counter-culture, and more that have set trends around the globe, the BPA will be an important academic resource for research and teaching, UoM says.
It'll also be public resource for exhibitions and public events that's open to all.
Find out more here.
___
Looking for some new restaurants and bars to try out that have just opened in Manchester city centre this month?

While some big familiar restaurant names have rocked up in Manchester in recent weeks, and will continue to do so throughout June, there's also plenty of homegrown talent popping up all over the region – including some old favourites moving up in the world.
Take Pollen, who have just moved into their enormous new site at KAMPUS, or pizza pedlars Corner Slice, who have paired up with Jimmy's in Ancoats, as well as a very familiar old name in the form of a new Blockbusters cocktail bar, and plenty more newcomers joining the fray.
You can read our round-up to find out where to put on your list this month here.
___
Amazônia
Science and Industry Museum
Monday 13 June – onwards
A critically-acclaimed photography exhibition has officially opened in Manchester as part of its international tour.
In what is the first UK exhibition of this scale outside of London for over 20 years from the world-renowned Brazilian photographer Sebastião Salgado, the Science and Industry Museum has will welcomed Amazônia – a major photography exhibition that celebrates the indigenous peoples and breathtaking landscapes of the Brazilian rainforest.
Salgado worked in the Amazon for seven years with 12 different indigenous communities, and the result is an incredible collection of powerful photographs that present his vision of a forest that is approaching a crucial tipping point in the fight against climate change, the Museum says.
You can find out more here.
___
Russell Watson – In Aid of Teenage Cancer Trust
The Bridgewater Hall
Wednesday 15 June
Singing superstar Russell Watson is set to perform an exclusive Greatest Hits gig for charity in Manchester this week.
The 'People's Tenor' will take to the stage at the beautiful Bridgewater Hall this Wednesday, in aid of Teenage Cancer Trust, and the fundraising event will see the Salford-born classical singer give a rare performance of his hits – including Land of Hope and Glory, O Sole Mio, and Bring Him Home – with all money raised helping the charity continue its incredible mission.
You can find out more and grab tickets here.
___
Cloudwater X Levanter – New England USA
KAMPUS
Thursday 16 – Sunday 19 June
Manchester's neighbourhood KAMPUS will play host a solid ten weeks of back-to-back block parties from its canalside garden, with each weekend seeing guest DJs take to the decks to spin tunes from different corners of the world – and this weekend's event is celebrating the US state of New England.
Free-flowing beer will come courtesy of Manchester brewery Cloudwater, and food will be provided by Ramsbottom favourites Levanter serving up tapas, giant paella, and charcuterie boards aplenty.
This weekend, you can expect Levanter dishes with beers from some of the highest-rated breweries in the world.
You can find out more here.
___
Women In Business Brunch Club
Namii Kitchen & Cocktails
Friday 17 June
The Edge Events is hosting a launch party for the Women in Business Brunch Club this Friday at Namii Kitchen & Cocktails, and it gives the opportunity to bring a network of like-minded women in Manchester business together for an afternoon of cocktails, canapes, live music, networking, and more in a relaxed setting.
There'll be a red carpet and Bellini on arrival, as well as a goody bag for all attendees to take home with them at the end of the event.
You can find more information by RSVP to [email protected]
___
Summer Knights
Camelot Theme Park
Friday 17 & Sunday 18 June
Northern kids of the 80s, 90s, and 00s can truly revisit their youth, as the abandoned Camelot Theme Park in Chorley has gone back to its days of Arthurian legend for the new Summer Knights drive-in cinema and entertainment attraction this summer.
Some of the film highlights in the genre-diverse lineup include this week include House of Gucci, and Grease.
There's also a fully-licensed bar and a number of street food vendors on site to choose from to make it a truly magical night.
Find out more and grab tickets here.
___
The Lock-Inn Comedy Club
Lock 91
Friday 17 June
The Lock-Inn Comedy Club is back at the popular Castlefield hangout, Lock 91, this Friday, and it's promising a night of "hilarious comedy and drunken debauchery".
Unlikely to be for the easily offended, but very likely to be one of the hottest tickets in town, the stellar lineup of international comedy includes Nathan Virica, MC Tony William Bolton, headliner Jordan Ducharme, and a bunch of other special guests.
Tickets will set you back £5 in advance or £7 on the door, and you can grab yours here.
___
ABC Buildings Launch Weekend
Manchester City Centre
Friday 17 – Sunday 19 June
A huge three-day weekender has been planned for the launch of the ABC Buildings in Manchester city centre to showcase the 1960s mid-century building in a new light.
A packed programme of free events will take over spaces at the creative hub on Quay Street, including in its new rooftop glass dome, and there'll be everything from a silent disco to street food, rooftop yoga to a kids' rave, plus Reform Radio DJs, a vintage flea market, football screenings, stand-up comedy, and a Northern Soul takeover.
The ABC Buildings Launch Weekend is taking place between Friday 17- Sunday 19 June, and you can find more information here.
___
British Favourites Cookery Class
Zouk Tea Bar
Saturday 18 June
Manchester's legendary Indian restaurant Zouk Tea Bar is famous for its high-quality dishes, and proudly shows off its chefs through its Manchester restaurant's semi-open kitchen – but now, you can learn all the tricks of the trade for yourself this weekend.
The award-winning curry house is breaking down the fourth wall and inviting diners into the kitchen for a British Favourites Cookery Class to learn tips and tricks from the curry masters themselves.
Starting at 10am and finishing at 1:30pm this Saturday 18 June, you'll be initiated into the world of Indian cooking, learning how best to prepare your spice mixes and simmer down dishes for the perfect consistency.
You can find out more and book your spot on the class here.
___
Manchester Rum Festival 2022
Manchester City Centre
Saturday 18 June
Manchester Rum Festival is returning to the city this weekend, and bringing fifteen brand new rum brands with it for their festival debut.
In what is set to be the biggest festival to date, organisers will bring together a mix of local Greater Manchester brands and those from further afield for an afternoon full of cocktails, tasting sessions and samples.
Local rum distilleries Tameside and Decorrum will make their festival debuts alongside Tanduay – an exciting rum brand from the Philippines – and other new brands set to take part this year include Beach House and Arcane, both from the sunny climes of Mauritius, Ron Aguere from the Canaries, Ron Colon from El Salvador and Santiago de Cuba.
Find out more and grab tickets here.
___
DogFest 2022
Tatton Park
Saturday 18 & Sunday 19 June
A big festival full of fun for all four-legged friends is coming to Cheshire this weekend, as DogFest takes over Tatton Park.
Created by dog-lovers, for dog-lovers, and after making a name for itself as the nation's favourite dog-friendly festival, with thousands of pups descending on popular parks across the UK each year ever since, DogFest is 2022 will give you and your pup the chance to "try your paw" at a whole host of activities – including dog diving, agility courses, or entering the Fun Dog Show for your chance to win 'Best in Show'.
You can also see some sensational dog displays, get advice from a variety of animal experts, learn training tips at the Dog School, and so much more.
You can find out more and grab tickets here.
___
Manchester Day 2022
Manchester City Centre
Sunday 19 June
After a two-year hiatus due to the COVID-19 pandemic, the much-loved free event that is Manchester Day is back for 2022 on Sunday 19 June, with thousands of people set to flood the city's streets for what promises to be a bigger and better parade than ever before.
Created by Manchester People, and produced by award-winning local arts organisation Walk the Plank, festival-goers will get the chance to immerse themselves in a kaleidoscope of colour, sound and culture, as youth and community groups from across the city join the famous parade – which has become the highlight of the day.
As always, music and dance will also spill over into the city centre squares for an afternoon of family entertainment, food and drink.
You can find out more information about Manchester Day 2022 here.
___
Power UP
Science and Industry Museum
Saturday 18 June – onwards
A huge gaming event is set to return to Manchester this weekend.
With more than 160 consoles and hundreds of games to play, Power UP will be back at the Science and Industry Museum for the first time in three years, taking ticket-holders on a journey through five decades of gaming, with everything from retro arcade games, to state-of-the-art virtual reality, and so much more.
Power UP will be taking place every weekend and school holiday from 18 June all the way through to December 2023, and every ticket includes unlimited play all day.
You can find more information here.
___
Featured Image – Manchester Day