News
'Why can't we just do the right thing?' | Marcus Rashford – Manc of the Month July 2021
We kick off our new series with the mightiest of Mancs: Manchester United footballer Marcus Rashford.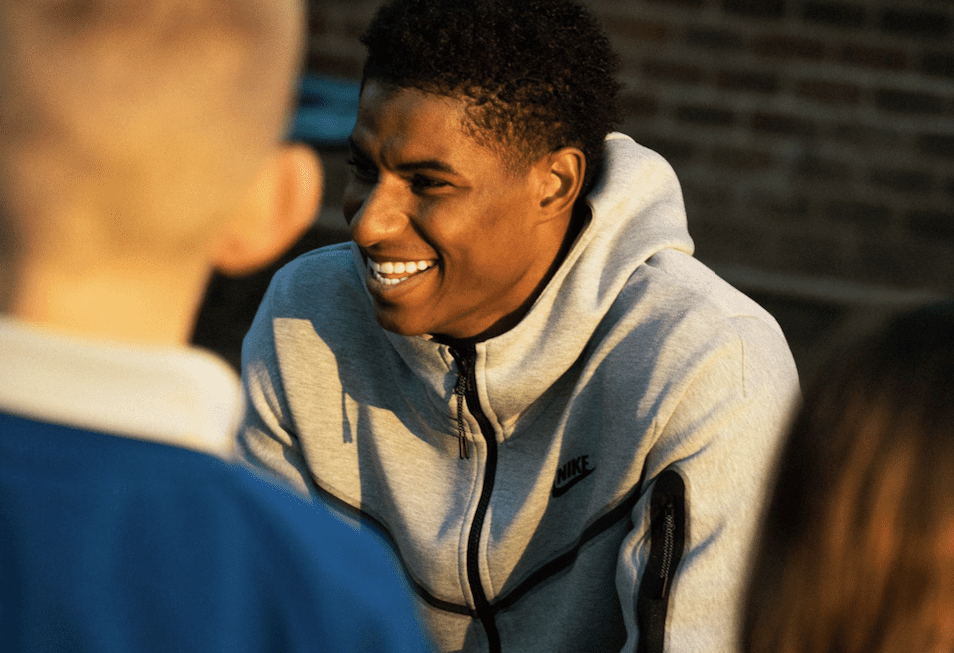 Manchester is home to some special people. And after yet another bumpy year which has effectively amounted to one big lockdown, a small group of figures have inspired and led us through the tough times.
We've decided to kick-start a Manc of the Month series to give these people the plaudits they deserve.
Following on from our 'The Mancs of the Year' feature towards the end of 2020, we wanted to celebrate the individuals who have represented our region – and what better place to start than with the undisputed man of the moment, Marcus Rashford?
Unless you've been living under a rock since the start of the coronavirus (COVID-19) pandemic, you've properly heard the Wythenshawe-born Manchester United and England footballer's name mentioned once or twice.
It's been pretty hard to ignore what he's achieved both on and off the pitch over the 17 months – and for very good reason.
Unsurprisingly, after such remarkable achievements, the 23-year-old has received numerous awards and accolades to recognise his extraordinary acts of selflessness, including an MBE and an honorary doctorate from the University of Manchester – the youngest person to ever achieve this feat.
So let's run through some of his shining moments then, shall we?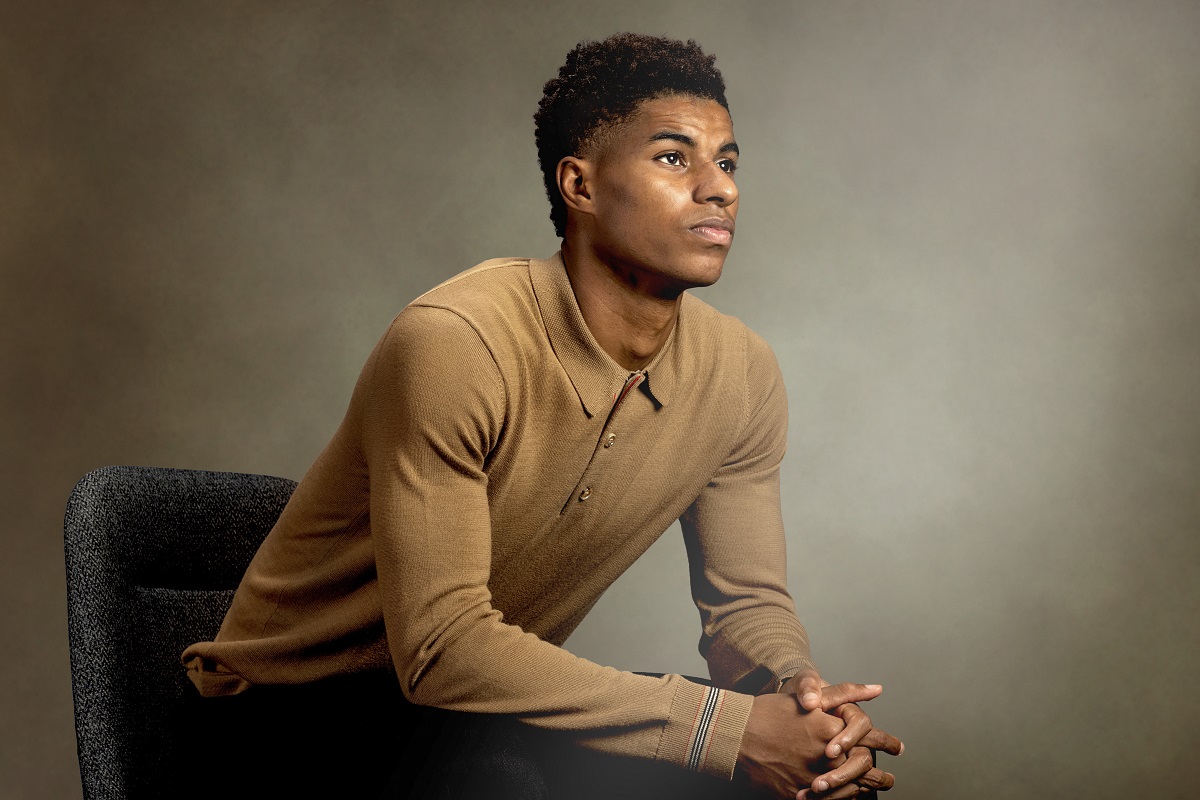 Feeding Britain's Children
Taking it right back to where it all started, in March 2020 – a day after it was announced that schools right across the UK would be closing doors due to the coronavirus (COVID-19) pandemic – Rashford published a now-viral Twitter thread that would prove to be the spark in making his name known just as much off the pitch as it is on it.
And from there, he never looked back.
On 19 March 2020, he partnered with FareShare UK – a food redistribution charity network made up of 18 independent organisations aimed at relieving food poverty and reducing food waste.
"I want to understand the scale of the problem and how we can reach vulnerable children," he said. "It's not just schools. It's community centres, breakfast clubs, etc that provide the only meal many kids get each day.
"No child should have to worry where their next meal is coming from."
His ongoing mission to #EndChildFoodPoverty was deemed so inspiring by the nation that it became the subject of a dedicated BBC One documentary titled Marcus Rashford: Feeding Britain's Children, released last December.
Taking on MPs… And Winning
Rashford's partnership with FareShare was proving to have an undeniable impact on the lives of thousands of children across Greater Manchester and the UK, raising tens of millions of pounds in the process, but Rashford decided it just wasn't enough.
If he really wanted to contribute to eradicating child food poverty, fundamental change had to come from higher up – the UK government.
On 15 June, he published an open letter urging government officials to take action.
Asking the government to #maketheUturn, Rashford launched a campaign to get free school meals distributed to all eligible children throughout the summer holidays.
Parliament initially rejected these calls – but after numerous campaigns and petitions amassing millions of signatures, his wish was granted.
The footballer then proceeded to win a £170 million COVID winter grant scheme to support vulnerable families and an extension of holiday activities, and food programme to 2021.
He has also launched a food education and cooking project for children – Full Time Meals – with renowned British chef, Tom Kerridge.
He really did take on MPs… and win.
He also won the support and admiration of the nation in the process.
Becoming a Published Author
Aside from his fight to provide free school meals, and "kill the stigma" around asking for help, Marcus Rashford also has a passion for promoting the power of reading for children of all backgrounds.
In November 2020, he teamed up with Macmillan Children's Books (MCB) to launch his very own book club.
As part of the campaign, 50,000 books were donated to around 850 schools in the UK to help disadvantaged children get the chance to read more.
"Books are, and always will be, for every child," Rashford said.
Taking his mission one step further, he joined forces with The Athletic journalist Carl Anka and performance psychologist Katie Warriner to write a book of his own – titled You Are A Champion: Unlock Your Potential, Find Your Voice And Be The Best You Can Be.
Released in May 2021, the book featured chapters containing stories from Rashford's life to encourage children to learn more about culture, education, positivity, and female role models.
He even hopped on a Zoom call with former President of the United States Barack Obama to discuss the book's release.
"He's already ahead of where I was when I was 23," Obama admitted.
A Voice Against Racism
Although taking a stand against racism in the world of football is by no means a new talking point for Rashford, the abhorrent abuse aimed at himself and his two England teammates Jadon Sancho and Bukayo Saka following the Three Lions' defeat to Italy in the Euro 2020 final earlier this month left him no other choice but to speak out.
"I will never apologise for who I am or where I came from," he stated.
And Manchester would never want him to apologise.
After the Akse-created Rashford mural in the South Manchester suburb Withington was daubed with graffiti hours following the England team's loss, the community rallied around the local lad, covering the wall with thousands of heartwarming handwritten notes and messages of support.
Rashford said the response to the mural had him "on the verge of tears", and that he was "overwhelmed, thankful and lost for words".
All the messages left on the mural were carefully removed and preserved by Manchester City Council last week, with plans to make them available for education and public display in the future as an important and permanent reminder of just what a significant moment in the city and country's cultural history this has been.
And to bring it full circle, an impressive £40,000 raised for the repair of the mural was eventually donated to FareShare Greater Manchester.
Because it's almost impossible to include everything in that roundup, let's not forget Rashford was also chosen as the cover star of British Vogue's annual activism issue, received Special Recognition at the Pride of Britain Awards and the 2020 Expert Panel Award at the BBC Sports Personality of the Year and topped The Sunday Times Giving List 2021.
What else is there left to say?
The youngster has turned into one of the biggest role models of modern times and it's really not hard to see why we've chosen him as our inaugural Manc of the Month.
Never has Manchester been so proud of one of our own.
Featured Image – Twitter (@MarcusRashford)