Trending
Costa's 2023 Christmas menu has sticky toffee pudding lattes, pigs in blankets toasties, and loads of returning favourites
Now this is what you call a festive feast.
Yes, it's that time of year once again.
Costa has unveiled its festive food and drink menu for 2023, and it's absolutely packed full of indulgent goodies to get you properly get you in the Christmas spirit.
The popular coffee shop chain is known and loved for its limited-edition seasonal menus each year, and now, with the countdown to the big day officially on, Costa has given fans what they've been waiting for as it's unveiled its festive food and drink offering for 2023 – with a whole host of brand-new treats, as well as some returning fan favourites on the lineup.
This year, the star of the show this year has to be the Sticky Toffee Latte, which is inspired by the nation's favourite pudding and turns it into a winter-warming drink.
Also available as an iced version, the Sticky Toffee Latte features a yummy sticky toffee-flavoured sauce, topped with Light Whip, drizzled with even more sauce, and finished with a sprinkling of bronze shimmery angel-like dusting.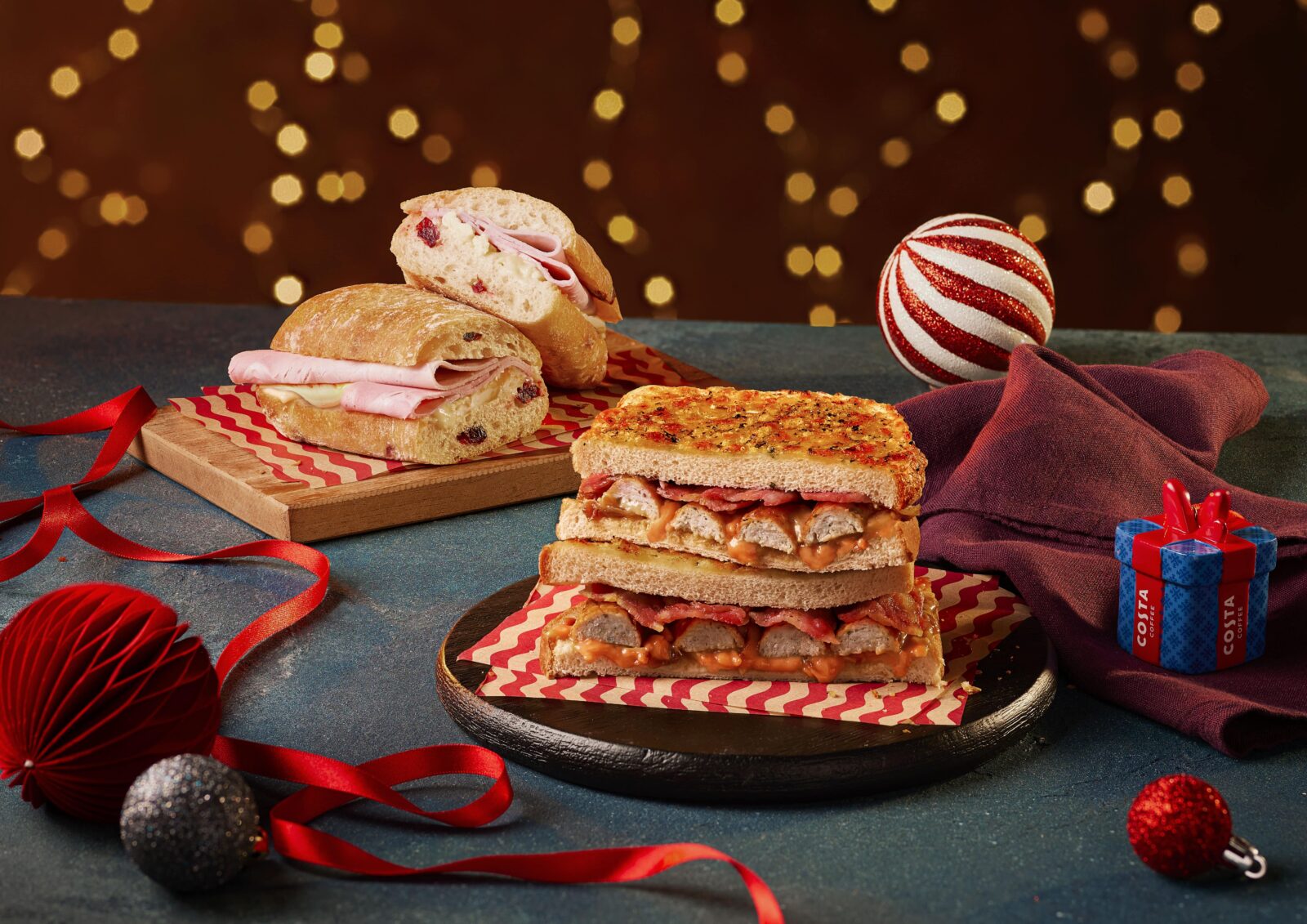 Also new to the festive drinks offering this year is the Roasted Hazel Latte and Roasted Hazel Hot Chocolate, which are both made with flavourful roasted hazelnut syrup, topped with Light Whip, and completed with a beautiful bronzed shimmer and mini gold stars.
Other festive drinks on the menu this year include the comebacks of the much-loved Black Forest Hot Chocolate, and the Gingerbread & Cream Latte, which are both Costa classics at this point, and are set to be on the menu a little earlier than the rest to usher in the seasonal spirit.
The Terry's Chocolate Orange Hot Chocolate is also making a return by popular demand.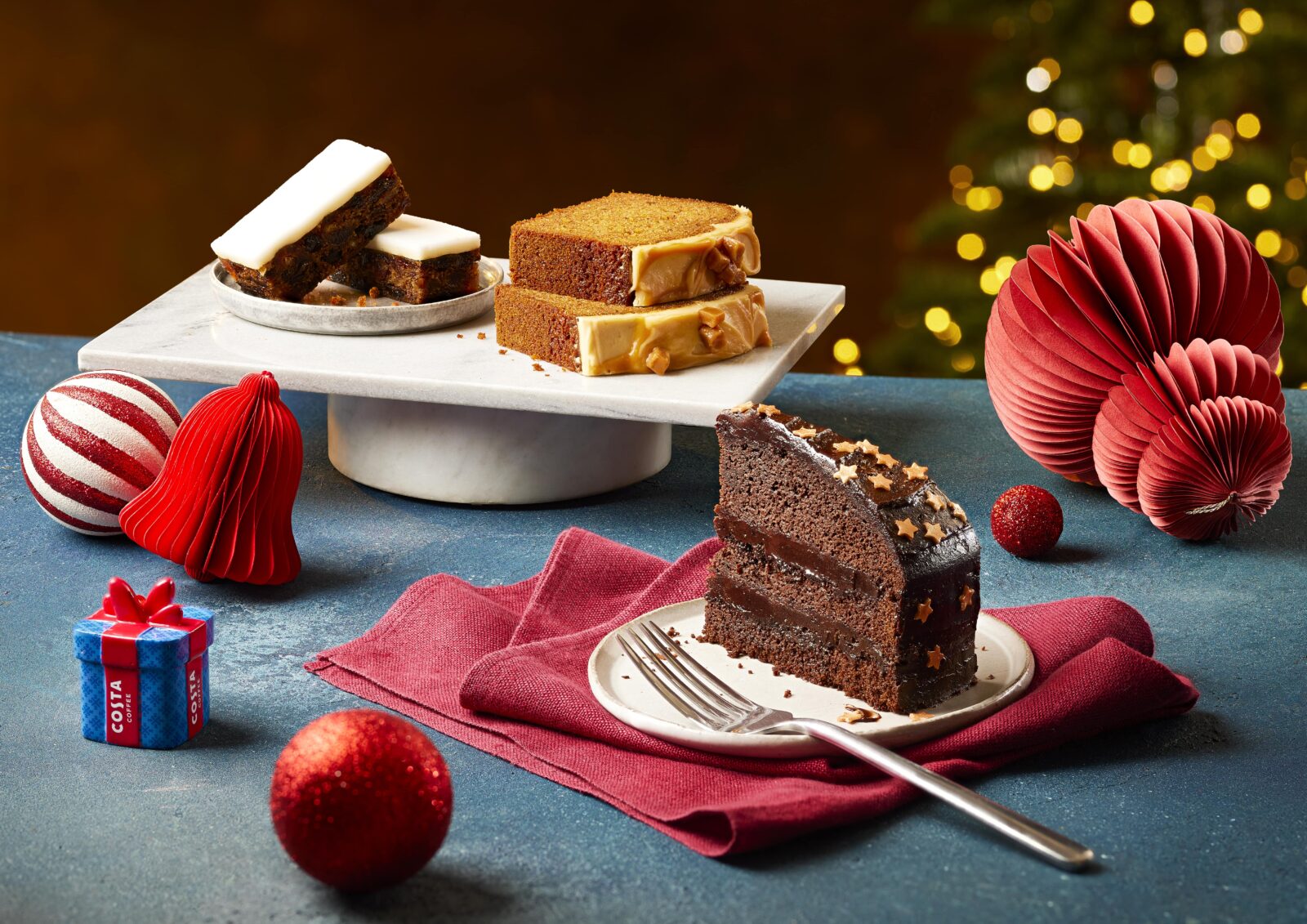 If you fancy tucking into a hearty festive feast to go along with your limited-edition drinks, then this year's new food range includes the Pigs and Blankets Toastie, which features succulent pork sausage and maple cured bacon, with caramelised onion chutney, all in tempting garlic, onion and sage crumbed cheese-topped bread, and the Honey Roast Ham and Wensleydale Ciabatta with British Honey roast ham and Wensleydale cheese, mature Cheddar and honey, and béchamel sauce, all packed into a cranberry ciabatta.
For a quick snack lunch, there's also Melton Mowbray Pork Pies, and a new festive-themed Sausage Roll – which has seasoned pork sausage meat, pulled pork, and divine Bramley apples in an all-butter puff pastry, topped with a wonderful festive pastry star.
And then, back for another year is the Brie Bacon and Cranberry Panini, the Brie and Cranberry Toastie, the Turkey and Trimmings Toastie, and the Turkey Feast Sandwich.
For the plant-based and vegan customers, there's a new Vegan Turkey and Trimmings Toastie made up of vegan turkey with stuffing, yummy cranberry sauce, vegan mayonnaise, vegan gravy, all in toasted white bread.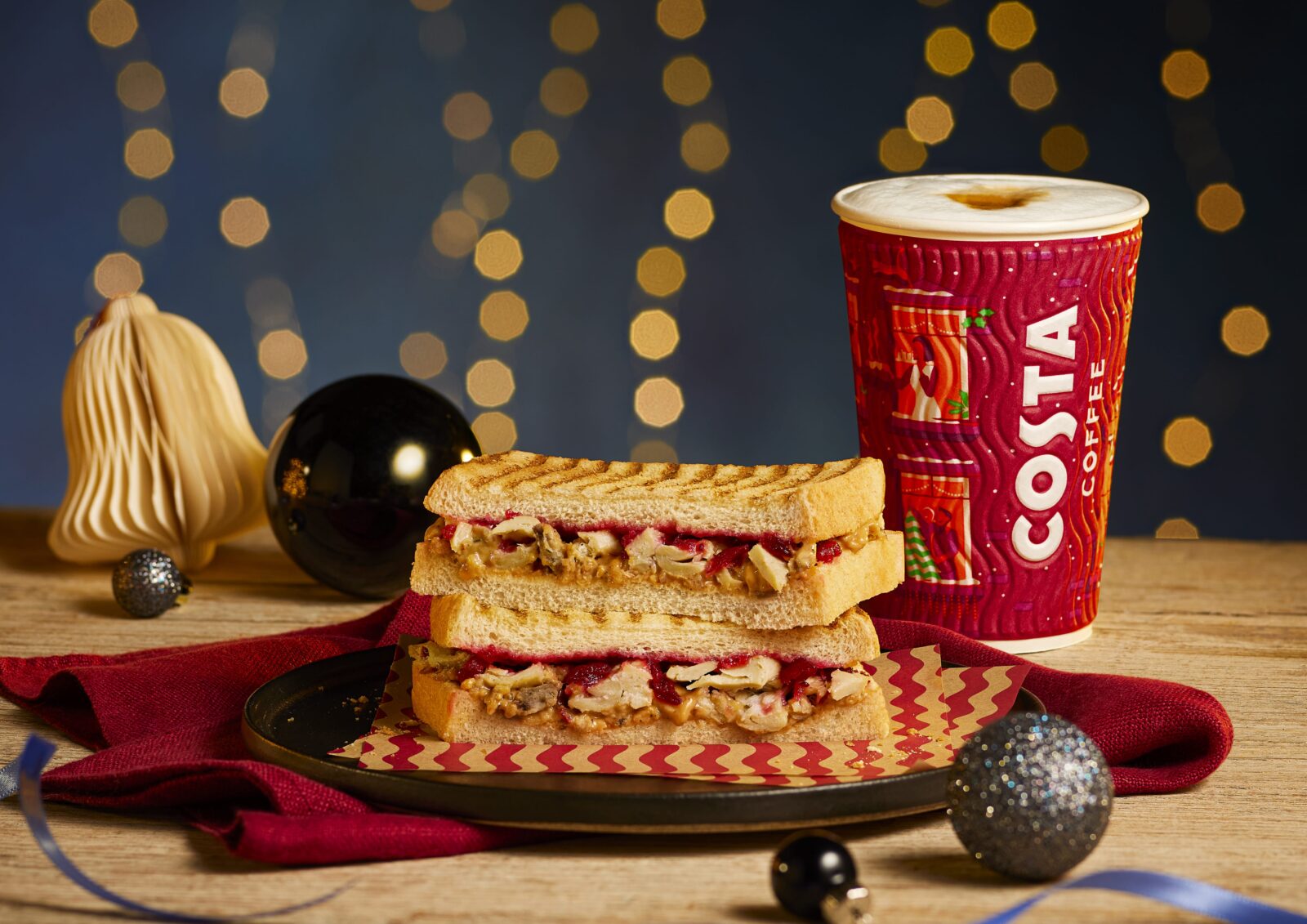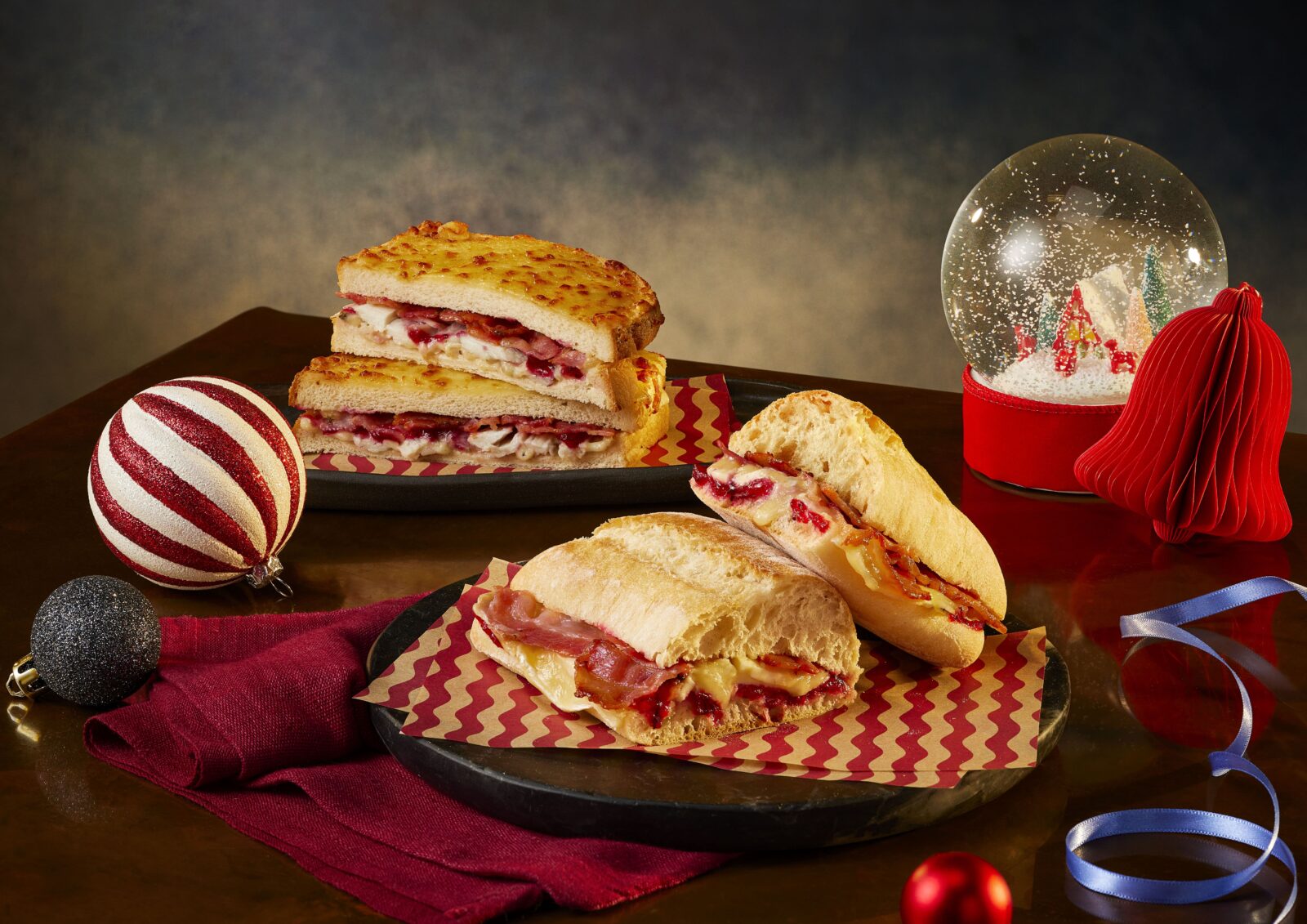 For those with a sweet tooth, there's some new indulgent cakes and biscuits too, including the Belgian Chocolate Ganache Cake, the Sticky Toffee Loaf Cake, the Christmas Cake Slice – which is suitable for vegans – and to finish off, the Polar Bear Gingerbread Biscuit and Christmas Tree Shortcake Biscuit.
Of course, there's a bunch of returning treats too, such as the Terry's Chocolate Orange Muffin, and the Gingerbread Muffin, to accompany your drinks, as well as the White Chocolate Trillionaire's Slice, and the Crispy Festive Wreath.
On top of that, both the All Butter Mince Pie, and the Gluten-Free Vegan Mince Tarts, are back for another year too.
Read more:
The 2023 Christmas menu will be available at all Costa branches and Costa self-serve machines nationwide, and will begin its roll-out from Thursday 2 November.
Featured Image – Costa