What's On
The best things to do in Greater Manchester this week | 8 – 14 August 2022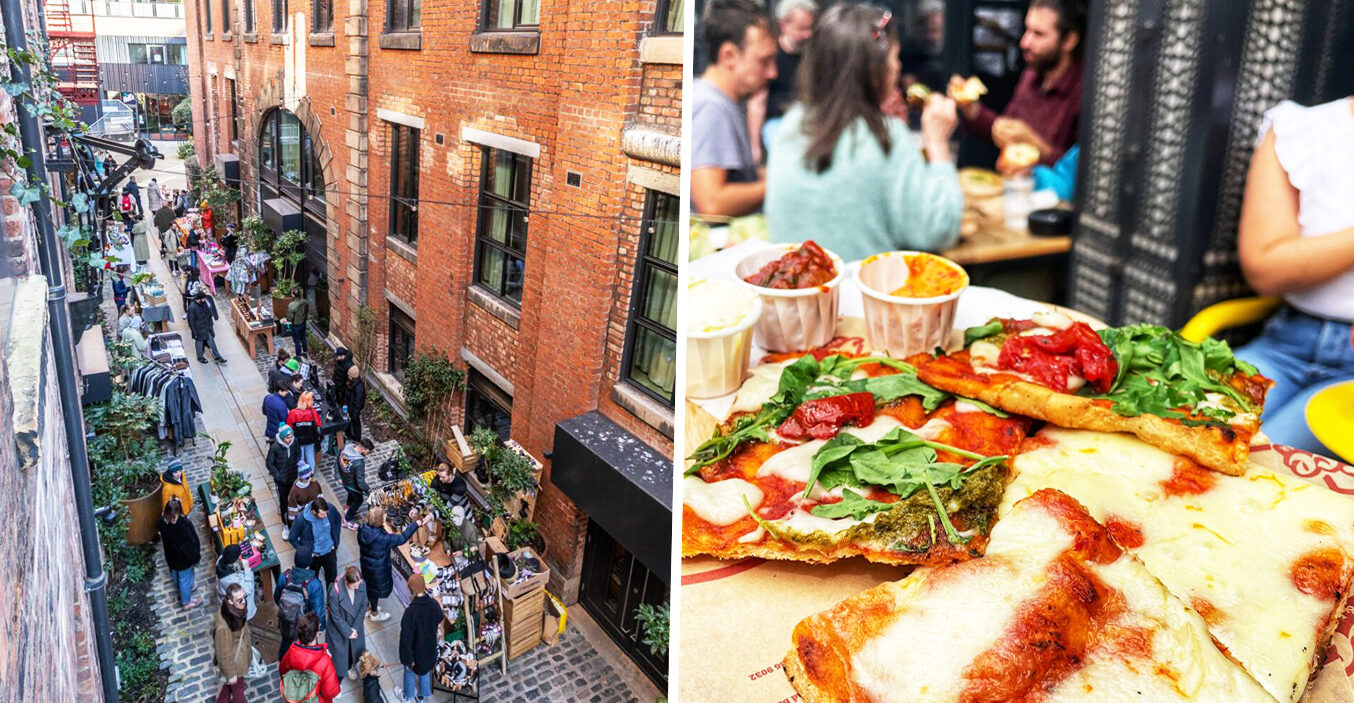 August in Greater Manchester is already looking jam-packed with exciting activities.
A new month is here, summer is in full swing, schools across the region are now out for the six-week holidays, and the events calendar is packed with plenty to be getting up to once again, so we've cherry-picked a few of the best bits for another edition of our 'what's on' guide.
As always, some of the events we're going to mention are completely free, while others will set you back a few pounds, and many will need to be booked in advance.
Here's our top picks.
___
The Manchester City Stadium Tour
Etihad Stadium
Monday 8 August – onwards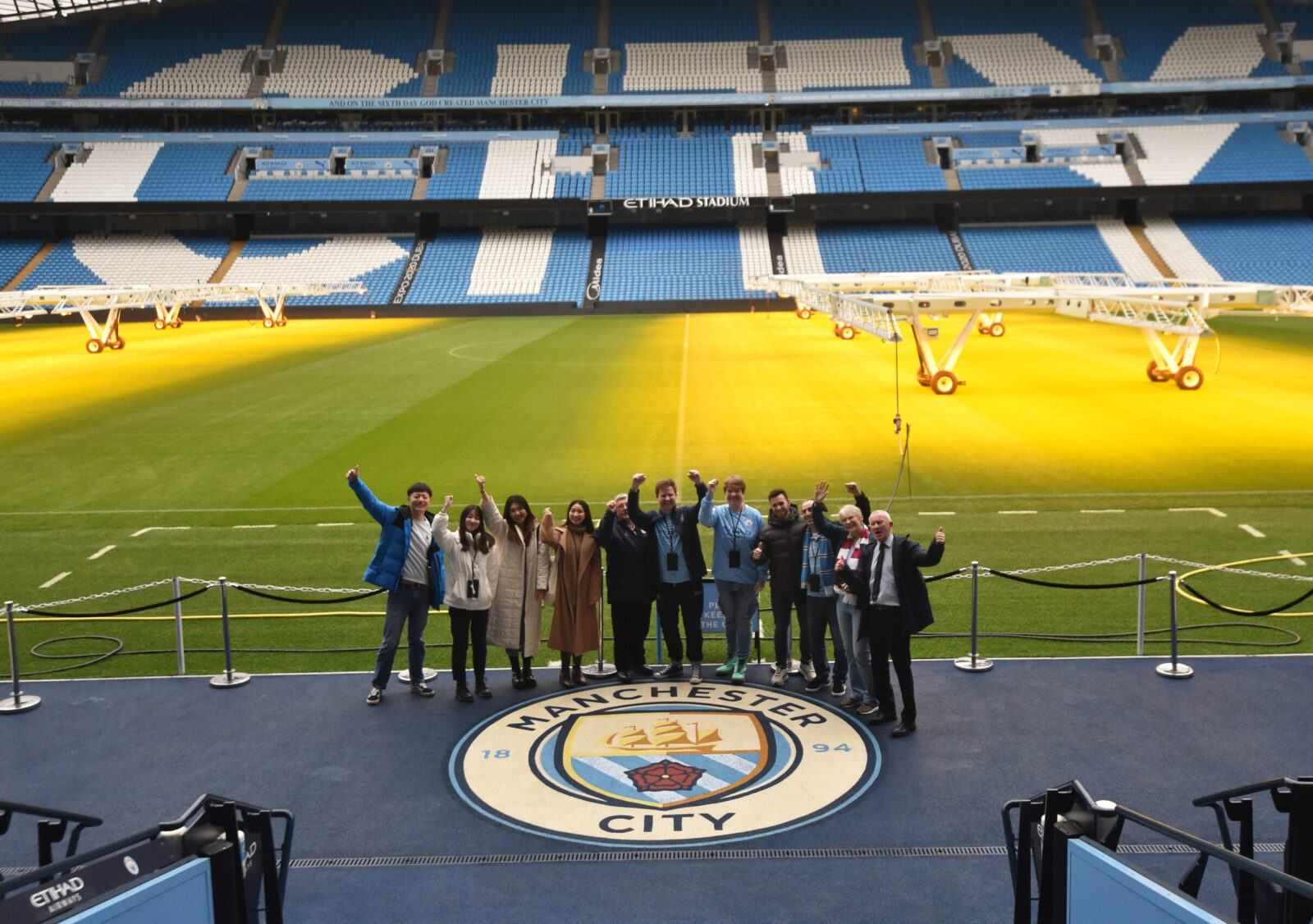 Families can kick-off the summer by going behind the scenes at Manchester City's Stadium to "experience the magic".
Expertly-guided by City's Tour Guides and filled with interesting stories, facts, and anecdotes from throughout the club's history, Manchester City's ever-popular immersive tours of the Etihad Stadium are running throughout the summer, and they have recently been rated in the top 1% of Tripadvisor experiences in 2022.
Tickets are now on sale, and will set adults back just £25 each, while it's £15 for those under 18, and anyone under the age of five can go for free.
You can find out more and grab tickets here.
___
Castlefield Viaduct
Castlefield
Monday 8 August – onwards
Manchester's New York-inspired 'sky park' at Castlefield Viaduct has finally opened to the public for the first time ever.
After the National Trust announced its ambitious vision to create an urban green space in the heart of the city centre by tackling the challenge of "greening" the Grade II-listed Castlefield Viaduct and celebrate the history of this well-known landmark over half a year ago, visitors are now able to enjoy the park in all its glory.
Thousands of plants, shrubs, trees, and more have been planted to transform the giant 330-metre steel viaduct into an elevated park.
100 people a day are able to visit the Castlefield Viaduct, and entry onto the structure will be free, but a booking system will be in place to help manage numbers.
Find out more here.
___
Remarkable Neighbourhood Cocktails & Events by Maker's Mark
Manchester City Centre
Monday 8 August – onwards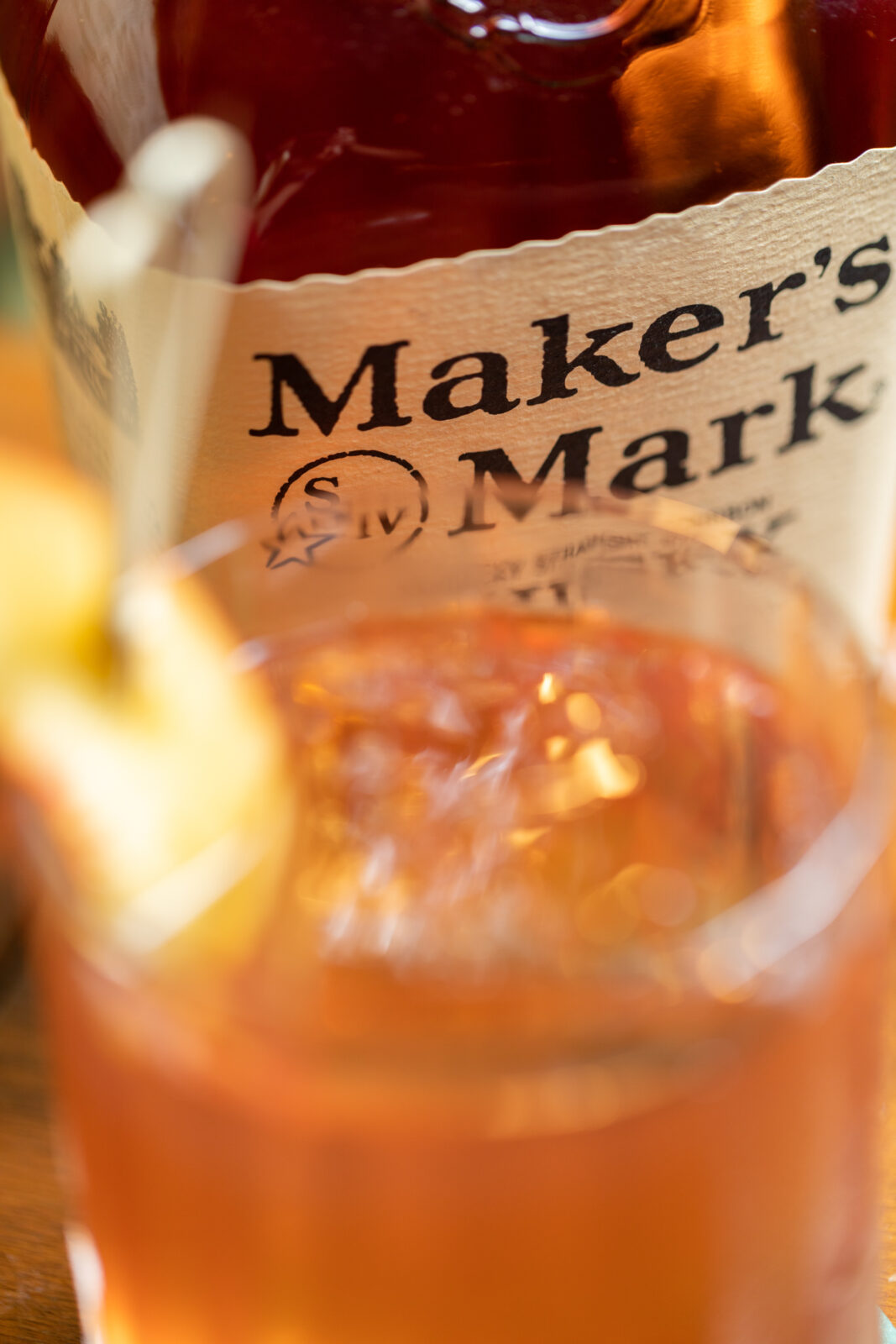 A handful of Manchester's most-popular hospitality names are joining forces to bring a series of entertainment events to neighbourhoods across the city this month.
To celebrate the launch of its 'Remarkable Neighbourhood' summer incentive, Kentucky handmade bourbon brand Maker's Mark has rallied together some of Manchester's best-loved bars and restaurants to head across the city and serve up their take on the brand's signature Gold Rush Cocktail.
Cocktail masterclasses, live music nights, quiz nights, Kentucky food pairing events, and bar takeovers will also be on their way to the city's residential hotspots over the next few weeks.
You can find out more here.
___
Box on the Docks
MediaCityUK
Monday 8 August – onwards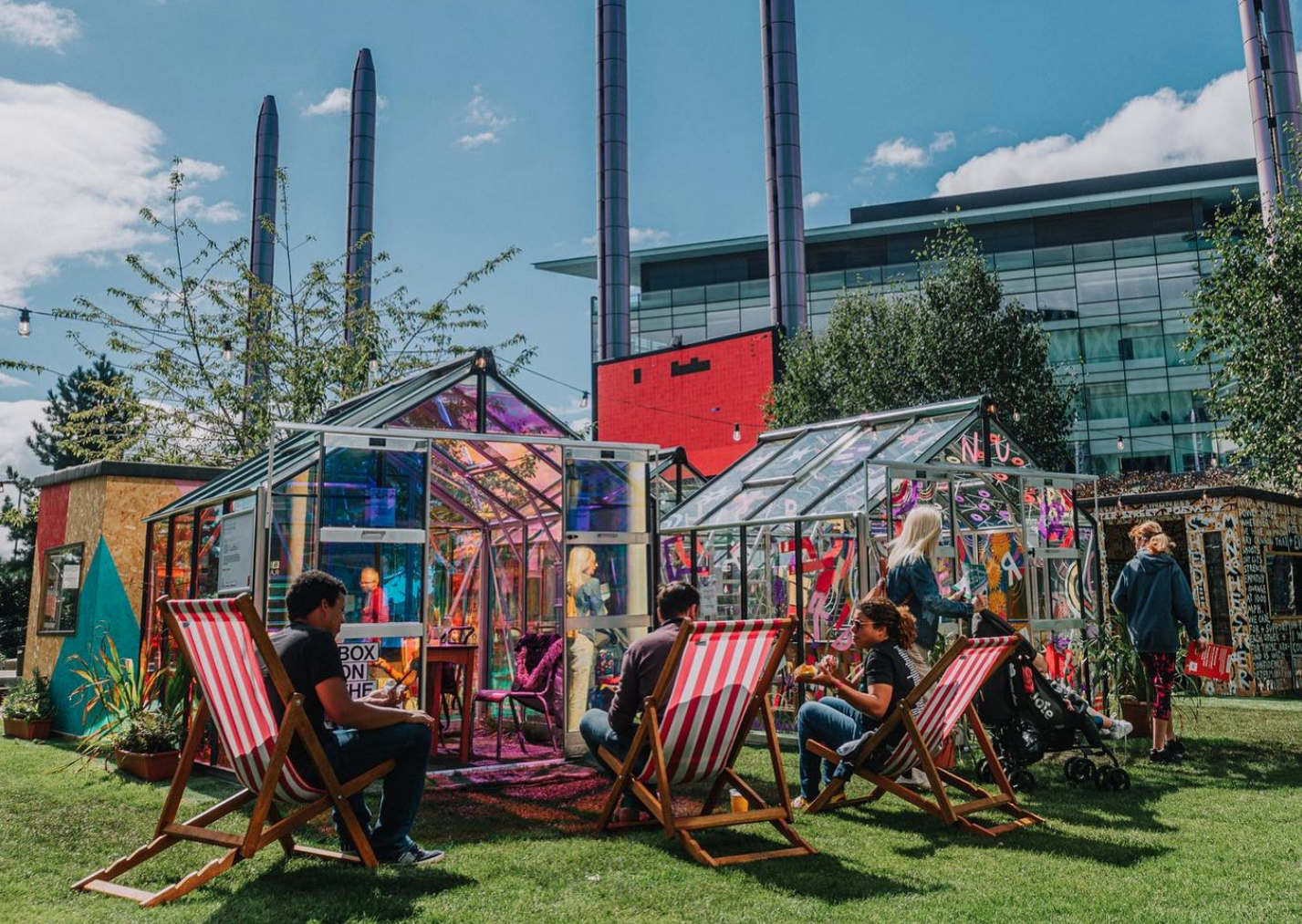 Box on the Docks has returned to the banks of Salford Quays for the summer, and there's flowing beers, freshly-baked bagels, and boozy ice cream.
Back for its third year in a row, MediaCity's popular outdoor dining concept, Box on the Docks, is set for another busy summer on the waterside piazza – but for the first time, it has taken on a brand-new format, as this year's event is in partnership with SEVEN BRO7HERS.
The Salford-based brewing company has been put in charge of operating a rotating residency of the region's emerging and established independent food and drink pop ups.
There's also an exciting lineup of live music and events for all ages.
You can find out more here.
___
The Stockport Collection
Stockport Museum
Monday 8 August – onwards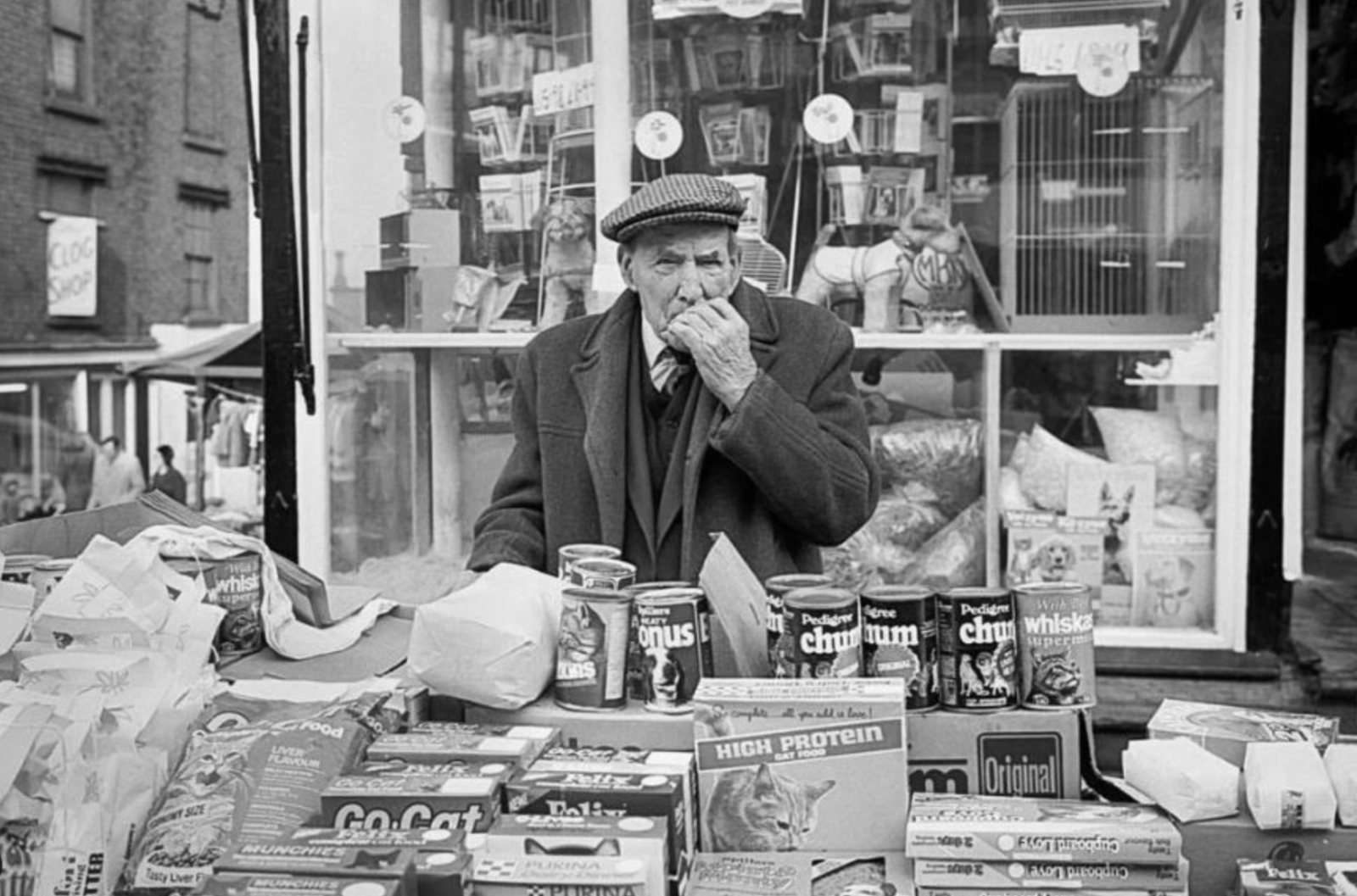 A new photography exhibition that captures life in Stockport during the 1970s has now opened at a local museum.
After a successful run at one of the town's most prestigious restaurants, Where The Light Gets In, back in June 2021, the exhibition – which is titled The Stockport Collection, and features the work of local photographer Heidi Alexander – has now opened to the public at Stockport Museum, and it's free for everyone to visit.
The Stockport Collection documents the social history of a particular time, place, and way of life.
The exhibition illustrates the human need for a sense of identity, and of belonging to a working community with a common purpose.
Find out more here.
___
Looking for some new restaurants and bars to try out that have just opened in Manchester city centre this month?
As ever, there are a host of exciting new restaurants and bars opening in Manchester this August.
From a brand new Withington venue from the team behind Cottonopolis and The Edinburgh Castle, to the first bricks-and-mortar site in six years for supper club favourite Stretford Canteen, we've got plenty of good things to shout about.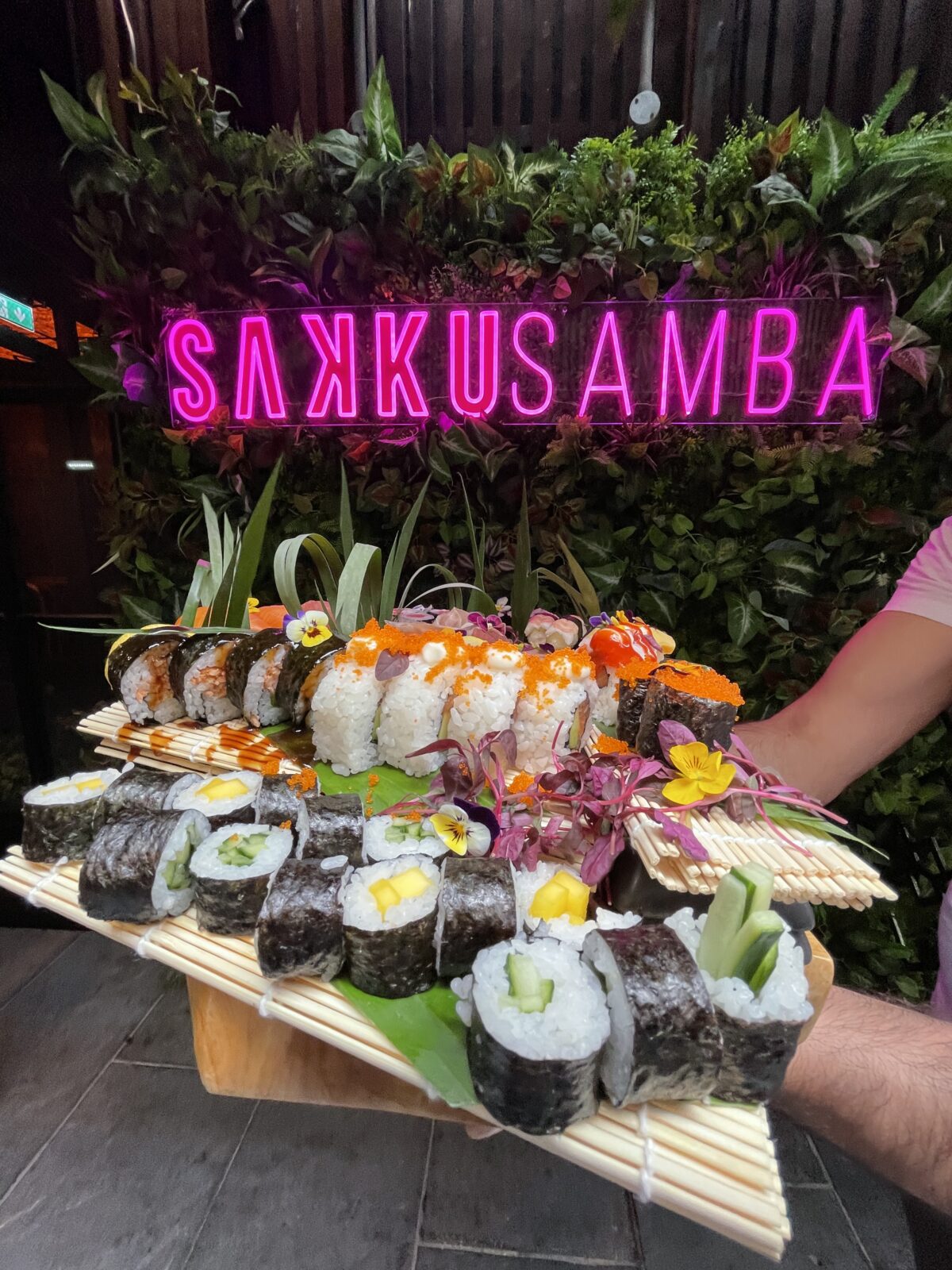 Think kitchen residents, new street food stalls, and all-you-can-eat steak and sushi restaurant and loads more.
You can read our round-up to find out where to put on your list this month here.
___
The Dino Adventure
East Lancashire Railway
Wednesday 10 August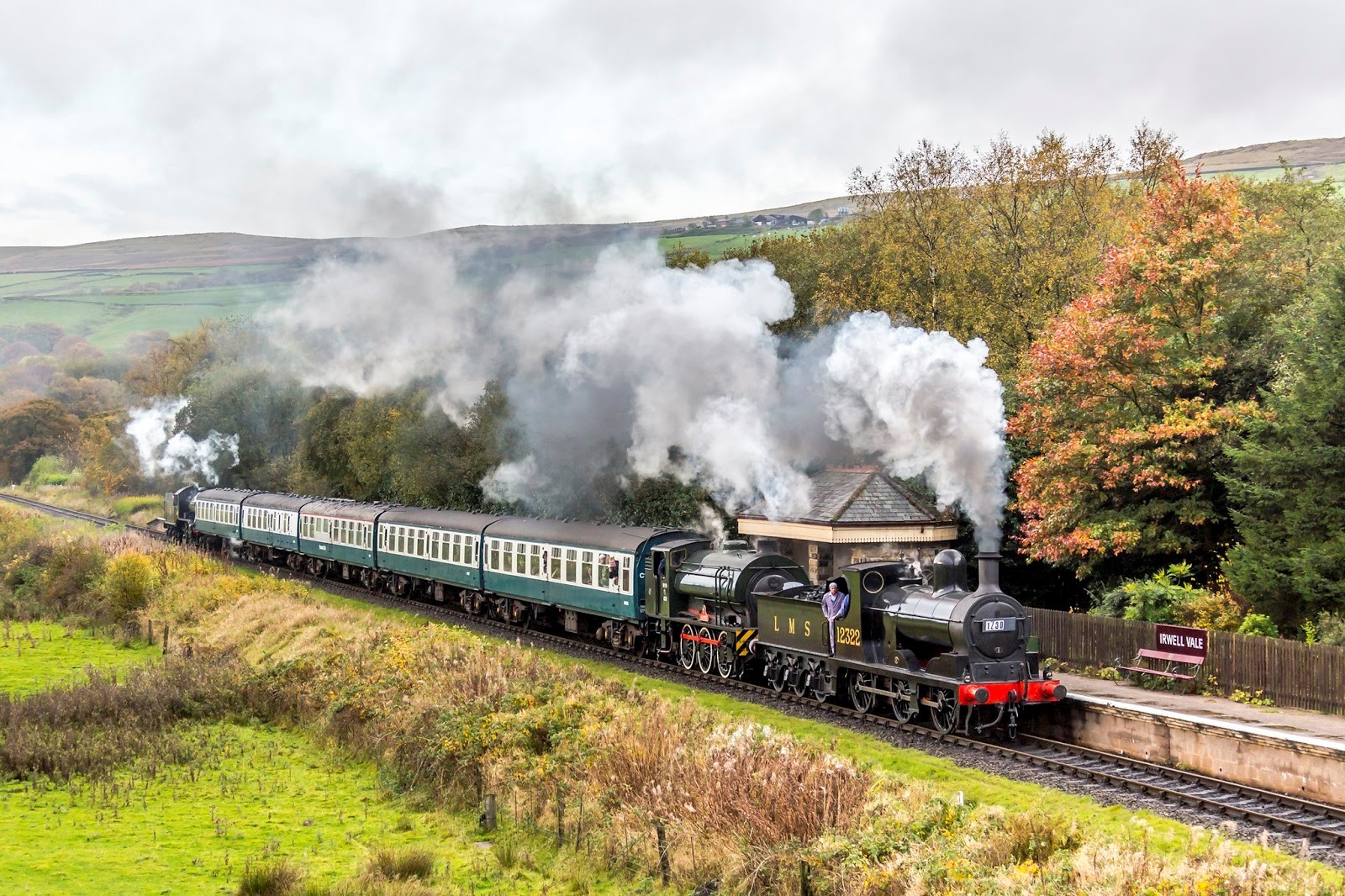 One of the standout experiences on the 2022 East Lancashire Railway (ELR) events lineup has to be the chance to go on a "roarsome adventure" through the Greater Manchester countryside this summer holidays, where you can "get your teeth into some Jurassic Lark" and go on a prehistoric expedition on "a time-travelling steam train" to meet with a herd of adorable baby dinosaurs.
The Dino Adventure returns on Wednesday 10 August, and it means you can get up close with the cute cretaceous critters, and maybe even give the T-Rex a tickle under the chin.
Tickets are priced at £13.50 for children and £18 for adults – and you can grab yours here.
___
Late Night Ancoats Pop-Up Markets
KAMPUS
Thursday 11 August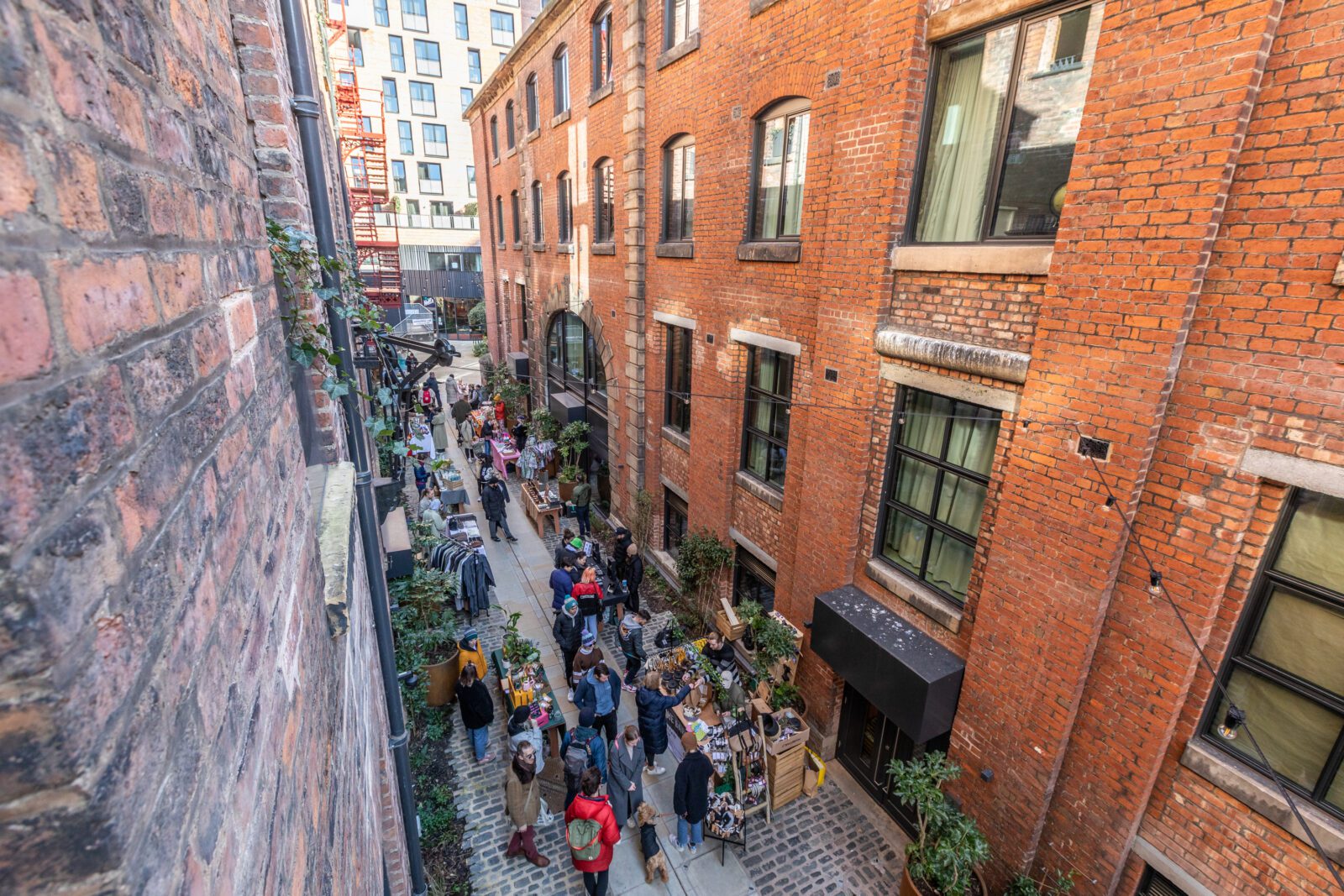 A late-night market is returning to Manchester city centre's new waterside neighbourhood KAMPUS this week, and it's bringing with it a host of indie street food traders.
Much-loved artisan brands will packing out the garden and Little David Street for the perfect laid-back summer evening of food, drink, and music.
Open from 6-10pm on Thursday 11 August, you can expect Portuguese custard tard purveyors Just Natas, Japanese street food traders Osaka Local, and Afro-British fusion chefs Bon St Local, and there'll also be art on display from local print artists, and a selection of drinks from local distillery Witch Kings Rum.
Find out more here.
___
waFF | All Night Long
Joshua Brooks
Saturday 13 August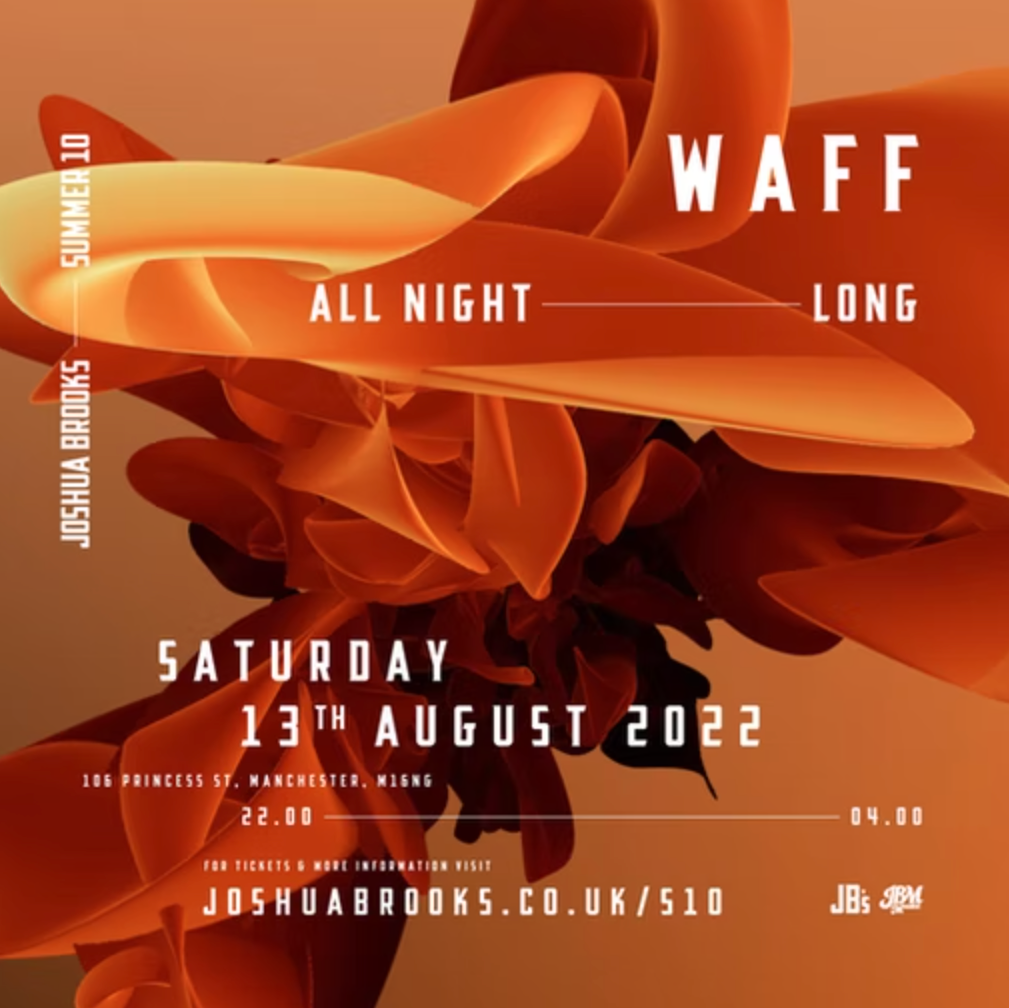 City centre bar, restaurant, nightlife destination, and live music venue Joshua Brooks is welcoming acclaimed house and techno DJ waFF – who has become one of the most engaging artists on the international circuit over the last two years – for an all-night-long set this Saturday 13 August.
Tickets are now available to buy online, setting you back just £14, and you must be 18 or over to gain entry to the venue.
Find more information and grab tickets here.
___
Afternoon Tea with Perricone MD
King Street Townhouse
Saturday 13 August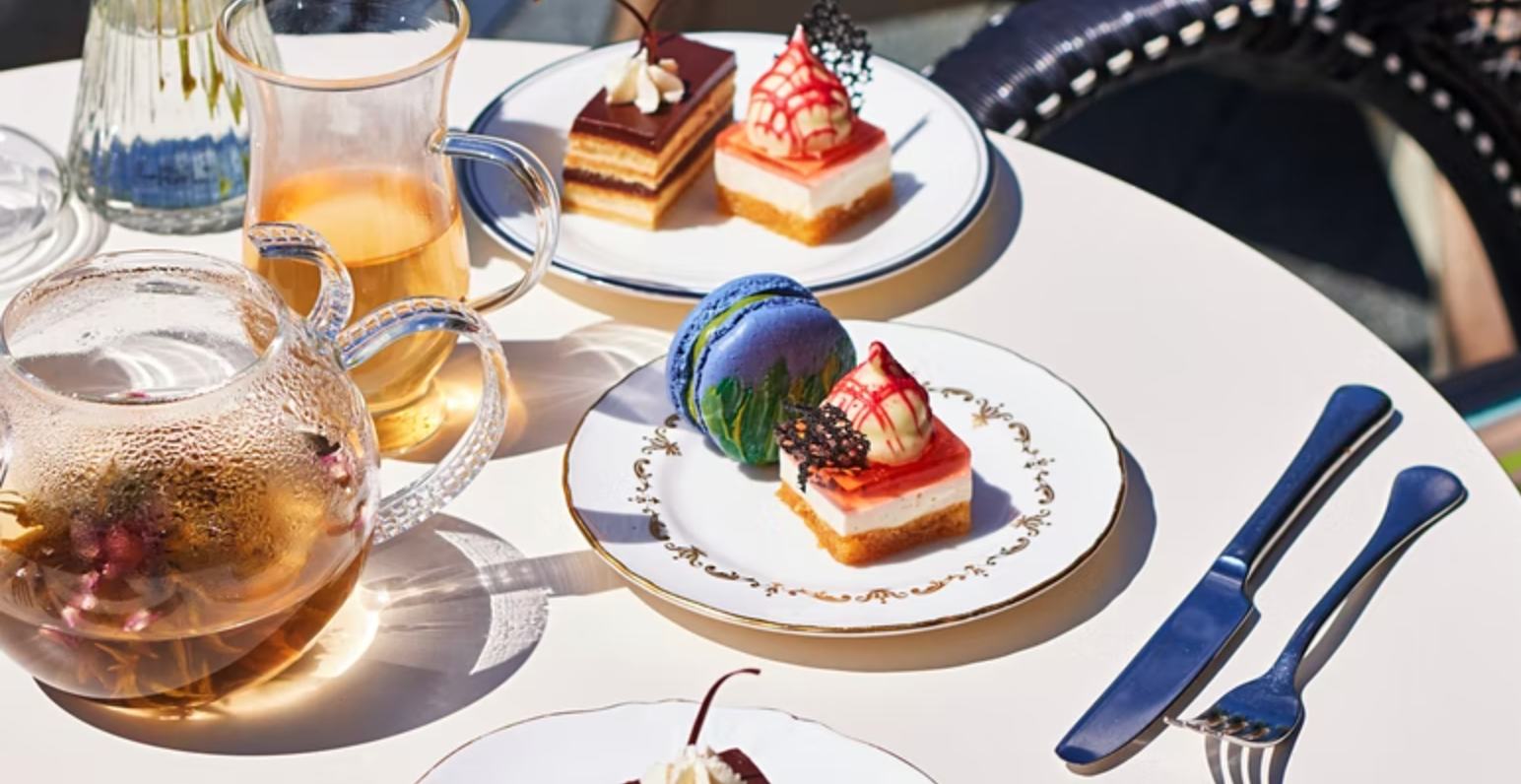 Did you know this week is national Afternoon Tea week?
To properly celebrate, King Street Townhouse is inviting you to spoil yourself from the outside in with an afternoon tea event – sponsored by beauty and skincare specialists, Perricone MD – that's served up in style among Manchester's skyline on the luxury hotel's rooftop South Terrace.
All for just £27.54, you'll get to indulge in plates of sweet treats all while sipping on a cocktail inspired by one of Perricone MD's bestselling products, and you'll get a goody bag to take home too.
You can find out more and grab tickets here.
___
GRUB Food Fair and Plant Powered Sundays
Cheetham Hill
Friday 12 – Sunday 14 August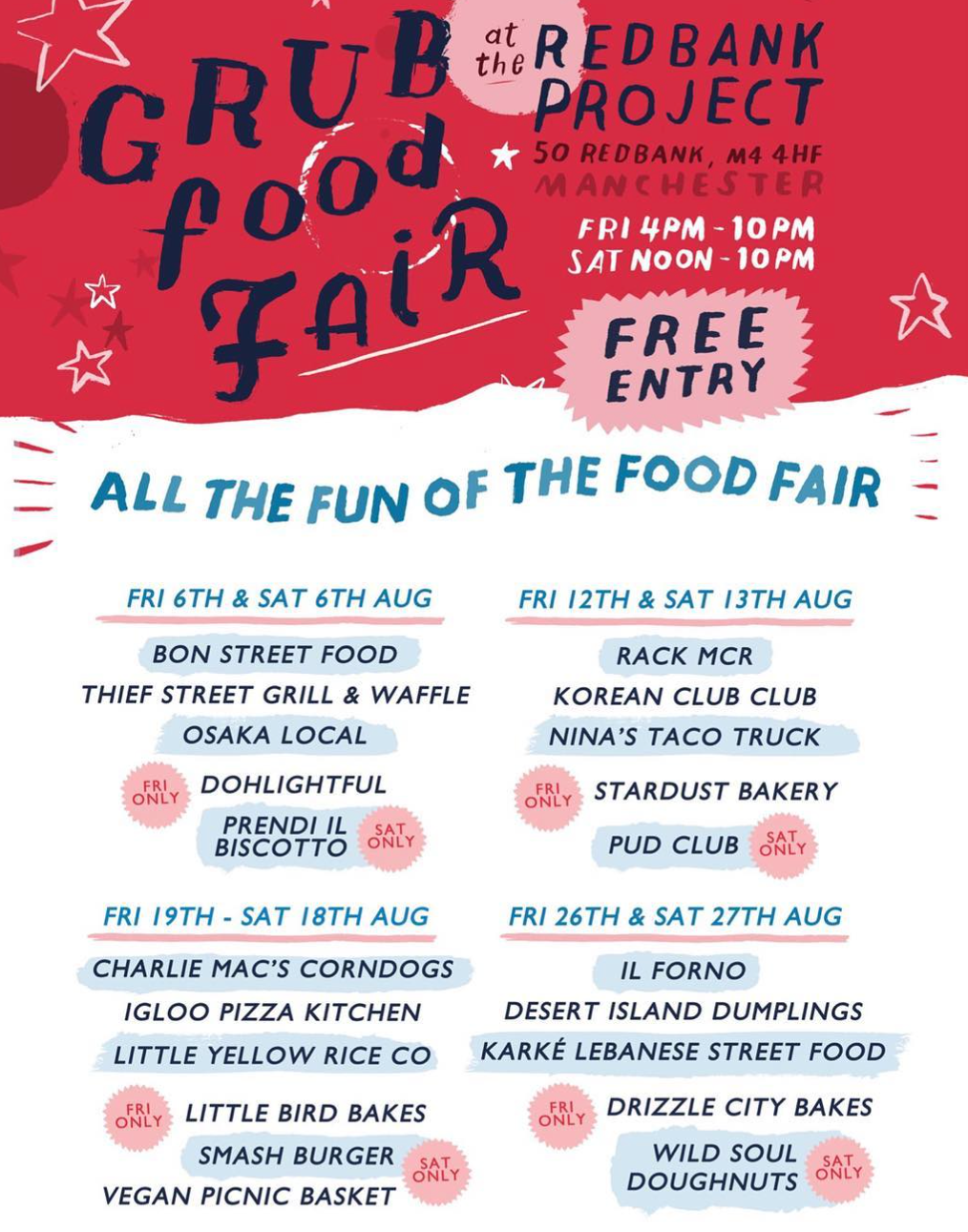 Two of the most popular foodie favourite events are back at Manchester's largest street food fair GRUB – which is currently based at the Red Bank Project just outside of the city centre in Cheetham Hill.
The GRUB Food Fair this week will see the likes of Rack MCR, Korean Club Club, Nina's Taco Truck, Stardust Bakery, and Pud Club serve a wide range of mouthwatering delights for you to try, while on Sunday, whether you're plant based or just curious, there'll be big handful of the finest vegan food traders there for Plant Powered Sundays to show you what it's all about.
Both events are free to attend, and you can find more information here.
___
Manchester Carnival 2022
Alexandra Park
Saturday 13 & Sunday 14 August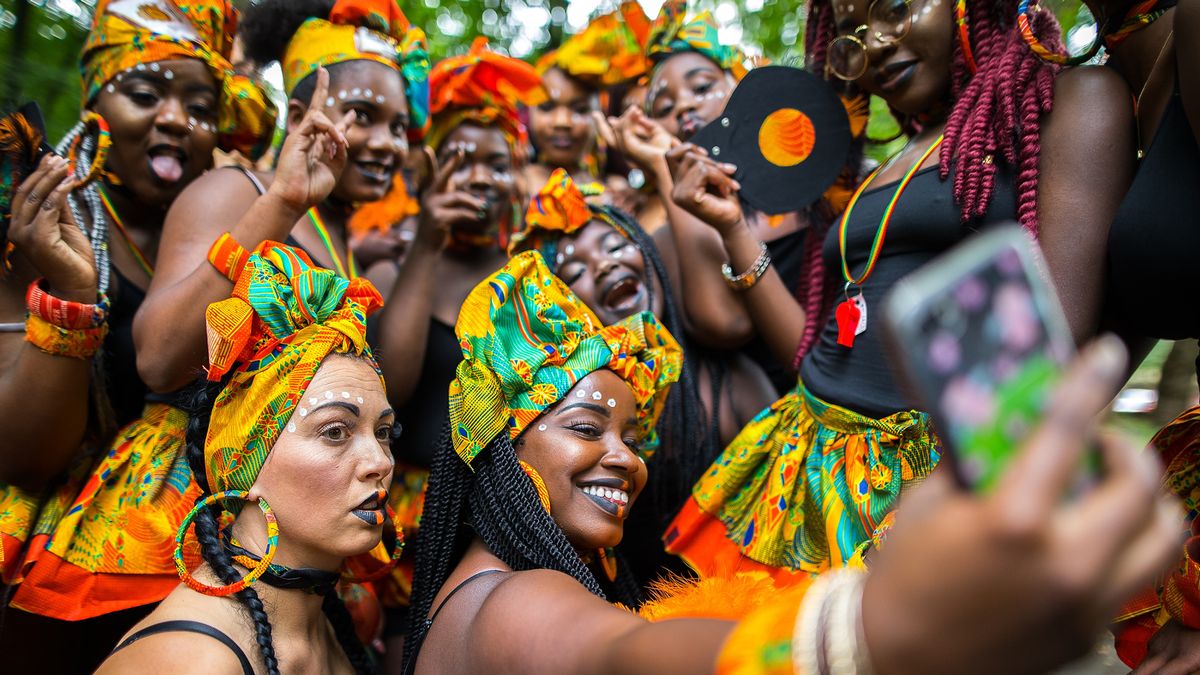 All roads lead to Alexandra Park this weekend, as one of the biggest events in the city's cultural calendar gears up to celebrate its 50th anniversary.
Promising a star-studded musical line-up, tasty street food vendors and a host of family-friendly activities, Manchester Carnival 2022 will return to Moss Side in full this August to celebrate 50 years of parades in the city and 60 years of Jamaican Independence.
The parade will be an array of music colour dance and heritage in tribute to the years of carnival history and all are welcome to join the procession that will begin its journey from the park.
Find out more about Manchester Carnival 2022 here.
___
Salford Red Devils v Huddersfield Giants
AJ Bell Stadium
Saturday 13 August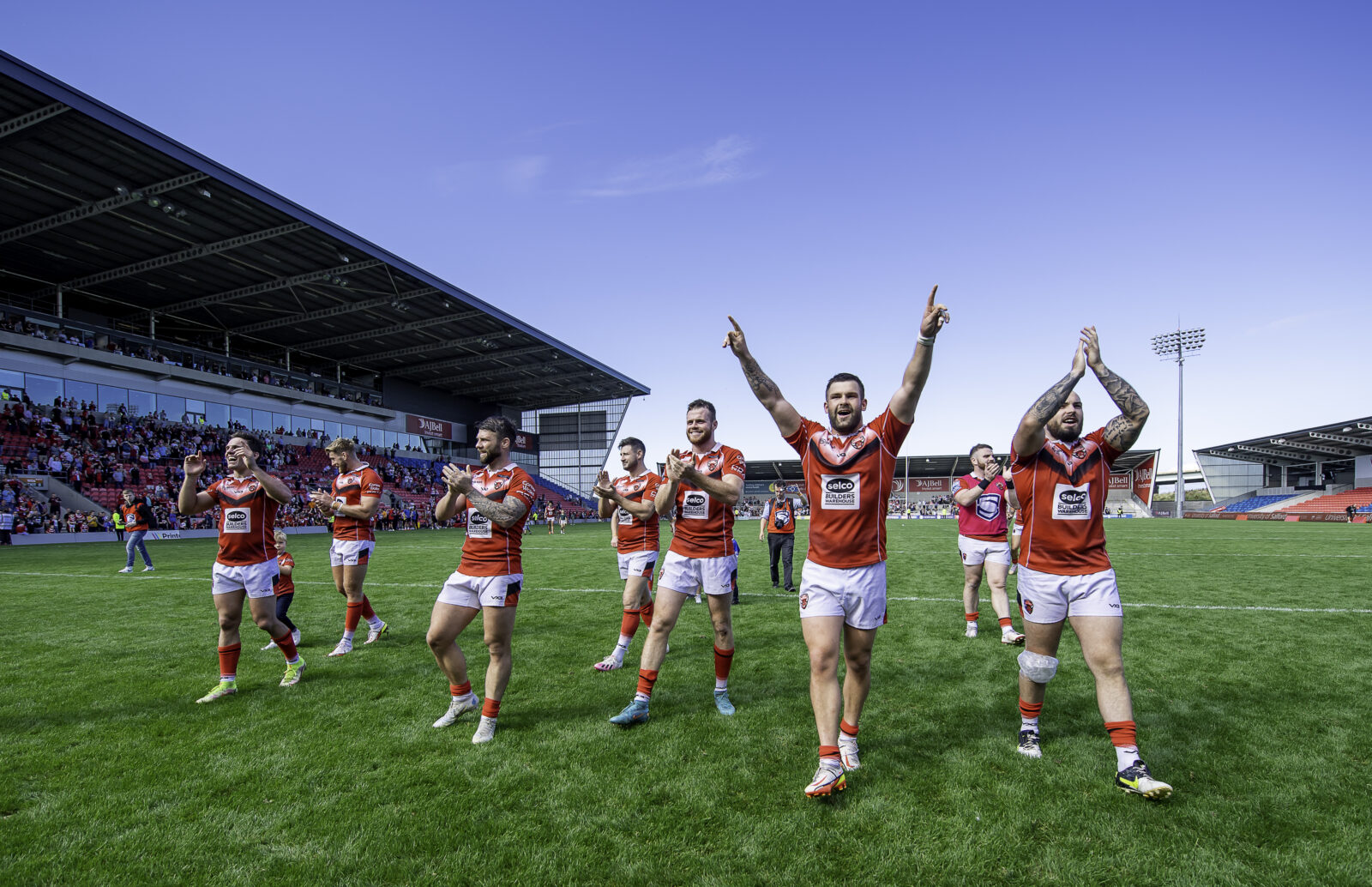 Salford Red Devils is gearing up to bring an end to a successful season with an unmissable ticket offer.
As one of the oldest teams in the Rugby Football League, and having been representing Greater Manchester for nearly 150 years now, the team has won several trophies and major titles over the years, including six Championships and one Challenge Cup, and has also got themselves a loyal fanbase too, who have been with them every step of the way.
Now, the team is giving locals the chance to take the kids to see one of their final home games in the 2022 rugby league Betfred Super League on Saturday 13 August at the AJ Bell Stadium for free when they grab an adult ticket for just £10 each.
Find out more and grab tickets here.
___
Manchester Originals v Trent Rockets
Emirates Old Trafford
Saturday 13 August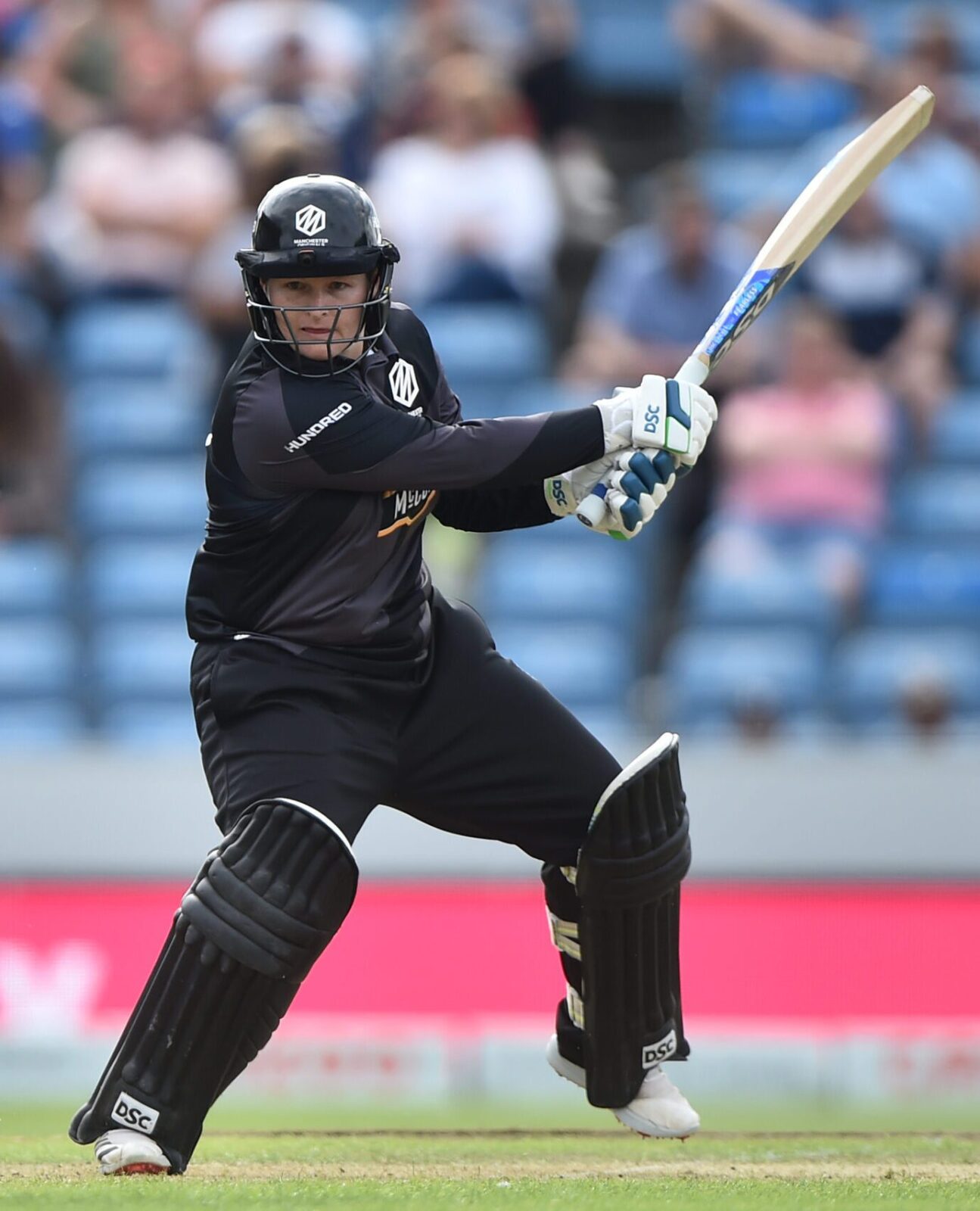 Manchester Originals and The Hundred is back at Emirates Old Trafford this weekend.
Sports fans will get the chance to see some of the world's best cricketers, watch a handful of the hottest music acts, and tuck into some amazing local street food, as the city's 100-ball cricket franchise, Manchester Originals competes in another home game v Trent Rockets at Emirates Old Trafford in The Hundred tournament on Saturday.
The Hundred's is one of the best sporting and entertainment events this summer, and it gives people the chance to watch the city's very-own Manchester Originals live in action throughout the season.
Find out more about the return of The Hundred and Manchester Originals here.
___
Featured Image – KAMPUS | The Manc Group