Food & Drink
Active Drinking: the best activity and gaming bars in Manchester
'Active Drinking' is now an official The Manc trademark, but you can use it because we're good people init.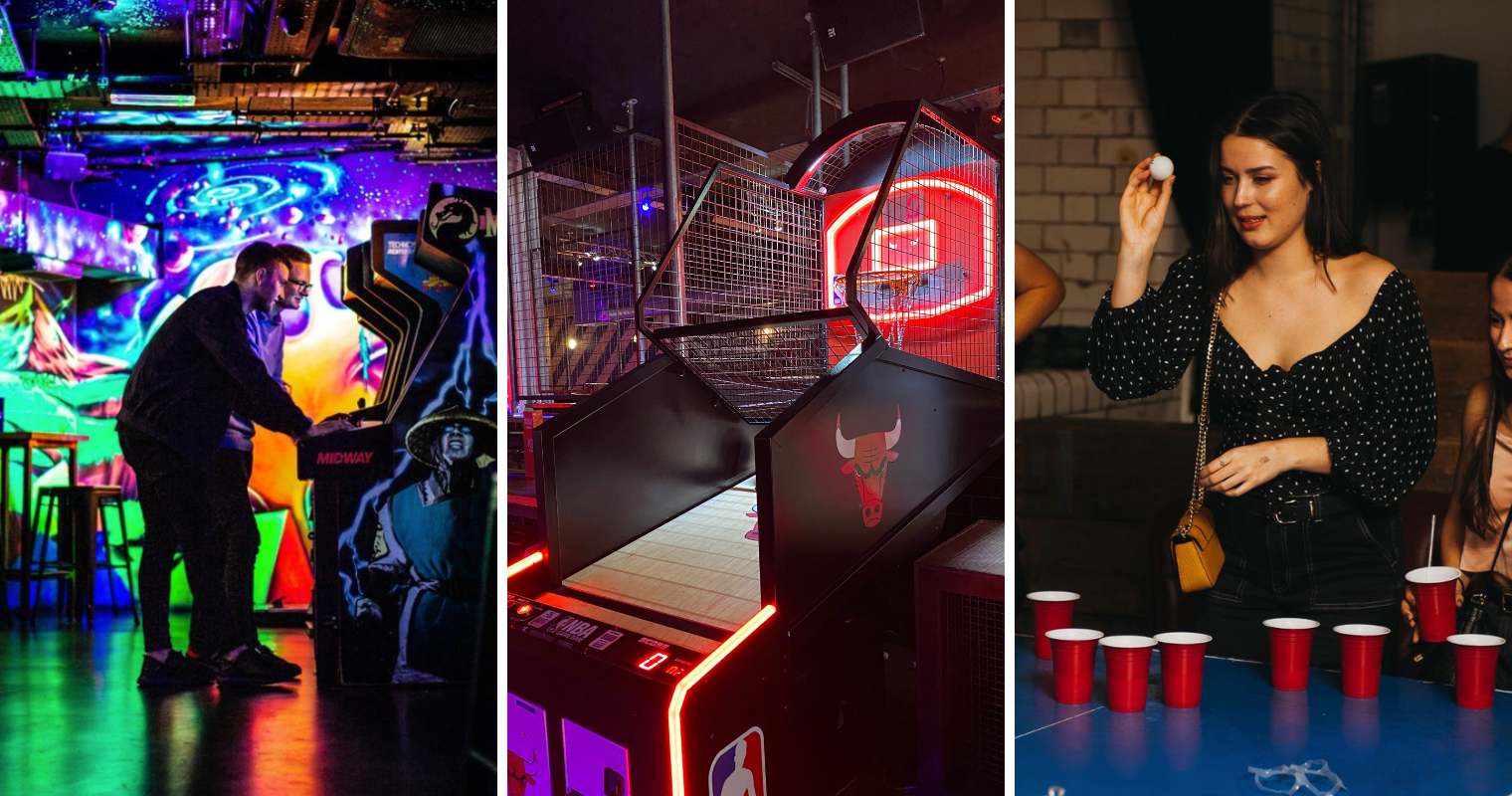 Looking for a way to spice up your pub crawl or foolishly try and burn off the calories as you drink them? Lucky for you, Manchester has plenty of pubs and bars with games and activities to enjoy.
As we come up to the festive season, the works dos and Christmas parties are bound to start coming thick and fast, so we thought we'd put together a list of the best Manchester gaming bars and pubs with activities to enjoy in town.
There have been a fair few gaming bars popping up around the city centre over recent years but these are some of our favourites.
Best activity and gaming bars in Manchester
You're sure to have heard of plenty of these Manc hotspots but we've done our best to select some hidden gems, as well as pick those that go beyond just a pool table and a dart board.
Either way, there's something for everyone on this list.
In no particular order, let's get started, shall we? Here are the best gaming bars in Manchester.
1. NQ64
You can't write a list of the best gaming bars in Manchester without naming the iconic NQ64. Now spread across two locations in the city — the original Northern Quarter venue and the newer site on Peter Street — the neon-splattered gaming den is one of the best places to play with a pint.
Offering everything from Mario Kart and Guitar Hero to classic arcade games like sacred dance machine (you know the one) and many, many more, NQ64 is probably one of, if not the best-known gaming bar in town. The brand has gone national now too, with seven other sites across the UK — and for good reason.
As well as plenty of beer, wine and spirits, they also offer a superb selection of videogame-themed cocktails like the Pacs a Punch, Sweet Fighter and Final Fantarita to name just a few. Oh, and did we mention their massive happy hour offerings run from 4-7pm? Well, it does. Say no more.
2. Pixel Bar
Rising from the ashes of the legendary Bar 21 (may she rest in peace), Pixel Bar has brought the Thomas Street spot back to life as a modern gaming and arcade bar, specialising in contemporary titles like the latest FIFA, Rocket League and Fall Guys to classics like Tekken, MarioKart and plenty of racing games.
Alongside another site in Leeds, Pixel Bar's arcade and game catalogue are accompanied by their own creative cocktail offerings including the Witcher's Brew, Yoshi's Island Ice Tea, their signature Who's That Pokémon!? and many more.
Their food menu is also the perfect kind of food for drinking and gaming: wings, fries, nachos; garlic bread, onion bhajis and pizzas. They even do one with 'Skool Dinner' toppings and it's just as good as it sounds. With a club room filled with pop-punk and emo, this place also has plenty of nostalgia.
3. Flight Club
Don't worry, though, it's not all video games; there are plenty of bars with activities in Manchester that involve more than you just picking up a controller — for instance, how about the best darts venue you'll ever try?
Flight Club is the social darts experience which turns the old-fashioned oches you find in the pub into a series of interactive games perfect for big birthday parties, work nights out and Christmas dos. You can even get results and video recordings of your various games sent to you.
You can book in for corporates, private functions and even their Bottomless Brunch Socials which run every Thursday to Sunday across their seven locations. Flight Club Manchester is located on King Street in the city centre and is a perfect place for some fun competition whilst you're on the pints.
4. Dog Bowl
Speaking of competition, whether you're trying to find a fun first date place or simply embarrass your mate in public, bowling and beer is a marriage in heaven. That's why you can't go wrong with Dog Bowl on Whitworth Street. And yes, dogs are welcome.
Capturing some of Black Dog Ballroom's magic over in Northern Quarter, the five-lane set-up at Dog Bowl is complete with retro arcade machines straight from NQ64 and fantastic food provided by Kong's Fried Chicken. They've even started doing tacos over at Black Dog, a.k.a. undefeated drunk food.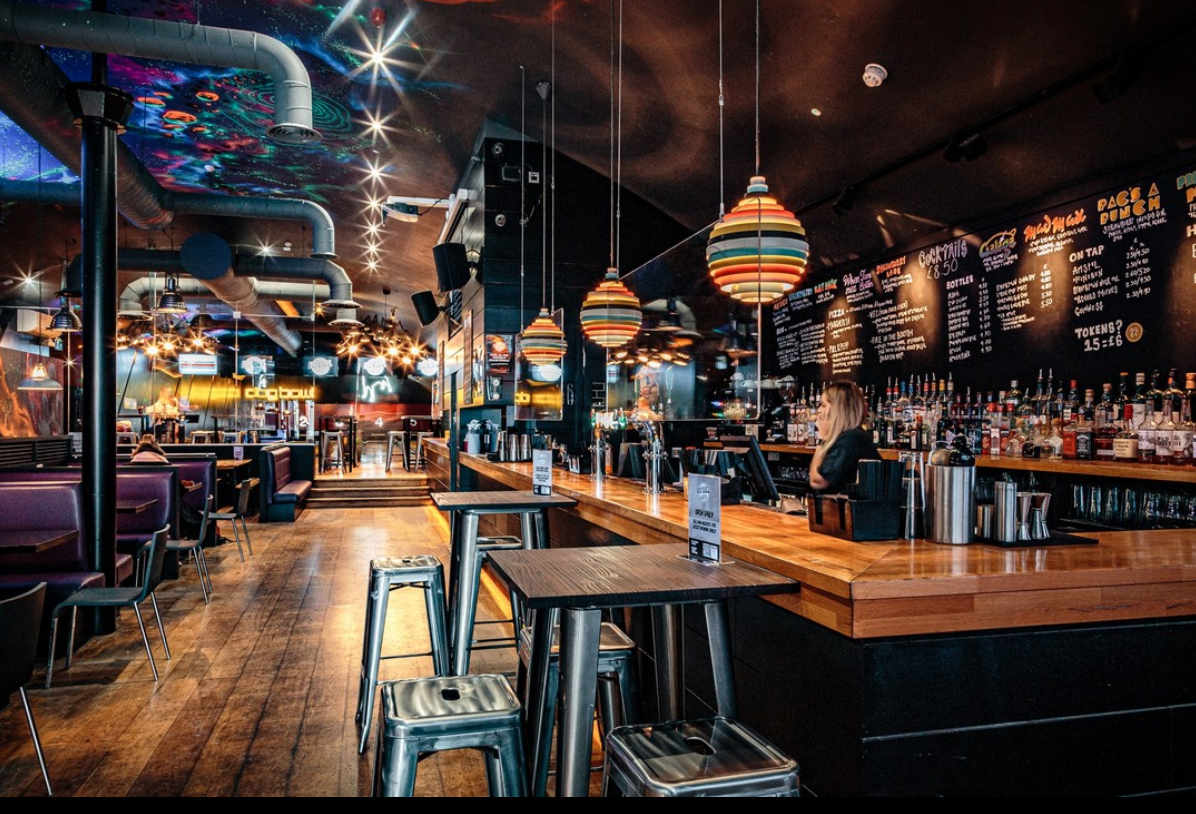 The Beer Burger Bowl deal, which runs Monday-Friday, only costs you £16.50 and there are some wonderful cocktails and craft ales on offer too. Take it from us, you really don't have to be good at bowling to enjoy this place — endless gutterballs are all part of the fun.
5. Junkyard Golf Club
You just knew this one had to be on the list. As we see it, Junkyard Golf has been a staple of the active drinking culture for years now, appealing to everyone from loved-up new couples and uni students, to hen dos and everything in between.
Since having moved to the larger space over on First Street back in 2017, Junkyard has gone from strength to strength, offering 9-hole crazy golf courses, UV lights and loud music, a spacious balcony terrace, as well as the booze you could hope for.
To be honest, it's such an institution in British nightlife that there's not much more we need to say – if you're looking for activities in Manchester, grab a beer, some grub, a golf club and thank us later.
6. Sixes Social Cricket
Ever played cricket while getting p*ssed? Us neither, until we went to Manchester's Sixes Cricket venue. Located just around the side of Corn Exchange, it's one of the most creative ways we've ever got drunk.
Offering up both physical batting cages and physical bowling against a virtual batting simulator for those of you who fancy yourselves world-class spinners, Sixes has combined all the fun of a bar with a series of cricket mini-games.
That being said, after one of their juicy burgers, a taste of their mouthwatering sharing plates and one too many of their 'experimental cocktails', it's fair to say you'll all be bowling googlies if you catch our drift. Owzat.
7. Lane7
In at seven has to be Lane7, Great Northern's premier bowling alley but so much more than that. Popping in 0161 for the first time back in 2021, Lane7 Manchester has quickly become a firm favourite for locals. Including us.
The company has sites all over the country and while we can't speak for the others, this venue has everything from bowling, pool and table tennis to shuffleboard, beer pong variety and, best of all, karaoke.
So after a long night on the ale and knackering yourself at various Manchester gaming bars and drunkenly telling your mates you love them, you can end the night by serenading them with a sing-song which we're sure will be absolutely pitch perfect. Not a slurred word in sight.
8. Point Blank
Are you ready for a loaded night? That's Point Blank's slogan: the alternative watering hole that lets you see off the bevs whilst shooting virtual guns. What a combo.
As well as the simulation shooting ranges which are undoubtedly this place's unique selling point, they also make sure to keep those who don't have a fake firearm in hand busy with signature cocktails, frosty steins of beer and bottomless pizza.
You can take your marksmanship as seriously as you like or you can just sit there and swap your bullets for a different kind of shot entirely. These are the only kind of guns we approve of.
9. Roxy Ball Room
If you're looking for bars with activities in Manchester, you'll struggle to find a place with more to choose from than Roxy Ball Room. Whether the Arndale location or Deansgate spot suits you better, you'll still be in for an absolute festival of food, booze and more games than you could shake a stick at.
Promising bowling, crazy pool, shuffleboard, arcade games, mini golf and more, Roxy's is one of the best Manchester venues for big groups to gather and have fun. We certainly did:
They also keep all the food satisfying but simple: pizzas, hot dogs and sides — all food that only needs one hand so you can keep playing or keep your other one free for that next sip of beer. Can't go wrong.
10. The Footage
Speaking of regular student haunts, The Footage on Oxford Road isn't only one of the most affordable places to watch sports in Manchester, but it also happens to have a solid selection of games and activities.
With pool tables, darts and even cornhole boards (yes, that American game where you try to throw a bag into a hole), as well as live DJs, karaoke and pub quizzes, you'll likely be too busy playing to pay attention to the match. That being said, this place used to be a cinema so it's hard to ignore the big screens.
Given its location in student central, Footage has some of the best food and drink deals you'll find in Manchester, so this is definitely the place to when you're still looking to have a good time on a budget.
11. Twenty Twenty Two
Next up is another Manchester institution and student rite of passage: the legendary Twenty Twenty Two. Buried underground in what we can only describe as the kind of basement dive bar dreams are made of, we dare say we spent half our lives in this place during uni.
The late-night bar, club and event space promises games of table tennis and beer pong where the queues of people who want to play next quickly become your crowd. Just don't lose because they'll punish you.
As well as happy hours and late-night darts evenings from Dead Eye Darts Club, you can even take on the bartenders themselves every Thursday in the hopes of winning yourself a free round. Yeah, it's that kind of place and we absolutely love it.
12. Pong & Puck
While we're on the subject of pong of the beer variety, one of Deansgate's more recent additions is Pong & Puck which doors exactly what it says on the tin.
Sandwiched between Polish restaurant Platzki and Bar Hütte at Great Northern Warehouse, this relatively new Manchester gaming bar has both ping and beer pong tables, darts and shuffleboards, as well as plenty of tunes and a big projector to entertain the bad losers.
There are even bookable pods if you want a more private setting. When you see big sharing pizzas, giant pitchers and cocktails served inside a pineapple, you know you're on to a winner.
13. Bierkeller
Possibly Printworks' most prized possession, if you've never been to a Bierkeller then you really are missing out. It's the kind of place where not only can you dance on the benches, you're actively encouraged to.
Promising a proper Bavarian party experience with big steins so full you'll struggle to lift them, this is the perfect place for a big group night out where the aim is to fill every minute with fun. This place is about incorporating drinking into every aspect of a night out possible.
While there is a wide variety of games like pool, darts, shuffleboard and good old-fashioned fruit machines next door in Shooters sports bar, there is no better activity than interactive drinking games led by a live oompah all dressed in lederhosen. Fancy dress is recommended. An unparalleled laugh.
14. Brickhouse Social
We all need a good pool hall and if you're looking for one that gives your missing the local you used to frequent in your home town, Brickhouse Social on New Wakefield Street is just the ticket, bringing the same vibes only bigger and better.
With plenty of pool tables to be shared, a big seating area for those too busy eating and drinking to play, as well as a bouncing rooftop terrace, this swaps the pub feel of a traditional pool hall up to a city centre bar. You even get a free game the second you buy a pint, all week long. You love to see it.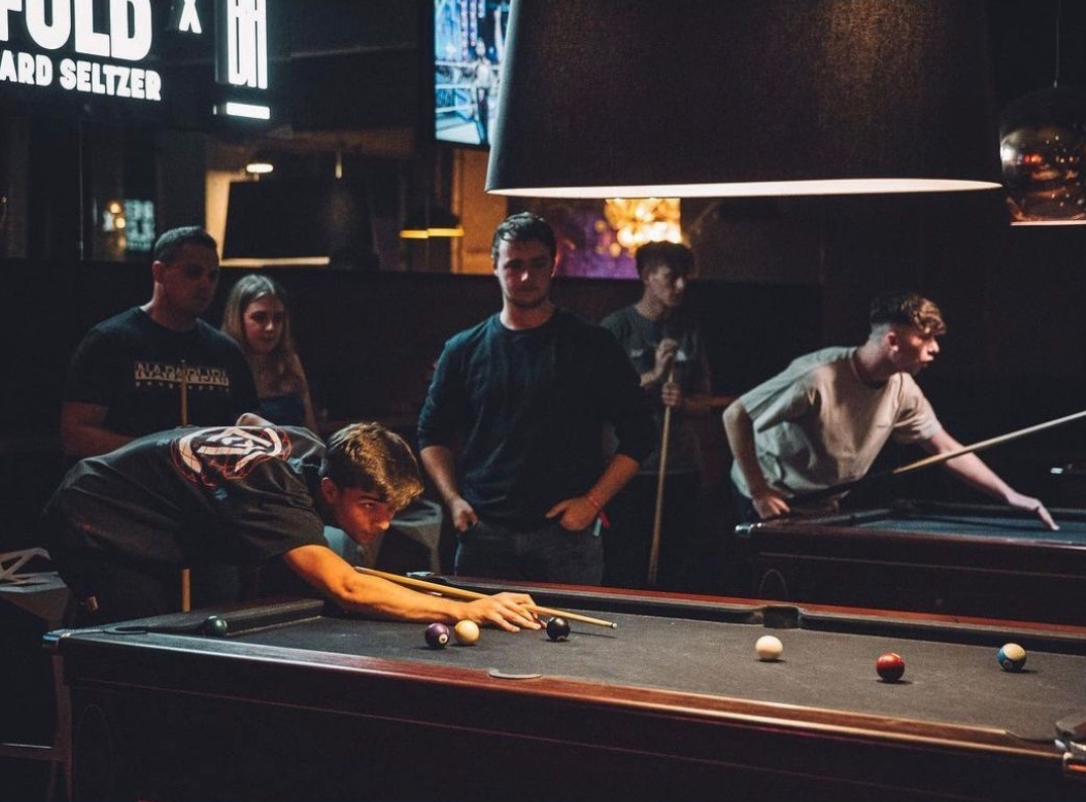 Complete with everything open mic nights for musicians on Mondays to free entry to the Tree Top Comedy in Kable (Brickhouse's basement club) every Tuesday, this place really is coming into its own.
15. The Brotherhood
Another beloved Manchester city centre sports bar, The Brotherhood of Pursuits and Pastimes (to give it its full name) is not only one of the best places to grab a pint and some proper pub grub whilst watching the footy, but games are at the heart of this place.
Located just off the corner of Albert Square next to the Central Library on Mount Street, we'd like to say this feels like a hidden gem but every floor of this place is regularly packed out with those that work hard and play hard.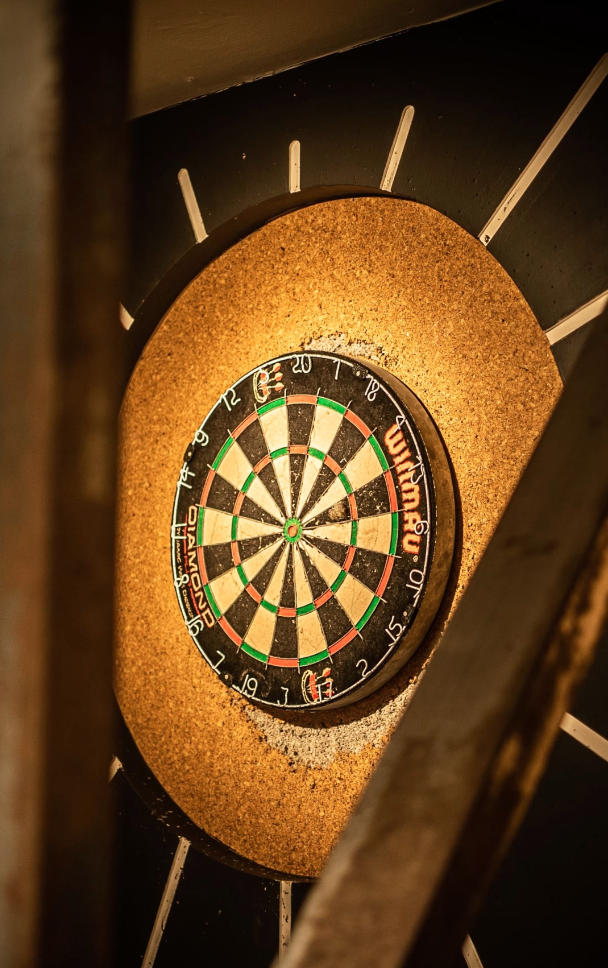 Dotted between the screens on nearly every wall, you'll find pool, table tennis, darts, shuffleboard, dominoes and more on offer in Brotherhood's Manchester branch. It'll be a great place to watch the World Cup and there's even a cosy library room for a more private occasion. Get it on your list.
16. Urban Playground
Despite being situated in the Arndale, i.e. one of the busiest places in the whole of Manchester, Urban Playground feels like a bit of a hidden gem.
As well as a tech-infused crazy golf course, you can live your reality TV/gameshow fantasy and have a go at ITV's The Cube in real life. Just so you know, it's even harder than you think.
But fear not, after you've walked off in frustration and screamed yourself hoarse, you can sit down with a big old burger from The Butcher menu and whatever beer, cider, wine or spirit calms you down the quickest. Let us know what you think of it.
17. Whistle Punks
Whilst we have to stress that you are strongly advised not to drink before arriving at Whistle Punks, we couldn't ignore urban axe-throwing on a list of places with activities in Manchester city centre.
Moreover, you can still drink once you've finished throwing and if you decide to try out their epic bottomless brunch, you'll have worked up enough of a sweat and thirst to scran as much pizza for two people.
This place has got five stars from The Guardian, The Times and The One Show and now you can take our word for it too. It's mint and after five minutes of lobbing real-life axes, you'll see why.
18. 7Sins
In at seven has to be 7Sins, the NQ favourite with a healthy variety of different games, some of the dirtiest food you'll find in the district and some of the most lip-smacking cocktails we've had in a while.
Offering everything from pool and shuffleboard to arcade classics like pinball machines and those grabby-claw things that we all love to hate, this a great spot for those last-minute Friday night plans.
Better still, they have banging tunes filling every room and both floors of this Manchester gaming bar are decorated in a cool graffiti-covered aesthetic that fits perfectly into its urban surroundings.
19. MeetspaceVR ft Zero Latency
Having only just launched their Trafford Park site and opened to the public in recent weeks, MeetspaceVR featuring Zero Latency is likely one of the least well-known gaming bars in Manchester but after checking the place out recently, boy is it fun.
You may think you've done VR before but not like this. Delivering an immersive free-roam VR gaming experience across two arenas with more to come, up to eight of you can run around in various scenarios such as a zombie apocalypse or a medieval fantasy landscape. You can even do virtual escape rooms.
Oh, and did we mention they serve booze? Yes, you can have a tipple whilst shooting your friends in virtual reality. Where else are you can find that kind of experience in Manchester?
20. Smithfield Market Tavern
Last but not least, our final mention has to go to a bit of a cult favourite: the beloved Smithfield Market Tavern located on Swan Street along the edge of the Northern Quarter since 1823.
It may look like an unsuspecting pub full of locals and Blackjack Brewing Company beers, but this quiet little spot doesn't just have the standard pub quizzes and dart boards, it also has table skittles, bar billiards, cards and even old-school board games for a more of a relaxed way to play with a pint.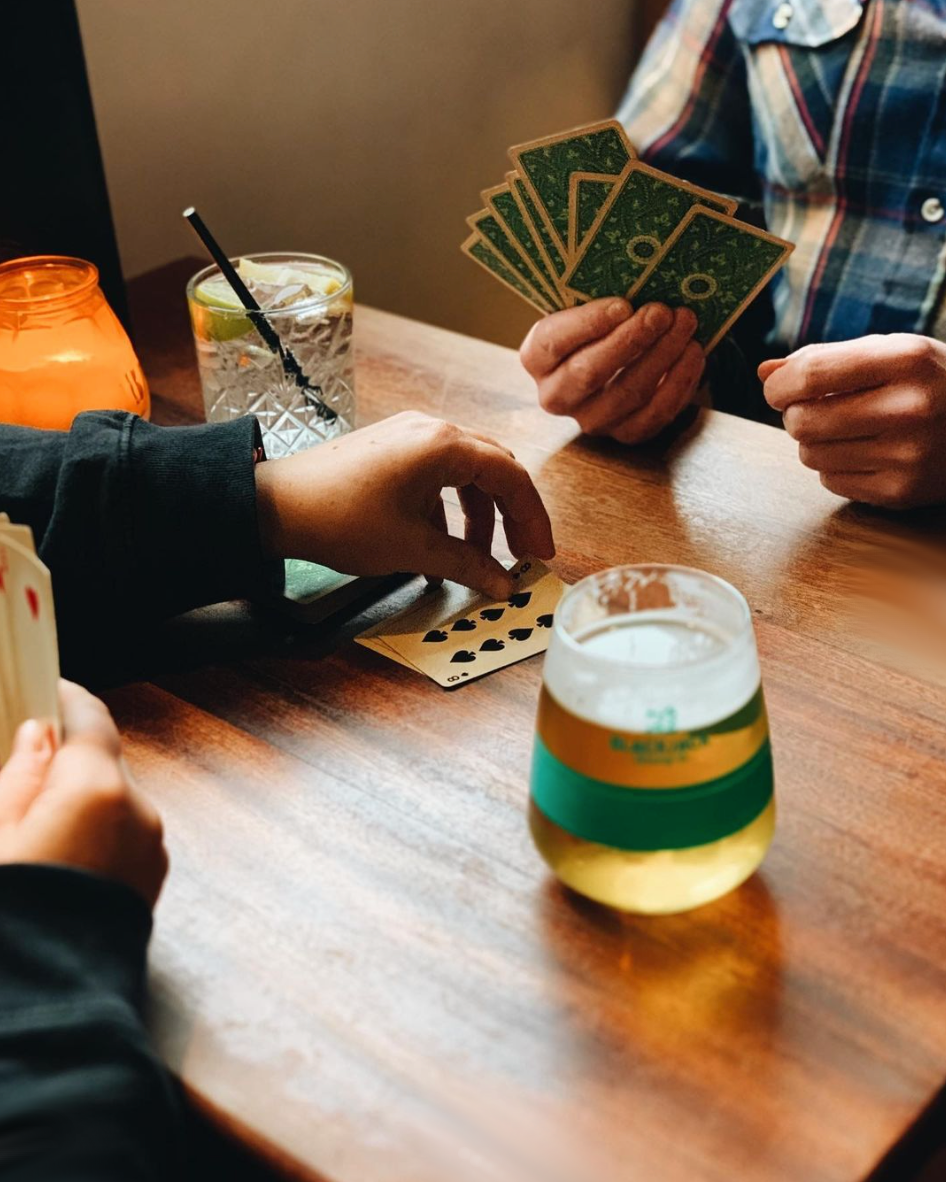 Compared to the bright lights, loud music and vivid technicolour of some of the all-out Manchester gaming bars on this list, there's something very comforting about a no-nonsense pub with a few little extras to make you feel at home and like you're having fun.
Read more:
With 20 of the best activity and gaming bars in Manchester on this list, you've got no excuse the next time a mate asks you where they can do some 'active drinking'.
See you out there, folks!
For all the latest news, events and goings on in Greater Manchester, subscribe to The Manc newsletter HERE.
Featured Image — NQ64 MCR/Twenty Twenty Two (via Instagram)/The Manc